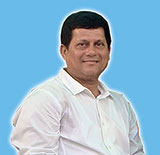 Q & A with Dr Achutya Samanta
"NRIs will become emotionally connected once
they visit KISS…"
Taking time out from his noble work, Dr Achutya Samanta spoke to India Empire's Anjay Sinha at the KIIT campus in Bhubaneshwar
Please tell us about your family background…
My father died in an accident when I was four years old. He was a junior worker in a steel plant. I did not inherit any property and was forced to take care of seven brothers and sisters and a widowed mother. The money paid for my father's accidental compensation was all spent on the elder sister's marriage. There was a time when I did not have enough money to eat two meals a day. Wearing decent clothes was a luxury.

From where do you draw your inspiration?
It is entirely and totally God's Grace that I've been able to achieve what I have. I am eternally grateful.

Talk us through the beginning of KIIT and KISS…
After I passed M.Sc from Utkal University, I got a lecturer's job. I thought that the job of a lecturer would provide me with a livelihood but it will not help other needy children like me who are still facing utter poverty. My experiences have shown that quality education can become a vehicle to solve the issue of poverty.

Where did it all begin?
At the time I thought of setting up educational institutions, I just had Rs 5,000 in my pocket. My biggest inspiration is the freedom fighter and great educationist Pandit Madan Mohan Malviya who had set-up Benares Hindu University (BHU) in Varanasi. When I was motivating myself, I thought if Panditji can do this, so can I.

What is your personal vision and mission?
After turning KIIT into one of the most reputed private universities in India, my entire focus is now on KISS. In KISS, at present, 16,500 tribal children receive free education, lodging and food, which I want to multiply several times. In fact, I want to scale up the project and serve 2,00,000 tribal children soon. Since my own experience has made me believe that poverty is the biggest roadblock for getting education for children belonging to poor families, I want to replicate KISS' success all over India. I am already at an advanced stage of finalizing the opening of branches in Chhattisgarh and in Delhi. I also do strongly believe that tribal children have immense potential in the field of sports. They've already performed in the world rugby championship. I want to channelize their natural talents and make their life worthwhile.

What kind of encouraging responses have you got about your project from tribal students?
I have received tremendous response from families of tribal children who are being educated at KISS. These children and their families have got a new ray of hope. They have got exposure to a new world, which they don't want to leave. Majority of children have come from remote parts of Odisha affected by Maoists insurgency. But these children or their family are never harmed or touched by Maoists due to popular sentiments for work being carried out by KISS.

Dr Samanta, we would like to share your views on problems facing the present education system in India?
I am a member of several Government bodies. The Government has taken several steps but still needs to do a lot. There is a need to encourage private education so that every child could benefit. Since setting up private educational institutions need huge investments, the Government should be liberal in their contributions. There is a need for a solid public-private partnership.

What is your plan for other states? Please elaborate…
I do have plans for other states. The Chattisgarh and Delhi Governments have already provided lands to set-up branches of KISS for quality education of under-privileged children. But I am also keen to start the project in several other states. However without the help of local state Government, it is virtually impossible to run KISS. I can't purchase lands at market rates and then provide free education.

What would you refer to as a turning point in your very fascinating journey?
In 1990s when I started KIIT with Rs 5,000 in my pocket, I collected loans of Rs 25 lakhs from friends and families for building infrastructures. The lenders started pestering me to return their money. It was a desperate situation. I did not know what to do. It was one of the toughest times of my life. At one point I was so desperate that I thought the only option left is to end my life. I am ever grateful for God's miracle. Suddenly I got help from a most unexpected quarters. A cooperative bank cleared a loan of Rs 25 lakhs. I repaid my private loans and then never turned back.

I have come to know that you have a plan for NRI students? Please elaborate…
At present 250 foreign students are studying in the campus. Also staff from around 20 countries are employed. I have plans to gradually increase their numbers. To achieve the target I would need support from NRI communities.

What is message for NRI communities?
Since NRI communities are very sentimental about their mother country and want to contribute back to Indian society, I think investing in educational system would be a great idea. I invite them to Bhubaneshwar to experience the work being done by KISS. When they witness the work, I think they'll be emotionally fulfilled and moved.

I have learnt that you have decided not to marry? Any specific reason…
There is no specific reason. It is just that during the age of marriage, which ideally is 26-27, I was too busy in setting up KITT and KISS. During those days, I had no personal life. Now I think I have crossed the marriage age.

But age is no barrier for the marriage of a successful person?
(He laughs)…may be it is my destiny.

You prefer to work from an office under a tree, rather than from inside a chairman's plush office…
It is a matter of convenience and comfort. It gives me a clear vision and my thoughts simply flow, and I find it is not possible to achieve this inside a boardroom. Also, it gives me access to all employees and students at KIIT and KISS. Anyone can walk up to me, and talk.