Please Change Your Mind
Publisher: iUniverse
Author: Steve White
Total pages: 188
Price: U.S. $ 17.95
You are what you think
Change your mind, change your results
ATLANTA: How we think affects the way we react to events, situations, people—everything in life. Learning what and how we think can give us the power to dramaically alter our life, says Steve White, author of Please Change Your Mind : Because You Are What You Think.

White has consulted with such businesses as Ingenico, U.S. Bancorp and GTE/Verizon to help employees become more strategic and companies more profitable.

"Each of us places laws on our lens, things we hold to be true: Fire is hot. Grass should be cut at an angle to the house. My self-worth is dependent on being accepted by my peers. Those laws, then, control our emotions and behavior," White says. "By learning how to control our thoughts—the laws on our lens—we can learn to creat the results we want to achieve in all parts of our life."

White, founder of several management consulting firms, has personal experience with the efficacy of what he calls "thought examination". He was hospitalized with depression 18 years ago and underwent cognitive behavioral therapy.

Please Change Your Mind is an easy-to-understand guide written by a layman, not a doctor or a psychologist. He knows firsthand how thought examination can help identify thinking patterns that lead to unhealthy and unproductive behaviors. "For those who are unhappy with the results they keep getting in business, in relationships, in any part of their lives, an alteration of thoughts is the best remedy," White says.

Please Change Your Mind: Because You Are What You Think is available online at Amazon and Barnes & Noble. Take advantage of free assessment resources and learn more about the author at SteveWhiteToday.com
Soljer Soljer
Publisher: AuthorHouse
Author: Colonel Mahip Chadha
Total pages: 196
Price: U.S. $ 16.95
Retired officer recounts realities of infantry life
Story blends fiction and reality in saga of brotherhood and hardship in the Indian Army
NEW DELHI: How often does a civilian get an inside look at military life? It's the unique customs and traditions, the drama of advernture and the deeply embedded sense of brotherhood that defines infantry life for reitred army officer Colonel Mahip Chadha—details he wants to share beyond the battlefield.

Soljer Soljer combines compelling fiction with the actualities of life in the Indian Armed Forces, centering on the tale of a father and son serving together in the Sixth Battalion of the Third Gorkha Rifles, and the events that threaten to separate them forever.

Offering an exclusive look at the inner-working of the Gorkha Brigade – an infantry group of the Indian Armed Forces – Soljer Soljer dives into the tradition, custom and truths of Army life. Chadha transports the reader into a world where officers are veritable gods, living conditions are extreme and brotherhood conquers all.

Chadha spent nearly 34 years in the Indian Army, much of time with the Second and Third Battalions of the Third Gorkha Rifles. Weaving in memorable characters and events from his past, Chadha highlights both the joys and hardships of military life.

"A common Indian citizen has little or no idea of the Indian Armed Forces," says Chadha. "It's important that I give readers an inside look at what it's truly like to be a soldier in the Indian infantry, and the brotherhood and sacrifice involved.
The Forest of Stories
Publisher: Westland
Edited by: Ashok K. Banker
Total pages: 354
Price Rs: 295/-
Miracle cure is in your head
Subconscious road blocks can be alleviated with simple techniques
Free to be Healthy
Publisher: Balboa Press
Edited by: Margaret Stuart
Total pages: 148
Price U.S. $ 13.99
VICTORIA, AUSTRALIA: Margeret Stuart has a gift. She can sense the subconscious road blocks that wreak havoc with our health and physically stop us from doing the things we want to do by making us sick. She has been using this gift for years, helping people find the cure that's within them, showing them what they can do to work toward a happier and healthier life.

She has worked with elite athletes and even helped a Tour de France cyclist.

Marika Mulqueen, the second woman in the world to finish the Tour de France stage for stage to the professional schedule, was suffering from a severe cold one week before flying to France and almost didn't compete. Knowing there is no 'cure' for the common cold, she called Margaret Stuart for help.

"She was dealing with many fears about the race, including how she would be able to overcome the mountains on the course, so her subconscious mind gave her an out," says Stuart. "By using the techniques in my new book, Free to be Healthy, we were able to release those thoughts, mentally flatten the hills, and within a day she was completely well. She was able to ride the following week."

In Free to be Healthy, Margaret Stuart provides examples and instructions on how toimprove the reader's health by releasing the subconscious thoughts, beliefs and emotions that hinder the healing process. Free to be Healthy is a resource for anyone who has dealt with an illness or injury and has not found relief through traditional medical intervention.

Stuart, co-author of the Australian bestselling book Switch on your Brain, uses her 32 years of experience with clients to teach the healing techniques she employs in her one-on-one sessions. Physicians and surgeons often refer their patients to her when they have exhausted medical causes.

"We are meant to be healthy, happy, joyous and successful," says Stuart. "It is only our resistances htat stop us from living an abundant life. I want to help others to release those resistances and live the life they were meant to live."
AVAILABLE IN APRIL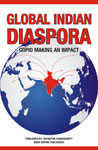 Available soon from INDIA EMPIRE Publications. A coffee table book on the GOPIO, the world's premier Indian Diaspora organization with outreach across five continents. The 200-page book will be available at Rs 995. To order write to us at: info@indiaempire.com

The story of the Indian Diaspora is fascinating. Actually, it is cinematic in its scope. There is tumultuous heart-break. There is unbridled joy. Men and women of the Diaspora have led nations. And some have toppled from the slippery slopes of power. Frontiers of science and technology have been pushed. The charts of economic stardom have been busted. The bars of tolerance have been raised. The menace of apartheid has been fought, sometimes from inside prison. The fruits of success have been savoured. The meeting of great minds has taken place. Inspiring freedom movements have been scripted. And much more.

In this story of the Global Indian Diaspora, w­­­e hope that you'll connect with the many examples that have been illustrated. We also hope that you'll feel that it is also a great time to imbibe the Universal Spirit while continuing to practice an ancient Indian philosophy, Vasudhaiva Kutumbakam—the whole world is but one family.

To order this book please send a cheque of Rs 995-/- in favour of INDIA EMPIRE and send to N 126, 2nd Floor, Greater Kailash I, New Delhi 110048, India Call: +91.11.29231515 (Mon – Sat) E: sayantanc@gmail.com
FROM THE DESKS OF INDIA EMPIRE PUBLICATIONS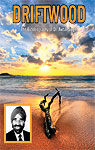 DRIFTWOOD
Authored by Dr Awtar Singh from Los Angeles, this is a book on his life in India and the USA. After decades of crisscrossing continents, Dr Singh decided to talk about his memories as a young Punjabi immigrant from (then) West Pakistan forced into India, and the tough journey that followed. The book poignantly captures a visit to his house in Pakistan along with his brother, a retired Air Marshal, and his sister who lives close to him in Los Angeles.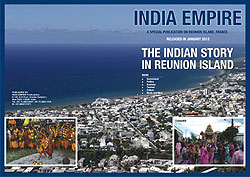 Little is known about the thriving Indian community in the French island of Reunion. They number about 250,000 out of a population of 800,000. A large majority of people of Indian origin in this place do not speak English and it has made their connect with India all the more difficult. Their ancestors were taken as indentured labourers by the French during colonial times, about 150-200 years ago.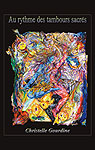 Au rythme des tambours sacrés
Written by Christelle Gourdine, a fourth generation PIO who grew up in Paris and also the French island of Guadeloupe in the West Indies, this book is a Francophone account of the author's quest to know about India, the land of her ancestors. Dismayed by a negative portrayal of India in the Western Media, she wrote about India as she saw it, about its glamour and poverty, its economic accomplishments, and its social burdens.
---
To order the books below please write to:
INDIA EMPIRE Publications
N 126, 2nd Floor
Greater Kailash I
New Delhi 110048,
IndiaCall: +91.11.29231515 (Mon – Sat)
Email: sayantanc@gmail.com