Aseem Das is the founder of World Centric, a California-based supplier of compostable and biodegradable food packaging and food service products like plates and utensils for corporate, institutional and personal use.

The company was founded as a nonprofit in 2004, in an attempt to increase awareness of varied issues through documentary screenings and other avenues. A year later, Das and his team sought to file for tax-exempt status. But World Centric's primary methods of funding—the sale of compostable and Fairtrade products—quickly became the focus of the company's time and resources, and World Centric ended up as a for-profit social enterprise.

Today, despite all of the changes to its business plan, the company's original mission, vision and values remain unchanged. Das still wants to change the world's understanding of social and environmental issues, due in part to his upbringing in two countries.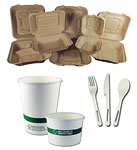 World Centric products

"I always had a very strong interest [in] social and environmental issues," he says. "Awareness of social issues came from growing up in India in a middle-class family and seeing the wide disparities not only between the rich and the poor, but also between the middle class and the poor. I developed awareness of environmental issues after coming to the U.S. and becoming aware of the...lifestyle, and how that impacted the environment in terms of resource use."

Das immigrated with his parents to the United States after finishing high school. His father is an engineer, and his mother is a teacher; Das says that like many children in similar middle-class families, he was guided toward a career in engineering or medicine. Das went on to study computer science, earning a bachelor's degree in science at Oklahoma State University and a master's at the University of Oregon.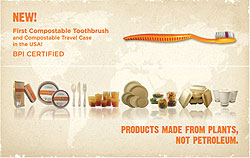 He then began a career at companies like Boeing and NASA. On paper, Das had an enviable lifestyle—but he craved something more.

"Even though I worked in the software industry for 15-plus years and did some very challenging and stimulating work, I often felt that my work did not connect to my everyday life, and was not doing anything to make the world a better place—socially or environmentally," he says.

In 2003, when the Iraq War started, Das began showing films on human rights, globalization and environmental issues as a way to raise awareness and engage people in discussion.

The initial film series' success led to the forming of World Centric, Das says, as "an educational nonprofit with the goal of raising awareness of broad social/environmental issues, relating these issues to everyday choices people make in their lives, and how these choices...impact the world—positively or negatively." The company's later trajectory began as a simple need.

"The first year as a nonprofit was additional film series, speakers and courses on globalization, sustainability, simple living," Das says. "However, to support the work and myself, I had to come up with a way to generate some income." Most nonprofits ask for donations, but Das wanted World Centric to be self-supporting. He looked at several ideas like mattress recycling, wind turbines, a Fairtrade café. During this research he came across "compostable disposables."

"The disposables market in the U.S. is also very huge, and it seemed like a good environmental solution to the large quantities of Styrofoam and plastic products with associated health, toxicity and pollution problems," says Das. He started with a $3000 investment and initially did everything himself, from receiving shipments to packing, shipping, customer service, Web site, supply chain and accounting. The money quickly ran out, so Das took personal loans from friends and family—a move he calls crucial to his future success.

"I did not pay myself till the fall of 2006, and then it was $10/hour. I hired my first part-time person in the summer of 2006, and by the end of 2006 there were three people, as we were growing very rapidly. Now we are 18 people, with sales of $11 million."

But with that rapid growth in what was meant to be a side venture to raise money for their primary efforts, Das and his team had to reevaluate their priorities and business model. World Centric now sees its educational work as educating people around the issues of waste and consumption, and reducing the use of Styrofoam and petroleum-based plastics.

"We give at least 25 percent of our pre-tax profits to grassroots social/environmental organizations," Das says. "Our goal is to k­­eep on increasing the amount we are able to give. We also are carbon neutral and planted 175,000 trees in 2009; in 2010 we partnered with Rainforest Action Network to protect 5,000 acres of rainforest and support indigenous communities in order to keep millions of tons of carbon in the ground."

World Centric also classifies itself as a B-Corp, Das says, which he describes as a "new class of benefit corporations whose purpose is to use the power of business to do social and environmental good. We give discounts to nonprofits and schools, still hold some films and invite speakers, and have different incentives to encourage staff to volunteer and be sustainable.

"Our future goals are to create packaging and disposables from locally available waste materials, give 100 percent of our profits, and become a source for information on waste, consumption and simple living."
—Courtesy SPAN