On his institution…
This institute was started in 2007 with about 240 students. We have increased our capacity since. Today we have 600 international students from 35 countries. Sixty two per cent of these students are Indian nationals. The remaining 38 per cent include students from far and wide, from places such as Germany, Italy, Austria, Kazakhstan, Pakistan, Nepal, Bangladesh, Mauritius, Turkey, Spain and Brazil. We also have about 200 local students. In 2009, we innovated when there was an economic downturn. In order to cater to the building and construction industry, we introduced a certificate course in painting and decorating. This particular course now allows students to specialize and acquire knowledge in painting and decorating aspects, thereby getting to learn about high technology, spray guns, wall papers, marble effects and such specialized applications. In Australia, it is difficult to get qualified painters, and if there is no license, one cannot go out and paint someone's house. Victoria has made an exemption on this thus far.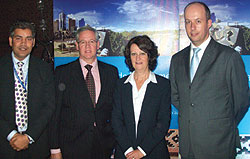 Mr Khan with Ministers from Victoria at the Super Trade Mission

On political involvement…
In October 2012, I'd be contesting for councilor. This time the number of seats is being increased from 7 to 9. Melbourne has a pool of 106,000 voters. Even non-citizens who are residents of Melbourne are allowed to vote. There are many Indian businesses in Melbourne. Oz Properties, for instance, is a group that has 65 property units owned by Indian nationals, and the level of investments in each unit varies between AUD 200,000-300,000 to say 1,000,000. This is one example, and there are many other examples. All these people from Melbourne are eligible to vote.

On the Indian diaspora as a captive market for scaling up Australian businesses…
Presently I am working on a mining project. Australia needs more than 300,000 people in the mining sector. There are a lot of opportunities in mining. I want to collaborate for offering a recognized course in mining in India. We can train Indians in building dump hole trucks, and operating them. Goes without saying, one would require good communication skills in English, a certain level of physical fitness, and plenty of motivation to work in remote areas while taking into account some of the occupational hazards associated with the mining industry.

On expectations from the business trip to India…
We are looking for partners, for investors, mainly in the education sector. I believe there is a demand for technical skills in India. There is a big gap here. There are professional courses for carpenters, nursing assistants, age care. We have a certificate course in nursing assistantship, and we are looking to roll out this course in India in terms of training and delivery. There is a very large elderly population in India and there is need for greater personal care as well as nursing care. It includes the whole range, right from changing nappies and bed sheets, to providing medicines on time, These courses can be easily provided.

On problems involving Indian students…
One thing I can tell you is that they were not motivated by race. There were one-sided stories appearing in the newspapers. Several changes have been brought about. I have been around for nearly two decades, and I've faced no problems in Australia. There are Indian immigrant communities in Australia that are settled for 20-30 years. Unfortunately, the statements coming out in the media were from those who'd been in Australia for just about 1 or 2 years. The stories were tinged. Also, many of the students were landing up from small towns straight to Melbourne. They were just not ready for the transition, for the demands and sacrifices you need to make when you live in a cosmopolitan city, and Melbourne is one of the most multicultural cities one can find in the world. I am from a small town in Rajasthan, but when I came to Delhi, I immediately was taken aback by the size and dimensions of the city. So, there were similar issues that students from India to Australia faced. These issues have now been addressed, and things are back on track.