Assotech today announced the launch of its premium housing project Assotech Blith in Sector 99, Gurgaon. Assotech Limited is in its 25th year of operations and is a respectable well-known real estate company with its presence in Delhi-NCR, Haryana, Uttar Pradesh, Uttarakhand, Odisha, Bihar, and Jharkhand & Madhya Pradesh. The company has roped in well-known real estate private equity player SUN-Apollo for this project.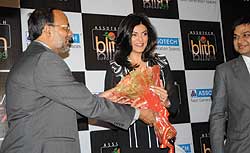 Assotech Blith is a 12 acres, 586 apartment avant-garde technology based group housing project located on the upcoming 150 Meters wide NPR (Dwarka expressway) in Gurgaon. This is one of the few projects which are surrounded by 3 side roads, 150 meter wide expressway on Eastern side, 75 meter road on its Southern side and 24 meter road on Northern side. This will make ingress as well as egress very convenient. The plot is set amidst abundant greenery on the Northern side as well as Eastern side with low rise development in the surrounding areas- thus, making it the iconic project on the expressway. The plot is situated on a curvature which gives a panoramic view of the project while travelling from both sides on the expressway. Assotech Blith ushers you into a whole new world where the best of natural beauty meets manmade luxuries.

Owning a house always gives pleasure, pride, financial security and if the view and design USPs are distinct, then the pride of owning such a house brings SMILE on the owner's face.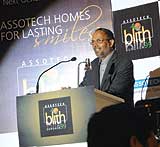 With the proximity to diplomatic enclave and NPR by dual entry points, Assotech Blith is an epitome of unique architectural features that make intelligent use of natural resources to maximize natural light and ventilation. Lush and green with 70% open area to nestle abode of luxuries, this project has been structured after a detailed study of the solar path, wind speed and direction to ensure that optimal sunlight and fresh air always reach the project. To live a healthy, wealthy, happy and prosperous life Assotech Blith is also a vaastu compliant abode of bliss.

Launching the project Ms Sushmita Sen Bollywood Diva and Brand Ambassador of Assotech Group said, "Human comfort is a function of four primary variables; temperature, air flow, humidity and the radiant temperature of interior surfaces. Natural ventilation is an energy efficient way to increase human comfort. Controlling the Conditions which govern air flow and sunlight results in optimized temperature in chosen interiors. A dynamic architectural concept which uses natural forces of wind and buoyancy to deliver fresh air brings lasting smile into Assotech Blith homes.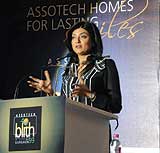 Elaborating about the project, Sanjeev Srivastava, MD, Assotech Limited said, "In last 25 years, Assotech Limited has created several milestones and has become a symbol of reliability with its high quality performance throughout several states in northern, eastern and central India. With the investment of Rs.500 crores, we are entering the Real Estate market of Haryana. Assotech Blith will be a sky changer group housing project in Gurgaon."

Construction and maintaining time schedule is a real challenge. For the first time, we at Assotech are introducing Building Information Model (BIM). BIM (Building information Model) is used for the pre-construction three dimensional virtual construction model, co-coordinating all the structural architectural and services design elements to avoid any conflict in the design before the execution of the project. This helps in providing précise co-ordination and zero error in design. In other words it is actually making a building in computer before it is executed on the ground.

"Buyers satisfaction and comfort is our goal and Assotech group is known for its capability to use ultramodern technologies in its projects. Assotech Blith is being constructed on very unique BIM and LEAN technologies" Mr Srivastava added.
Assotech Limited is one of the fastest growing Real Estate Company having its presence in seven states. With a motto to build 'Next Generation Spaces' Assotech aims to change the meaning of Real Estate Development in the country by providing a wide range of products and concepts ranging from budget homes to luxury condominiums, serviced apartments to 5-star hotels, office complexes to IT/ITES buildings, shopping complexes to Mall-cum-multiplexes hospitals etc.

About Assotech Limited
With almost 25 years of rich experience, Assotech Ltd. is one of the leading real estate developers of India providing real estate solutions and expertise in design and construction. An ISO 9001: 2008 company, Assotech Limited specializes in providing cost effective and holistic solutions to the Real Estate & Construction world. Assotech Limited's innovative projects are symbols of "Reliability with High Quality" undertaken with extensive research, engineering, design and construction experience with strong observance to ethical business practices. Assotech Group is currently executing projects worth Rs. 3,300 crore in Delhi-NCR, Uttar Pradesh, Uttarakhand, Odisha, Bihar, Jharkhand & Madhya Pradesh. It already has a sizeable presence in the northern, eastern and central parts of the country having completed a number of prestigious projects.