POLITICS OF CHANGE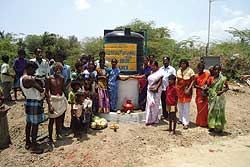 By Christelle Gourdine
During the last Pravasi Bharatiya Divas in Jaipur, I attended a very interesting session about gender issues and all the difficulties women were facing, and also how they can create a change by joining politics.

At the local level, there is a 30 % reservation for women at the Gram Panchayat.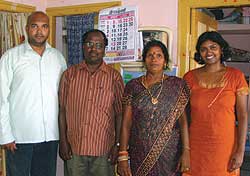 I wanted to know how it worked concretely in Tamil Nadu and got to know more about this opportunity last April when I participated at the inauguration of a potable water tank in Vanniyanallure with Mr Dayalan, Head of HRDF, and Mr Mandjiny, Head of ADER India (find below the description of those NGOs).

This water tank project was managed jointly by ADER India and HRDF and funded by a private donor from the USA. The Panchayat leader of this village is Mrs Selvi, a very strong woman who has been elected few months ago.

I met again Mrs Selvi, Mr Dayalan and Mr Mandjiny at HRDF's office in Thirukazhukundram, 40 km south of Chennai, with all the team to discuss about how HRDF works to empower not only the Dalit people but also the human rights activists and the elected Panchayat Representatives.

They have a specific programme under this dedicated to the Representatives in local self-governance by providing Legal Literacy training, handbook on Panchayat act, seminars, and networking.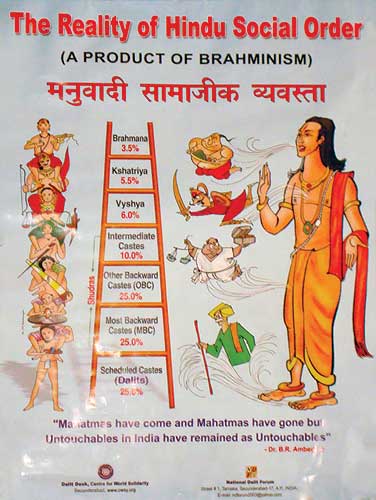 Mrs Selvi is a beneficiary of this programme as a Gram Panchayat leader and can rely on HRDF to assist her for the various development projects for the growth of her territory. She is focusing on the infrastructure for the poorer people to improve their life. For example, before this water tank construction, the tribal people had access only to unsafe water since the other villagers would not let them take water from the public tank.

The election was at the end of 2011 and as a first-timer, she struggled a lot. By chance, she had a great support from her husband who headed the campaign to have votes from the poorer people. She had identified their major problems like drinking water access, school, electricity, and promised to manage them and she is now doing the job successfully.

This opportunity was given to her thanks to the reservation, a system in place since 1991 which allowed the women and lower casts to be involved at the political level and to take decisions to improve their lives. But the activists are still fighting in Tamil Nadu to give 50% of reservation to the women, like in Kerala. And with a woman as present Chief Minister, they will probably get it.

In her day-to-day work, Mrs Selvi was facing difficulties with some people she has to manage and who are from higher caste, disturbing the projects but she took proper actions without fear. Being supported by her husband and being trained by HRDF, she is now a confident woman.

We usually say that behind any successful man, there is a woman. In this case, it's the contrary but never mind. Better that than nothing.

In my country, we are against the reservation because we want to value the merit but when there is no space to show your talents, there is no possibility to be promoted.

At least, after 5 years in her current position, Mrs Selvi will have accomplished a lot for her people and will have increased her own self-confidence and competencies. She opens the way to the other women and let's hope that the dream of the girls of Vanniyanallure will also be to become political leaders.

Human Resources Development Foundation (HRDF) is an Indian organisation whose goals are:
· to protect and promote Dalit human rights through capacity building programmes
· to promote grass root level democracy by strengthening and representing Panchayat of Dalits and women
· to promote sustainable development through creating awareness on national resource management and protection of environment and ecology.

Association for Regional Economic Development (ADER) is an organisation whose objective is to improve the living conditions of the marginalized populations suffering from poverty.

Their office in India is located in Pondicherry where many projects are being managed with local partners such as HRDF.

—The writer is a 4th generation PIO from Guadeloupe, France, now based in Puducherry. Her website is meetyourroots.org