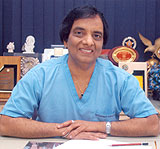 Dr Purshotam Lal, Chairman, Metro Group of Hospitals
Healthcare Access For All
An internationally acclaimed interventional cardiologist, Dr Purshotam Lal, Chairman, Metro Group of Hospitals, has earned a unique distinction of introducing the largest number of cardiac procedures in India. Known as the creator of affordable healthcare in the country, Dr Lal is the most decorated cardiologist of India. Among these prestigious awards are Padma Vibhushan, Padma Bhushan, Dr B C Roy National Award and the Indian Medical Association's Distinguished Achievement Award of Highest Order. In a freewheeling interview with India Empire's Sanjay Kaw, Dr Lal not only spoke about his childhood days in a Punjab village, but also on the way the healthcare sector has emerged in the country
Take us through your childhood days….
I belonged to a poor family in Punjab. We were seven brothers. Our village had no electricity. So we had to use an oil lamp, which had developed multiple cracks. I was very good in fixing these cracks. With each new crack appearing on the chimney, its light used to get dimmer. This dim light, however, helped me to concentrate better on my studies. With the blessings of my teachers and parents, I always topped each and every exam. The D.A.V. College in Jalandhar gave me a monthly scholarship of Rs 60 in late 1960s. The state Government also gave me a monthly scholarship of Rs 70. I used to get free food in my mess. Also, my tuition fee had been waived off. I used to save Rs 135 every month and my father used to tell me that you are already earning more than me. After getting my medical degree from Amritsar, I went to the USA for higher studies in 1976. When I landed in the United States, I had just $8 in my pocket. I studied at several prestigious medical institutes. Finally, after spending about 17 years in the U.S.A, U.K. and Germany, I returned back to India.

You were an NRI. Why did you return back to India?
Though the United States is a very rewarding country, but I never liked it in my heart. All Americans have an artificial approach towards life. I had earned a lot. One day I thought it was high time to serve people of my own country.

When you returned back in 1994, what was the condition of the healthcare facilities in India?
I first joined as the head of Cardiology in the Apollo hospital in 1995. The interventional cardiology was then at a very primitive stage. My first goal was to introduce procedures through which a lot of diseases could be treated without undergoing complex surgeries. I have developed at least 20 new techniques in interventional cardiology.

How did the Metro Hospital happen?
From the very beginning I had decided to create low cost healthcare facilities for lower middle class people. We started our first Metro hospital in Noida in June 1997. Our rates were same as that of the AIIMS. Now, we have 11 hospitals spread across several states. We provide free treatment to many patients as well. We even do not insist upon payments from the families of those patients who die in our hospital. At the end of the day, we should know what price a hospital should put to the life of a human being.

Does such concessions affect the functioning of the hospital?
We treat every patient like our own relative. This way we do not go wrong in our procedures. In case we go wrong, people forgive us. We believe in one thing – we treat, HE CURES. After all, hospitals are meant to cure patients, not to mint money.

Your colleagues say you are a workaholic?
Yes, I enjoy my work. That's why I work 24 x 7. From June 1997 till date, I have not taken more than 60 off days, that too when I had to attend some medical conferences. I myself do at least 2,500 angioplasties and other procedures every month. Treating patients has become my addiction.

How have the cardiac procedures evolved over the years in India?
The facilities available in our country are at par with the best hospitals in the West. Many foreigners come to our hospitals to learn our procedures.

How you distinguish Metro hospital with other corporate hospitals?
Many hospitals treat their patients as their customers. But we treat them just like patients, that too with a human touch.

Tell us about how many people may be facing heart related diseases in India?
About one crore people may be affected with heart-related diseases. About 30 lakh people die due to heart-related problems in the prime of their life every year.

Do we have adequate number of doctors to treat such a large number of people?
We hardly have any health care mechanism in our rural India. Our Government should legalize capitation fee and provide 15 per cent reservation to poor students in all medical colleges with a condition that after getting their degree, they would work in rural areas for at least 5 years. Also, some recognized private hospitals should be allowed to give degrees to PG students. This way, a student would earn his salary as well as get his PG degree.

While our hospitals are over-crowded, many foreigners are also getting treatment in our country?
Yes, many corporate hospitals are more interested in medical tourism. That's why you will find in some hospitals about 25 per cent of beds are occupied by foreign patients. I am not against foreign tourism, but we must not ignore our own patients.