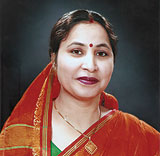 Mrs Satya Sharma, BJP Councillor, New Usmanpur Municipal Ward, East Delhi Zone
VICTORY WELL DESERVED
When the MCD, one of the largest municipal bodies in the world, was trifurcated (into North, South and East zones), 50 per cent of the wards were reserved for women. It was a game plan that the Congress chief minister in Delhi put in place, hoping that it would bring her rich dividends during the municipal elections in April 2012. And yet, it became a bane for the Congress, instead of a boon. The BJP won all three zones, riding on a general anti-Congress sentiment resulting from scams and rising prices. India Empireís Anjay Sinha caught up with Municipal Councilor Satya Sharma. The reason the magazineís editorial team zeroed in on her is because she won big on a BJP ticket from a constituency that has over two-fifth Muslim population, not known to be the partyís traditional vote bank. It set us thinking on what exactly is the electorate looking for when it castes the ballot. Our answers were provided by Mrs Sharma herself
From cooking to cleaning utensils, you do everything a typical housewife does during her day-to-day life. So, with so much workload at home, how did you make it for a second time from the same municipal ward?
You are right. I do all the household work on my own. Be it cooking, washing clothes or cleaning utensils, I do everything on my own. At the same time, I attend each and every problem which is brought to my notice by the people of my constituency. Thatís why you will see people visit my house from 6 am till late midnight. I personally attend to each and every telephone call. I handle my constituency like my own family. My people rewarded me for my work in this election. I won by a margin of about 4,700 votes. In my first election five years ago, I had won by a margin of 2,700 votes, so things have actually improved by leaps and bounds.

You have no political background. So how did you make an entry into politics?
I used to run a play school. Many people used to visit my school every day. That became my first platform for interaction with the people of my area. Then, I started taking up the problems of my people with the local authorities. It was like doing a social service. My party leadership noticed my work and gave me a ticket during the last municipal poll.

Your constituency has about 43 per cent Muslim voters. How did you manage to get Muslim votes on a BJP ticket?
When I was first elected, very few Muslims voted for me. But during my first tenure, I regularly visited the Muslim-dominated areas. I developed a personal rapport with them. I took up some of the pressing problems they had been facing in their respective areas. Once I solved their problems, they developed faith in me. And the results are in front of you.

What are the major works you have done in your area?
I constructed two primary schools. I got the Gokalpur drain reconstructed. I got all the 824 MCD staff quarters repaired. I set up a herbal park in my ward. All the streetlights in my area are functioning properly. I carry regular inspections of drains, roads and parks.

What plans do you have for the coming 5 years?
I will set up a new community centre. I plan to open a cricket academy in my area. We are also going to open a centre, exclusively for the elderly people. I will also develop a better civic infrastructure in my ward.

Back to elections. How much support you got from your family?
My family has always stood by me. My husband, Mr Sanjay Sharma planned my campaign. And the rest was done by me and the people of my constituency.

What were the major issues you raised in your campaigns?
I got votes on the basis of my past performance. Plus, people were also concerned about the growing corruption at the Centre. Many were very upset by the way the rising inflation was being handled by the Centre and the state government.

Did you send SMSes or e-mails to your voters?
In any municipal poll, such things donít work at all. Here one has to know oneís people on a personal basis. I visited almost each and every household. I must tell you that a corporator is a bridge between the people and the state.

Is trifurcation of the MCD going to help Delhi-ites?
It is bound to create chaos and confusion. This step has been taken in haste. We neither have huge funds nor requisite manpower to run three corporations. The trifurcation of the municipal body is the biggest disservice that the Congress-led Delhi Government has done to the people of this state. With the formation of the East Delhi Municipal Zone, the Government should immediately close down the already defunct Yamuna Par Vikas Board.

Anything innovative you are going to do in future?
Nothing innovative. But I am going to set up five centres where people can drop their complaints. I assure you that I will personally take up each and every complaint with the local authorities.