SIKH AWARD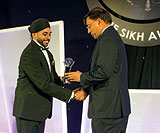 LN Mittal (right)
The Sikh Awards held at Park Plaza Hotel, Westminster Bridge, London on Sunday 21st October 2012, recognised Sikh contributions and excellence in a variety of fields following nominations received from across the globe. The UK's richest man Mr Lakshmi Mittal attended and received the Special Recognition Award from the world Sikh community for his joint venture between State-owned Hindustan Petroleum Corporation and Mittal Energy Ltd in Bhatinda region of Punjab.
Mr Mittal dedicated the award to 45,000 people working on this new site.
---
USIBC AWARD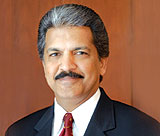 Anand Mahindra
Anand Mahindra, vice chairman & managing director of Mahindra Group, and Alan Mulally, president & CEO, Ford Motor Company, have been honoured with Global Leadership Awards for their outstanding contributions to the US-India growth story.
The Indian and US business leaders were given the awards at the 37th anniversary leadership summit of the US-India Business Council (USIBC) comprising about 350 top US and Indian companies. The Mahindra Group continues to invest heavily in the American agricultural sector.
---
GANDHI STATUE AT DAVIE TOWN
| | |
| --- | --- |
| | |
| Gandhi Square Board of Trustees: From left, Hemant Patel, Joy Kuttiyani, Babu Varghese, Piyush Agrawal, Vijay Narang, Sajan Kurian, and Chacko Philip. Four of the members, Shekar Reddy, Assisi Nadayil, George Kakkanatt, and Vivek Swaroop not shown in the picture. | (from left) Dr. Piyush Agrawal, former president of India Dr. Kalam and Mayor Judy Paul |
Former President of India, Dr. APJ Abdul Kalam and Davie Mayor Judy Paul unveiled a seven feet tall bronze statue of Mahatma Gandhi on October 02, 2012 in the Town of Davie, Florida.
Thousands of residents from the area including Indian American families joined the festivities despite the heavy rains. It was quite a miracle that the rain stopped for enough time to allow the Unveiling Ceremonies to complete and started raining again when His Excellency Abdul Kalam commented "what an auspicious occasion!" President Abdul Kalam was received at the Airport by the Board of Trustees of the Mahatma Gandhi Square Florida – a Corporation organized for the purpose. Among them were Dr. Piyush C. Agrawal, Mr. Joy Kuttiyani, Mr. Babu Varghese, Mr. Shekar Redddy, Mr. Chacko Philip, Mr. Hemant Patel, Vivek Swaroop, and Dr, Sajan Kurian.
Welcoming the President, Mayor Judy Paul enumerated many of the accomplishments of her guest. She particularly drew the attention of her audience to Dr. Kalam's humble beginnings and challenged the children in the audience to follow his path by being good in mathematics and sciences. The members of the Town Council, State Senators Nan Rich and Eleanor Sobel and several elected officials were present to witness the dedication ceremony which was a "living tribute to world peace and the quest for social justice" as the Mayor said.
The Mayor Judy Paul declared the day as the "World Peace & Mahatma Gandhi Day." The 800 pound statue was sculpted by Matt Glenn of Big Statues, Provo, Utah in cooperation with Sculptor's Guild. Babu Varghese, a member of the Board and an Engineer by profession, designed the Gandhi Square with half an acre of land that houses the Statue.
---
GEHANI'S HONOR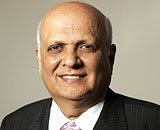 Chad Gehani
The Board of Trustees unanimously approved the recommendation of the Honors Committee in selecting Chad Gehani, past president of QCDS and NYSDA, as the recipient of the Emil Lentchner Distinguished Service Award to be presented at the January 12 Officers Installation and Dinner Dance.
The Lentchner Award is the highest honor bestowed by QCDS to a member in recognition of outstanding character and service to the Society and the dental profession. QCDS President Dr. Beatriz Vallejo congratulated Dr. Gehani on his selection.
---
INTAJ WINS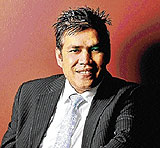 Intaj Khan
Mr Intaj Khan has been elected a councilor for Harrison Ward, Wyndham City Council 2012.
Resident of Truganina, a Melbourne suburb for 8 years, Mr Khan decided to plunge into active politics as he has witnessed living standards take a hit in recent years with inadequacy of services and hopes to make a difference.
Mr Khan's campaign started in May when he actively started to meet with local people in the community.
---
DESAI ON TOP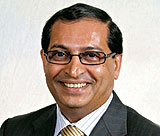 Akshay Desai
Akshay Desai, who studied medicine in India, has been made the chief of the Republican Party of Florida's finance committee.
"...I am grateful that Desai has agreed to accept this crucial role," said RPOF's chairperson Lenny Curry.
"In this election year, we need the resources for victory, and Desai's long history of work for the state and our party make him a proven leader. A.K. and I are ready to roll up our sleeves and win," a statement quoted Curry as saying.
---
FAUJA'S FEATS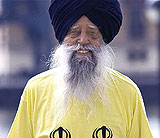 Fauja Singh
Fauja Singh, 101, continues to run his usual 10 miles everyday, often making the morning paper's headlines along the way. If there's ever been a late start in life, Fauja Singh is the epitome of it. This Indian born resident of Britain ran and completed his first marathon at the age of 89, a feat spanning 26.2 miles in 6 hours and 54 minutes. From one continent to the other, the Sikh centenarian has sped his way into people's hearts inspiring confidence. Now at the plum age of 101, he seems even more enthusiastic than before.
---
INDIAN FOODIE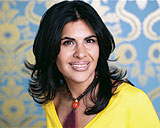 Anjum Anand
British Indian food writer and TV chef Anjum Anand has an indisputable zeal for Indian food. She's taken it upon herself to bust myths about the cuisine being greasy and heavy, and to showcase to the world the simplicity involved in preparing Indian meals on a daily basis. Having lived and worked world over, Anand understood what the cuisine required to appeal to the global palate. Through her books, columns, recipes, TV show and now the recently launch The Spice Tailor range; she's revealed the ease, wholesome goodness and absolute delectability of Indian food which leaves you wanting more.
---
FIJIIAN DELIGHT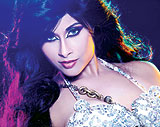 Aiysha Saagar
There's nothing typical about Aiysha Saagar and she definitely doesn't slip into a mould easily. So when you see this buxom, dusky Fiji-born brunette belt out foot-tapping Punjabi numbers, its inevitably surprising. Born to Indian parents in Fiji and raised in Queensland, Australia, Saagar's deep connection with her Indian roots is apparent. She sings fluently in Hindi and Punjabi and is very clearly a big fan of all things Bollywood. Having grown up on a staple diet of Hindi movies, the singer rates Asha Bhosle as her biggest inspiration in the world of music and has collaborated with Indian music directors for songs.
---
THE CHIC SIKH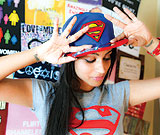 Lilly Singh a.k.a. Superwoman
A new breed of celebrities has cropped up over the recent years – viral stars. With the help of online platforms such as Blogging portals, YouTube, Twitter and Facebook pages these stars showcase their craft and attract a fan following. Canada based Lilly Singh, is one such performing artist who found her calling and audience via YouTube. Singh, aka Superwoman in the web space, is of Indian origin, 23, and an entertainer to the core. Her claim to fame are her unique and entertaining video blogs which she posts regularly on her YouTube channel.
---
DOSHI'S DISHES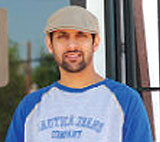 Deepak Doshi
US-based Deepak Doshi is one among those who took the road less travelled. On just a normal day, Doshi quit his job with Pepsico International to open his dream restaurant.
Doshi graduated from the University of Houston and worked as a Regional Development Manager for Pepsico for a few years. He travelled the globe for work until he gave it all up to do what he truly wanted. A decision that got him mixed reactions from his friends and family.
---
GIVING BACK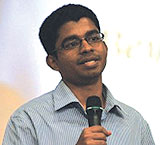 Anoj Viswanathan
"Loan a little. Change the world" is the simple, yet profound tagline of milaap.org - an organization with a simple mission - to connect socially conscious Indians and its diaspora with the working poor through charitable lending.
"The idea for Milaap was born during my stint at Orissa when I saw first-hand the difference made by solar lights to the poor households. At the same time, I also realized that these services reached only a few households and failed to make a bigger impact due to unavailability of low cost money for the poor," he says, adding that "Individuals around the world can empower a rural artisan/farmer, a student or a family in need of clean water or toilet with as small as $25 (Rs 1000) loan through www.milaap.org using credit/debit card/bank transfer. Once the borrower repays the loan, the lender gets 100% of his/her money back," says Anoj Viswanathan, who co-founded Milaap along with Sourab Sharma.
Viswanathan's early days were spent in Coimbatore, and moved to Singapore on a scholarship from Singapore Airlines to pursue his Bachelors degree at the National University of Singapore. In 2008, he took a sabbatical from university to work in the grassroots sector with a microfinance institution.
---
GLOBAL INDIAN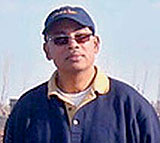 Aziz Abdul
Abdul Aziz produces high-end wine which sells for 90 pesos ($22) in the wine shops of Argentina. His wine is served in the upscale hotels such as Park Hyatt and in exclusive restaurants and high-end wine shops in Buenos Aires, Bariloche, Mendoza, Mar del Plata, Cordoba and Rosario. Aziz worked for 20 years in the IT department of the French multinational group Lagardere. He was born in South Vietnam where he lived for the first fifteen years. His mother is half-Vietnamese. His father is a Tamil from Pondicherry. He bought a 15- hectare vineyard on the outskirts of San Rafael city in Mendoza province in 2008.
---
MORE OF LOVE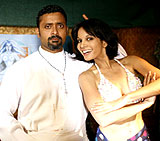 A still from Love, Wrinkle-Free
The makers of 'Love, Wrinkle Free' are vying for a spot outside the proverbial box. Indian born Sandeep Mohan who has previously assisted Sanjay Leela Bhansali decided to try his hand as an independent filmmaker and writer. Mohan is also an Emmy Award nominee for his work on Siddhanth. American resident Giju John an engineer in America by profession but a musician at heart is the second part of this duo. Set in the midst of Goa, the story explores the ever-changing relationship between the middle aged Goan businessman Savio, and his 46-year-old wife who is suddenly pregnant.
---
RISING STAR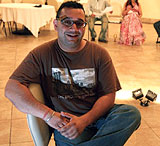 Manan Singh Katohora
Indian American filmmaker Manan Singh Katohora has won the "2012 Rising Star Award" for his feature film "9 Eleven" at the Canada International Film Festival.
Held in Vancouver, British Columbia, the festival brings the very best of World Cinema from over 90 countries around the world. It is dedicated to the creation of opportunities for the artistic interaction and exchange among independent filmmakers and the film-going community.
---
NRI VARSITY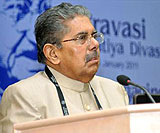 Minister Vayalar Ravi
With demands for affordable education for wards of overseas Indians growing, India has revived the idea of a university to cater to this need, with Overseas Indian Affairs Minister Vayalar Ravi giving a pledge at the mini Pravasi Bharatiya Divas (PBD) in Mauritius.
Though the contours of the university, its courses and structure is to be worked out, Ravi said that the institution may have affiliate colleges across the world, so as to enable the children of non-resident Indians (NRIs) to get education at an affordable cost.
"We announced an NRI University at the mini PBD (in Mauritius), and we decided to establish the university in India," Ravi said at his office.
---
RUBY CALLING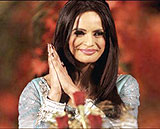 Ruby Dhalla
Canadian politician, activist, doctor and former beauty queen Ruby Dhalla is seeking an early restoration of Air India's Amritsar-Toronto flight and clearance of international flights from Mohali airport for NRIs. Dhalla, who issued a statement ahead of the Canadian prime minister's visit to Punjab, said better air connectivity from Canada to Mohali and Amritsar would benefit people including NRIs based in the UK and Canada. The Canadian PM visited Punjab on November 7.
Dhalla was in India to form a charity to help victims of fake marriages in Punjab.
---
INVESTOR BOB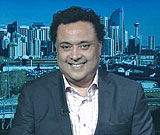 Bob Dhillon
Canada-based NRI billionaire Bob Dhillon is considering investing up to $100 million (about Rs. 540 crore) in the Indian real estate market and is planning to approach the Haryana government for developing a township near Chandigarh.
Dhillon, the president and CEO of realty firm Mainstreet Equity Corp, visited India as part of the business delegation accompanying Canadian Prime Minister Stephen Harper. "I am looking at Haryana, more specifically."
---
UK NRIS FETED
Lord Gulam Noon, chairman of the Noon Products and chief guest on the occasion, presented the award to Deepak Dogra, managing editor of Mayanewspaper, and four others.
Five NRIs have been honoured here for promoting Hindi in the UK on the occasion of 'Hindi Diwas' organized by the International Hindi Society.
Lord Gulam Noon, chairman of the Noon Products and chief guest on the occasion, presented the award to Deepak Dogra, managing editor of Mayanewspaper, and four others at the Indian Gymkhana here last night.
Others are C B Patel, Editor / Publisher of the bi-lingual English and Gujarati weekly Asian Voice, Dhruv Gadvi of Zee TV, Editor/Publisher of Pardes Weekly Jaskaran Singh and Patron of the International Hindi Society Rajendra Joshi.
Speaking on the occasion, Lord Noon described the UK as a "fair country" and welcomed its decision to resume contacts with Gujarat chief minister Narendra Modi.
He also lauded the achievements of NRIs in this country in all walks of life, particularly in the field of education. Seema Malhotra, Labour MP, said: "We can feel proud of our secular identity."
Dr Onkar Sahota, Member of Greater London Assembly emphasised the need to promote Hindi in the UK. "In this country Chinese is taught in primary and secondary schools. We should see Hindi also."
---
GUILTY DOCTOR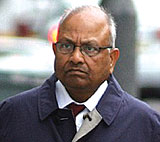 Dr Navin Shankar
An Indian-origin doctor in UK faces being struck off by the medical council after a professional panel ruled that he fell short of expected standards in treating a patient who later died from cervical cancer.
Dr Navin Shankar, of Wigmore Lane Health Centre in Luton, was found guilty of misconduct after the General Medical Council disciplinary panel heard his "gross failures" included not performing an abdominal or internal examination of the patient.
The General Medical Council found Dr Shankar's fitness to practice was impaired after deciding his misconduct put patient safety at risk.
26-year-old Nicola Sams died in August 2007 after complaints of irregular bleeding and abdominal pains which were "dismissed" by Dr Shankar, who repeatedly told her she, had "nothing to worry about".
Her cervical cancer was only discovered when she registered with another doctor. The cancer spread to her spine, neck and arms and left her unable to walk or move her hands, the General Medical Council was told.
Dr Shankar, 60, was later declared unfit to practice unrestricted after failing a series of knowledge and skills tests, the Daily Telegraph reported on Wednesday.
Dr Surendra Kumar, chairman of the panel, agreed, saying his actions "amounted to misconduct" that was "serious". Philip Gaisford, for Dr Shankar, said there was no suggestion the doctor should have suspected cervical cancer in the woman.
---
FRAUDSTER C.A.
The Crime Branch of the Delhi Police has arrested a Chartered Accountant who used to dupe people by promising them great business opportunities and huge loans from foreign banks. Officials said the accused, Brij Bhushan Aggrawal (49) of Pitampura, has swindled a huge amount of money from several victims over 15 years.
Officials said Aggarwal was wanted in a cheating case where he had taken Rs 12.5 lakh from a person for getting him a contract to run a canteen at Reliance Energy Ltd in Agra. He was also declared a Proclaimed Offender in another case of Karol Bagh where he had taken Rs 2.5 lakh from a person and had promised to get him a loan of Rs 25 crore from a foreign bank.
In 1996, a case was registered against him at Kamla Market after he allegedly cheated another businessman of Rs 15 lakh by posing as an NRI and promising to facilitate rice export from India.
In 2001, Aggarwal was booked for cheating a businessman from Ghaziabad of Rs 10 lakh by assuring him a loan of Rs 10 crore from a bank.
---
I SPY?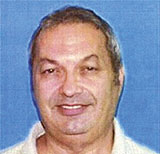 Mr Noshir Gowadia
Almost five years after he was first arrested, an Indian-American former B-2 bomber engineer was found guilty by a federal jury in Hawaii of spying for and helping China develop a stealth cruise missile. The jury found Noshir Gowadia, 66, guilty of multiple offenses including espionage for China. The counts he was indicted on included providing a design for China of a "low signature cruise missile exhaust system" cruise missile that would be "resistant to detection by infrared missiles", according to the US Department of Justice.
Gowadia, originally from Mumbai and a resident of Maui, worked for Northrop Grumman Corporation from 1968 to 1986 and worked as a contractor on classified matters for the US Government till the late 1990s. He was arrested in October 2005.
---
FALSE CASES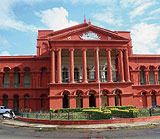 High Court, Karnataka
The High Court of Karnataka has dismissed a case of assault involving fraud-accused realtor Joseph Chacko.
The case was taken to the high court by a non-resident Indian, against whom a magistrate court had issued legal notice. The notice was issued on a complaint by Chacko, who accused 55 NRIs, including the plaintiff, George Varghese, of attacking him on December 28, 2009.
The NRI moved the high court after receiving the magistrate's notice. He contended that it was impossible for 55 of them to simultaneously launch an attack on Chacko.
Justice Subash B Adi accepted his argument and dismissed the case.
Varghese submitted before the court that Chacko has been lodging false complaints against NRIs after he was granted bail in September 2009. The realtor lodged the complaint against NRIs saying they assaulted him at Hoskote. He filed the case before the Hoskote magistrate, who referred it to the police. Varghese moved the high court after the police had registered the first information report.