I have this picture clearly in memory; it's not one event, but dozens of similar ones:
Dr Singh sits quietly, attentive in the witness chair. A needlessly loud lawyer, trying to be overbearing, rushes at him with a question carefully designed to demolish his testimony. The question is finished and hangs in the air. Dr Singh says nothing. His eyes move slowly around the room. An interminable time passes—is it seconds or many minutes? Everyone in the room is silent, but some begin to fidget. Then, the answer comes—the witness has somehow taken the question and run it through his descriptive model and redirected the question to become a platform to restate and reconfirm his own testimony and to discredit the questioner. The examining lawyer gets frustrated, even angry, he tries another supposedly devastating tack, but I know it will be to no avail. Once again Dr Singh has captured the courtroom.
Dr Singh titles his life story Driftwood. Driftwood is a piece of flotsam or jetsam long-travelled in the water and usually so eroded and distorted as to make its origin unknowable.
Unquestionably, he is well-travelled and multi-cultural, but the life journey he narrates in no way resembles aimless flotsam or jetsam. Instead, Dr Singh's journey is propelled by a prodigious intellect and keen judgment, along with a large measure of personal courage. From his story we read of a life buffeted by unexpected, even cataclysmic events, but not a life unhinged by them, nor ever irrational.
Growing up in a traditional, observant Sikh family in rural India during the Great Depression certainly shaped the options available to Awtar Singh. But, in his book we read about a boy remarkably focused on setting the trajectory of his own life. Throughout we see someone who seeks the pinnacle and always measures himself by excellence.
As a youth, his universe is torn apart by the partition of India. His native Punjab state, in which he has spent his young life is itself divided. His family home becomes part of Pakistan. Then, a shock: religious and ethnic violence spreads among people who for centuries had lived together readily accommodating one another's differences. The Singh family is forced to split up. They become refugees displaced in a civil war. Around them hundreds of thousands are dead or missing. Months pass where they do not know whether they have all survived. Eventually, the family must surrender its livelihood, its property and even the family home, to seek shelter reunited in an India they have never known.
Dr Singh does not spare us from the wrenching details. "Partition" does not capture the randomness and the chaos. Almost as an aside, we see in this first-hand account his own heroism and determination.
Not only was there partition, but newly-independent India needed to remake itself from the ground up. Nothing was more urgent for India than creating a new infrastructure to create the possibility of a modern future for its 600 million people. And, no project was more compelling in the new India than the creation of the gigantic Bhakra Dam and its canals and power plants. By importing American technological guidance, this dam became the first large-scale, fully-mechanized project in all India. It was on that decade-long project that Dr Singh learned his craft. Unique among all the Indian engineers, he rapidly mastered the new methods and their implications. He rose so quickly in the Government bureaucracy that his colleagues' professional jealousy became his principal concern.
When the dam was nearing completion, the young engineer, with impressive clarity and courage, realized that the rigid Punjabi bureaucracy would constrict his professional and intellectual growth. Rather than accept a comfortable, but circumscribed career arc, he employed both courage and intellect where he had neither money nor connections. On the strength of his own determination (and nothing else), Dr Singh uprooted himself and his new young wife to travel across the globe to attend graduate school in Boulder and then in Berkeley. In describing this enormous dislocation, we learn of a young man who measures all his options, who aims for the top, who excels and then seeks even greater challenges. As he did all his life, when Dr Singh found the circumstance limiting, he sought a new broader horizon. Thus, after earning his PhD, he left his newly-acquired faculty position at UCLA, to form his own consulting engineering firm.
But the story of his accomplishments also has a fairy tale quality. After all, he is a dark-skinned, turbaned immigrant, a member of a religious group most Americans have never encountered, who speaks in a thick accent, using his own unique syntax. From that unlikely position, Dr Singh fashioned a career as the foremost forensic engineer in all California, the darling not only of lawyers, but juries and most remarkably, the judiciary. After hearing the clarity of his testimony, judges hired him to be their own independent expert.
But, I have not yet come to the heart of the matter. Dr Singh's autobiography is fundamentally a love story. Starting with defiance of the tradition of arranged marriages, Awtar and Teji were determined that their life would be founded on love and mutual respect. In every chapter of their life, Dr Singh tells us how Teji supported and encouraged him and how he returned that consideration to her.
Only in one instance does this story resemble the irrational, thoughtless drifting of its title: that is Dr Singh's response to the unacceptable, shocking fact of Teji's sudden death during a simple, routine medical procedure. For the first time, he confronts a circumstance he cannot master or remake. His powerful intellect, immeasurable drive, and ample wealth, are inadequate in the face of this profoundly human and humbling reality.
Soon, though, Dr Singh shows the strength of his character. He uses all his faculties and much of his wealth to locate charitable vehicles to honor Teji. Where those charities did not meet his need, he invented new ones.
Not many have had the privilege I had: to witness many hundreds of hours where Dr Singh, the consulting engineer, exercised his prodigious intelligence, formulated his unassailable logic, and brushed aside lawyer trickery and misstatement with his indomitable will. On top of that I enjoyed an even greater honor, to share with him many discussions outside engineering or law, from the mundane to the metaphysical. His perspective was always supremely rational and always enlightened.
My admiration has been redoubled by reading the tale of this amazing journey. A piece of driftwood is neither heroic, nor rational, nor humane, nor charitable. Dr Awtar Singh has never been "Driftwood."
Richard Norton Pasadena, California December, 2010
END OF AN ERA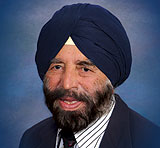 Dr Awtar Singh
Encino resident since 1968, Dr Awtar Singh who was traveling with his sister, Deepi Singh and brother-in-law, Inder Singh (Chairman Global Organization of People of Indian Origin - GOPIO) passed away on November 7. He was going to Berkeley to attend a function where he was to be honored as a distinguished alumni of UC Berkeley on November 8, 2012. Emergency treatment by paramedics and physicians at Coalinga Regional Medical Center could not revive him. The cause of death was described as sudden heart failure.
Dr Singh has been involved with philanthropic work mostly for education. In August 1998, he established a perpetual fellowship at the University of California, Berkeley to attract a top student every year from his alma mater, Punjab Engineering College, Chandigarh, India for graduate studies at Berkeley's top-ranked College of Engineering. The fellowship fund covers out-of-state tuition and fees, books, and living expenses (boarding, lodging and pocket money) amounting to over $30,000 annually. As many as, 14 top talents from Punjab have already come to UC Berkeley under this endowment.
Dr Awtar Singh also endowed a similar fellowship in the University of Colorado, Boulder for graduate and undergraduate students of Indian Origin. The scholarship grants $5000 per student annually to assist with tuition and living expenses. Dr Singh has established another program where he contributes matching fund for (Earn and Learn) program for students.
Dr Singh has been sponsoring one Heritage award for excellence at middle and high school level, given by the Indian American Heritage Foundation annually in Southern California.
For the last 15 years, Dr Singh has been donating his time for preparing students for SAT and GMAT examinations. The students' scores go up significantly and they are admitted to universities of their choice. Dr Singh also prepares students for GMAT and they get admitted for the MBA program in UC Berkeley, Duke University, etc.
Dr Awtar Singh received his B.S. degree from Punjab Engineering College in 1949. He worked as an executive engineer on Bhakra Dam, 700 feet high concrete dam which was one of the highest of the world at that time. Dr Singh came to the United States in 1962. He got his Masters in 1963 from Colorado University, Boulder, Colorado and Ph.D. in Civil Engineering (Geotechnical) in 1966 from UC Berkeley. He taught at University of California, Los Angeles. During his academic years, he published several papers in Geotechnical Engineering and was awarded the Thomas A. Middlebrook award for best paper of the year.
He founded a consulting firm in 1972 by the name of Lockwood-Singh and Associates. After several thousand geotechnical and geological projects, he specialized in failure mechanism and mitigation measures of landslides and construction defects. On occasions, even the judges and mediators have called upon him for his technical opinion. He became an expert witness and testified in several large landslide litigation cases. He has been written up in several professional journals and LA Times and also in some Indian newspapers in the US for his philanthropic activities.
Dr Singh has received numerous awards and honors from American universities and many Indian organizations including NFIA for his professional excellence and philanthropic work.