An estimated 5 million Indian nationals with ECR passports are working on temporary employment/ contract visas, predominantly in the construction, healthcare and household services sectors, mostly in the Gulf countries. It is observed that a majority of the earnings periodically remitted by overseas Indian workers to their families in India are rarely accumulated as savings and often cause only a temporary improvement in the consumption expenditure of their families. As a result, a majority of overseas Indian workers face the risk of poverty when they return to India and when they are too old to work. Overseas Indian workers are largely excluded from formal social security benefits available to residents of ECR countries.

Statistics say that on an average, nearly one in every five migrant Indian workers in ECR countries is a woman. These women workers are even more vulnerable to old age poverty since they enjoy a higher life expectancy than men but are disadvantaged vis-a-vis men due to relatively lower incomes, a shorter working age and interruptions in employment due to childbirth and other family responsibilities.
The Government of India has demonstrated a sustained and deep commitment to inclusive growth and has taken a number of important steps to improve incomes and provide employment opportunities and equal access to social security for its citizens. However, there has been no mechanism as yet for overseas Indian workers to benefit from such policy initiatives.

In the context as mentioned above, the Ministry of Overseas Indian Affairs (MOIA) has launched a new specially designed social security scheme titled "Mahatma Gandhi Pravasi Suraksha Yojana (MGPSY)". The MGPSY will encourage and enable overseas Indian workers to voluntarily save for their old age, save for their return and resettlement and obtain a life insurance cover free of cost. A secure and well regulated institutional framework has been designed to encourage, enable and assist overseas Indian workers to participate in this Scheme.

Features of the Scheme

• It has a Simple and Integrated Framework – A single window interface where the applicant is required to approach MOIA-appointed service provider for registration in the scheme, paying contributions and for resolving grievances.

• Co-contribution by Government of India–Government of India will co-contribute into each subscriber's account (subject to conditions) to encourage subscribers to invest and participate in the scheme.

• Pension in old age through the Pension Fund Regulatory Development Authority (PFRDA) regulated National Pension System - Lite.

• Savings for Return and Resettlement (R&R) through a Securities and Exchange Board India (SEBI) regulated mutual fund Monthly Income Scheme of Unit Trust of India (UTI).

• Life insurance covers against natural / accidental death and disability under Janashree Bima Yojana (JBY), LIC.

Benefits in MGPSY

• Pension in old age through the PFRDA regulated NPS-Lite

• Savings for Return and Resettlement (R&R) through the SEBI regulated Unit Trust of India's Monthly Income Scheme (MIS)

• A term life insurance cover of Rs. 30,000 per year against natural death and Rs.75,000 against death by accident through the Life Insurance Corporation of India (LIC).

In order to motivate broad-based voluntary enrolments, encourage regular savings, and top-up the R&R and pension accumulations of overseas Indian workers, the MOIA will provide following co-contribution to overseas Indian male and female workers.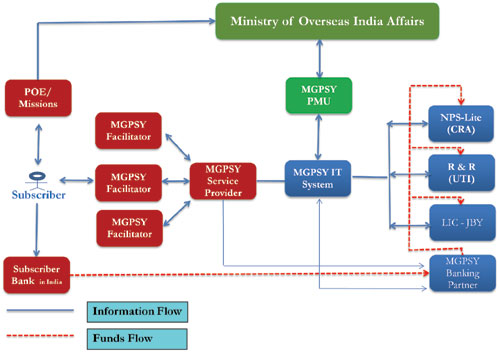 Eligibility criteria
The scheme is application for overseas Indian workers in the age bracket of 18 to 50 years, having Emigration Check Required (ECR) stamp on their passport and who shall be either working or going to work in the ECR country on temporary employment or contract visa are eligible for enrolment in MGPSY.
Government Co-Contribution in MGPSY
In order to encourage subscribers to participate and take benefit from the scheme, MOIA has notified to co-contribute in the scheme to support subscriber. The Government Co-contributions under MGPSY are:
• Rs.1,000 per annum per subscriber by MOIA in line with Swavalamban platform for all the subscribers who save between Rs.1,000 and Rs.12,000 per year in their NPS-Lite account
• An additional co-contribution of Rs.1,000 per annum by MOIA has been proposed for overseas Indian women workers who save between Rs.1,000 and Rs.12,000 per annum in NPS-Lite
• An annual co-contribution of Rs 900 per annum by MOIA to each eligible subscriber that saves at least Rs 4,000 per annum towards Return and Resettlement.
• Life insurance cover will be provided to overseas Indian workers who join as subscribers under the MGPSY so that the families of these workers receive a reasonable compensation in case of uneventful death or disability of the wage earner.
Key Stakeholders of the MGPSY:
The Ministry of Overseas India Affairs(MOIA) is the sponsor and owner of the scheme. The MOIA is also the nodal agency for design, development and implementation of MGPSY in India and in 17 ECR countries. The MOIA along with following 3 scheme partners offers three partners' schemes in the form of a package to MGPSY subscriber:
• Pension Fund Regulatory and Development Authority (PFRDA)
• UTI-Asset Management Company (AMC)
• Life Insurance Company (LIC of India)

Apart from that the MOIA has also appointed Bank of Baroda as Service Provider and Banking Partner. NSDL has been involved as System Integrator for smooth implementation of the scheme.
The Ministry has launched Mahatma Gandhi Pravasi Surakasha Yojna (MGPSY) w.e.f May 1, 2012 in Kerala. As a part of the pilot launch it has been proposed that the scheme will be launch in Kerala and United Arab Emirates (UAE) simultaneously, thereby offering the benefits offered by this scheme to the Indian workers under ECR categories who are going to work or are presently working in UAE or ECR country. A detailed process flow on MGPSY is attached with this letter.
On 21st of July the Ministry under the guidance of Honorable Minister of Overseas Indian Affairs Shri Vayalar Ravi has inaugurated the first enrolment center in Kerala and the scheme is now available to subscriber for enrollment. Ministry is now looking forward to operationalize the scheme in UAE. In this regard officers of this Ministry propose to visit UAE for conducting a preliminary study of the prevailing conditions pertaining to the launch and rollout of the scheme across all Emirates of UAE. The purpose of the visit is to study, analyze and identify various aspects required towards the successful operations of the scheme in UAE.