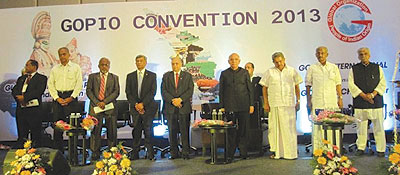 GOPIO Officials and Dignitaries at GOPIO Community Service Awards (CSA) banquet on Jan. 6th, 2013 From L to R: Dr. Thomas Abraham, P.C. Cyriac, Sunny Kulathakal, Ashook Ramsaran, Inder Singh, Governor H.R. Bharadwaj, MOIA Minister Vayalar Ravi, Kerala NRI Minister K.C. Joseph and former Governor M.M. Jacob
The convention, which was attended by delegates from 30 countries, explored challenges and opportunities before the Diaspora, reviewed their past, present and future and reviewed the economic progress and the celebrated centenary of India's freedom movement initiated by the Diaspora. The 24th convention of GOPIO passed ten resolutions and one expressed serious concern over the growing tendency among people, especially the relatives of overseas Indians, to grab their ancestral property.
The resolution adopted at the end of the two-day convention said that the share of the People of Indian Origin (PIOs) and Non-resident Indians (NRIs) in their ancestral properties was being grabbed by relatives in connivance with local authorities and unscrupulous elements.

The resolution also noted that the women living overseas were also being denied a fair share of their parental property by manipulating the distribution process. The resolution urged the Government of India to set up fast track courts exclusively to settle property-related matters pertaining to PIOs and NRIs.

Another resolution demanded a fast track system to clear other cases involving PIOs and NRIs pending in courts in the state. The resolution noted that the corrupt system was not allowing expeditious resolution of the cases.
---

GOPIO Convention Kochi 2013 - Session on Gadar Movement (l to r): Manpreet Kaur Singh, Prof. Harish Puri, Inder Singh, Dr. Neerja Arun, Dr. Savitri Sawhney and Teressa Wycliff

GOPIO CSA Award Recipients with GOPIO Officials and Dignitaries, Top Row:L to R. GOPIO Kochi Secretary Jose thomas, Ashook Ramsaran, Inder Singh, P C Cyriac, Sunny Kulathakal, Governor H. R. Bhardwaj, MOIA Minister Vayalar Ravi, Kerala NRI Minister K.C. Joseph; Bottomp Row (Some of the Awardees): L to R George Subraj, Murray Bullock, Vasu Chanchlani, Dr Anil Mehta, Ashok Deo, Manpreet Kaur Singh
L to R:Justice Justice Gyan Sudha Mishra, Judge of the Supreme Court of India; Mr. Rajat Sharma, CEO of Indian TV; Ashook Ramsaran, President of GOPIO International; Munish Gupta International Coordinator, GOPIO, Africa

---
The convention also passed eight other resolutions. One is related to the limit imposed on the gold NRIs can carry with them when they visit the country. The current rules allow gold jewelry worth Rs.10, 000 for men and Rs.20, 000 for women.
"This means that the allowance is only three grams of gold for man and six grams for a lady. So we are not allowed to even wear a ring. We resolve to bring this issue to the attention of appropriate authority to quash this thoughtless policy. If a limit must be put, it should be at least 25 grams for a man and 50 grams for a lady", the resolution added.
The convention started with a GOPIO Executive Meeting Jan. 5th at the Presidency Hotel chaired by GOPIO president Ashook Ramsaran and attended by: Chairman Inder Singh, Sunny Kulathakal (Executive Vice President); Munish Gupta (International Coordinator, Africa); Umesh Chandra (International Coordinator, Oceania); Dr. Sai Giridhar (International Coordinator, Middle East); Dr Arnold Thomas (International Coordinator, Caribbean; and Dr Thomas Abraham (Executive Trustee of GOPIO Foundation). An interactive session on Regional & Country Reports followed the Executive committee meeting.
Regional & Country Reports session was chaired by GOPIO chairman Inder Singh. Reports were presented by: Markandey Rai (Kenya); Dr Ramesh Caussey on behalf of Ved Prakash Goojha (GOPIO France); Deo Gosine - Trinidad & Tobago; Dr. Arnold Thomas - Caribbean; Munish Gupta - Africa; Dr. Sai Giridhar - Middle East; Umesh Chandra - Oceania (Fiji, Australia, N. Zealand); report by Dr Piyush Agrawal - North America; Pradeep Kapoor - New Zealand; Mrs. Lucky Singh - Australia; Dr. Prabhu Kulkarni - Ireland; Mr. Radha Krishnan - Indian Organizations in the USA; K. N. Gupta - Liaison with Government of India; Harbachan Singh - Liaison to United Nations.
The inaugural session
The main convention was held on Jan. 6th at the Crowne Plaza Hotel on Jan. 6th morning. The inaugural session was graced with the participation of Former Gov. M. M. Jacob (former Governor of Meghalaya and Arunachal Pradesh, India) as chief guest. Gov Jacob has been advisor to GOPIO since its inception in 1989. Welcome remarks were made by: Sunny Kulathakal (Executive Vice Pres, GOPIO Int'l, Bangalore); P. C. Cyriac (President of GOPIO Chapter, Kochi, India); Inder Singh (Chairman GOPIO Int'l, USA); Ashook Ramsaran, (President, GOPIO Int'l, USA), followed by Inaugural Remarks by Former Gov. M. M. Jacob. Newly published EDGE OF THE CLIFF by Anand Mullo (Historian, Mauritius) was released and Suman Kapoor (Chair, GOPIO's Women's Council, New Zealand) concluded with a note of thanks.
Delivering a keynote address at the inaugural session, former Meghalaya and Arunachal Pradesh Governor M. M. Jacob called for expanding the activities of the GOPIO.

GOPIO Community Service Awards were accorded to:
• Murray Bullock (St Vincent & Grenadines)
• George Subraj (Guyana-USA)
• Dr Anil Mehta (Netherlands)
• Vasu Chanchlani (Canada)
• Ishwar Ramlutchman (South Africa)
• Sunny Augustine (Dubai)

Special Recognition was given to:
• Dr A. Didar Singh (India)
• Manpreet Kaur Singh (Australia)
• Ashok Rao (USA)

Posthumous recognition for outstanding community service was given to Dr. Awtar Singh, received by nephew Sherri Chhabra.
.