FORGING TIES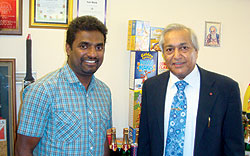 Mr Muttiah Muralitharan with Dr. Rami Ranger MBE, CEO Sun Mark Ltd
Sun Mark Ltd is delighted to announce the appointment of cricket legend Mr Muttiah Muralitharan as its international brand ambassador. Sun Mark Ltd markets quality food and drink products in over 100 countries and its brands have become household names across the world. It is being hailed as an ideal partnership with Murali being the world record holder for the most wickets taken in international cricket, a record which is expected never to be broken, and Sun Mark which holds the prestigious accolade of being the only company in Britain to have won the Queens Award for Enterprise in International Trade for four consecutive years, a record which also cannot be broken in a hurry.
---
HINDU VERSES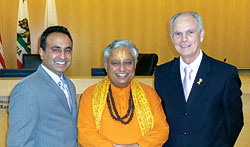 From left: Council member Ash Kalra, Rajan Zed and Mayor Chuck Reed
City Council of San Jose in California (USA), founded in 1777 and now 10th largest in USA, started its day on January 15 afternoon with Hindu mantras, containing verses from world's oldest existing scripture.
Hindu statesman Rajan Zed delivered the invocation from ancient Sanskrit scriptures before the City Council. After Sanskrit delivery, he then read the English translation of the prayer. Sanskrit is considered a sacred language in Hinduism and root language of Indo-European languages.
Zed, who is President of Universal Society of Hinduism, recited from Rig-Veda, the oldest scripture of the world still in common use.
---
HALL OF FAME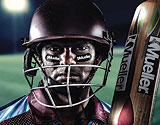 Mr Shiv Chanderpaul
Shiv Chanderpaul has been American College Cricket's Brand Ambassador from the beginning. He is the only active Test cricket player to actively work on developing the game in the US and Canada since late 2008. For his efforts Chanderpaul became the First Inductee into the American College Cricket Hall of Fame, at a function in NYC, attended by legends Brian Lara, Clive Lloyd, Courtney Walsh and Jimmy Adams. Chanderpaul signed an endorsement deal with an American company—Mueller Sports Medicine. The two year deal has Chanderpaul representing Mueller products through a variety of marketing efforts and appearances across all media.
---
INDIASPORA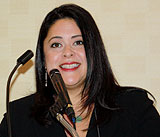 Ms Maya Soetoro-Ng
US President Barack Obama was not there, but his maternal half-sister Maya Soetoro-Ng came to cheer with Indian-Americans as they had a ball to celebrate the second-term inauguration of the man they voted overwhelmingly. "Indian-Americans are tremendously important and we hope they would be increasingly visible not only in the government, but also in all parts of American life," said Maya at the "Indiaspora 2013 Inaugural Ball" in January.
"It is certainly a reflection of how important India is and how important Indian-Americans are to the fabric of the nation," added Maya at what was termed the Indian-Americans' political "coming-of-age party" at Mandarin Oriental in the national capital.
---
FRESH APPEAL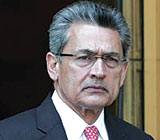 Mr Rajat Gupta
Former Goldman Sachs director Rajat Gupta has asked a US court for a new trial arguing that the district judge had committed "serious evidentiary errors" that tipped the scales decisively in the case. Gupta has asked the court to reverse his conviction on insider trading charges, arguing that the district judge had committed "serious evidentiary errors" that tipped the scales decisively in the case.
In a 72-page brief submitted with the US Court of Appeals for the Second Circuit, Gupta's lawyer Seth Waxman argued that his client is "entitled to a new trial" at which "unreliable hearsay statements are excluded" and the jury "hears the full story of Gupta's defence".
---
FDI APPROVED
Central Government approved the following four FDI proposals:

ECONOMIC AFFAIRS
Name of the applicant: M/s IvyCap Ventures Trust
Particulars of the proposal: To allow NRI investment through normal banking channels in compliance with FEMA Regulations and extant FDI Policy.
FDI/NRI inflows (Rs. in crore): 200.00

POWER
Name of the applicant: M/s Spanco Power Distribution Ltd., Mumbai Particulars of the proposal: Post facto approval to act as an investing company and make downstream investments in its WoS and other companies in the power distribution sector. FDI/NRI inflows (Rs. in crore): 80
ELECTRONICS & INFORMATION TECHNOLOGY
Name of the applicant: M/s Wipro Limited, Bangalore Particulars of the proposal: Transfer of shares by way of swap consequent to a demerger of non-IT activities. The company is engaged primarily in IT sector and also in other diversified activities including defence. FDI/NRI inflows (Rs. in crore): Nil
Name of the applicant: M/s GPX India Private Limited, Maharashtra Particulars of the proposal: To issue equity shares to the Foreign Collaborator against import of capital goods/equipment/machinery to carry out the business of setting up of domestic Other Service Provider (OS) (Data Centre) for providing various products and services to its clients/customers. FDI/NRI inflows (Rs. in crore): Nil
---
HISTORY MAKER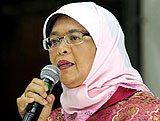 Ms Halimah Yacob
Indian-origin politician Halimah Yacob scripted history by becoming the first woman Speaker of Singapore's Parliament, replacing Michael Palmer who was forced to quit over his extra-marital affair.
58-year-old Halimah, an Indian-origin Muslim, resigned as Minister of State for Ministry of Social and Family Development to take over her new assignment. Halimah, a former labor lawyer and a mother of five, is a Member of Parliament from the ruling People's Action Party (PAP), having entered politics in 2001.
She filled the position vacated by Palmer, former People's Action Party MP who stepped down on December 12, 2012.
---
PLEADS GUILTY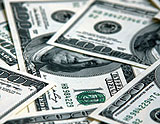 Sanjay Sethi, a New Jersey businessman, pleaded guilty on January 7, 2013 to using hidden offshore bank accounts to defraud the U.S. in a so-called "Klein conspiracy." According to the information that the government filed in federal district court in New Jersey, Sethi used the "NRI Services division" of a large bank. Milwaukee neurosurgeon Arvind Ahuja, an Indian American who was convicted in August of failing to file an FBAR and filing a false tax return, also used a bank's NRI Services division to conceal his income and assets from the IRS.
Sethi's bank accounts at the large bank's Swiss and Indian divisions had a combined balance of as much as $4.7 million.
---
NRI QUOTA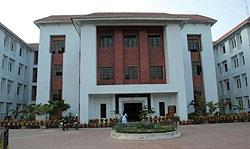 Krupajal Engineering College, Bhubaneswar
Private engineering colleges in Odisha have reiterated their demand to fill up 10% seats through management or NRI quota for the 2012-13 academic session.
"Despite an Odisha High Court order in October last year, which says 10% seats should be filled up by the colleges, leaving 5% for the OJEE, the government has not implemented the decision," secretary of Odisha Private Engineering Colleges' Association (OPECA) Binod Dash said.
Of the total 42,000 seats in engineering colleges of the state, 15% seats are reserved for management or NRI quota. However, the seats are filled up by the OJEE.

---
RED CARPET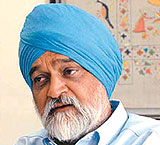 Mr Montek Singh Ahluwalia
Seeking to inspire researchers, the government plans to roll out the red carpet to attract top Indian scientists working abroad to spend some time in institutions in India. As per the plans, such "very high quality" scientists be offered an annual remuneration of USD 1,00,000 (approx Rs 55 lakh) in addition to fully furnished accommodation and relocation expenses for a minimum of one and up to three years in India. Planning Commission Deputy Chairman Montek Singh Ahluwalia has suggested this proposal in a "conceptual note" circulated to Secretaries of scientific departments of the government. Ahluwalia has called a meeting of Secretaries of science department recently to discuss the proposal.
---
INTERNSHIP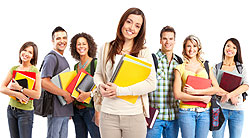 Two Indian American students will get a chance to work with lawmakers in America for eight weeks, as part of an internship programme by Capitol Hill. The internship has been announced by a Chicago-based Indian American organisation.
All Indo-American college undergraduates and graduates from Illinois, who are interested in public service and policy making, can be part of the programme, announced the Indo-American Community Services (IACS).
The selected students will get the opportunity to do internship at the offices of U.S. Senate and House lawmakers or in House and Senate leadership offices.
---
AP ATTRACTS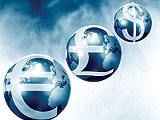 The politically volatile situation in Andhra Pradesh has not deterred FDI (foreign direct investment) and NRI (non-resident Indian) investments in the south Indian state, said K. Dharma Reddy, executive director of Andhra Pradesh Industrial Infrastructure Corporation Limited (APIIC). Reddy, who was in Dubai to seek investments in the state from the Telugu-speaking community in the UAE, said the APIIC provides financial and tax incentives as well as guidance on profitable investments under industrial investment promotion policy. He mentioned that the state offers best the investment opportunity with required infrastructure, connectivity and easy availability of skilled and unskilled manpower.
---
GRAND HONOUR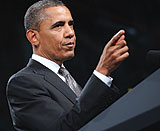 President Obama
US President Barack Obama, presented the prestigious National Medal of Technology and Innovation to eminent Indian American Rangaswamy Srinivasan for his groundbreaking work with laser. Rangaswamy received the award along with Samuel Blum and James Wynne, for the pioneering discovery of excimer laser ablative photodecomposition of human and animal tissue, laying the foundation for PRK and LASIK laser refractive surgical techniques, that have revolutionised vision enhancement. At a glittering function at the White House in January, Obama presented National Medal of Science to 12 eminent scientists while 10 extraordinary inventors received 2011 National Medal of Technology and Innovation.
---
T.B. RESEARCH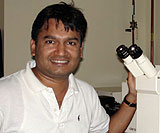 Dr Bikul Das
Indian American researcher Bikul Das at Stanford University has come up with a remarkable study in the field of TB. He made a significant discovery regarding the complexity faced in eliminating the disease completely even after treatment. Das has been conducting research on the topic for the last 15 years and recently he published a study in the journal 'Science Translational Medicine'. As per the study, the TB bacteria hide itself beyond the reach of antibiotics, in a group of stem cells inside the bone marrow. The bacteria are supposed to reappear later on, thus injuring the body. Nearly 1.9 million people die annually because of TB in India.
---
FLOGGING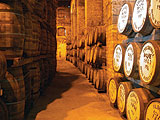 Two Indian nationals have been sentenced to one year in prison each and flogging for illegally manufacturing and selling liquor in Saudi Arabia, where alcohol is strictly prohibited.
A court in Saudi Arabia also ordered the two Indian nationals, who apparently confessed to the illegal manufacture of alcohol, to be deported eventually after their sentence is complete.
According to a report in the Saudi Gazette, the two Indians, who have not been identified, were sentenced to one year in prison, 50 lashes each to be repeated six times with a week in between, and to be deported after serving their sentence.
---
RESIGNS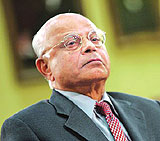 Mr Natwar Gandhi
Indian-American Natwar Gandhi, who as the chief financial officer of Washington DC was responsible for dramatic financial turnaround of the American capital, has resigned, less than a year after he received a third term.
Gandhi, 72, said he is resigning for "purely personal" reasons. He will step down on June 1. Accepting his resignation, mayor of Washington DC Vincent C Gray said that Gandhi would be missed under whom Washington DC's finances experienced a dramatic turnaround over the last dozen years.
Gandhi has held the office since 2000 and was appointed to a new, five-year term last year.
---
OZ ORDER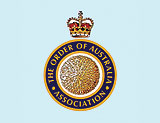 To the array of accolades already accumulated over the years, Adelaide's Dr Jagan Mazumdar added another one on Australia Day. As part of this year's Australia Day Honours, he became the recipient of the Order of Australia (OA) "for service to applied mathematics and bio-medical engineering as a researcher and educator, and to the Indian community".
This January 26 is a memorable day for me. To have my services recognized in such a way by my adopted country on a day when my country of origin, India, celebrates its Republic Day honouring a number of distinguished persons is a double dose of delight," said Dr Mazumdar.
---
BANK PREZ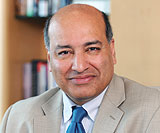 Mr Suma Chakrabarti
A British citizen of Indian origin Suma Chakrabarti was chosen out of a group of five candidates to become the new president of the European Bank for Reconstruction and Development. 63 government shareholders of the bank chose Chakrabarti as the new head.
According to the Wall Street Journal, Chakrabarti is the top civil servant at the Ministry of Justice in UK and prior to that was a top official at the Department for International Development.
The outcome marked a rare setback for the French and German governments as they had backed Philippe de Fontaine Vive Curtaz, a French citizen who works at the European Investment Bank.
---
$200 M FRAUD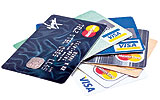 At least five Indian-origin men are among 18 others charged here for running a whopping USD 200 million global credit card fraud under which they used thousands of fake identities to dupe businesses and financial firms and wired millions of dollars to Pakistan and India. In one of the largest credit card fraud schemes ever charged by the US Department of Justice, the men fabricated identities to obtain credits cards and doctored credit reports to pump up the spending and borrowing power associated with the cards. They would then borrow or spend as much as they could based on their fraudulently obtained credit history and not repay the debts, looting businesses and financial institutions of more than USD 200 million in confirmed losses.
---
LARGE DEPOSITS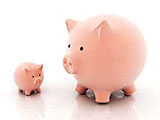 Continuing rupee fall and higher interest rate have seen deposits by non-resident Indians (NRIs) nearly doubling in the first eight months of 2012-13 to $11.24 billion from $6.39 billion a year ago, according to data from the Reserve Bank of India (RBI).
It can be noted that the rupee had hit an all-time low of 57.32 to the dollar on 14th June. However, in January the rupee ended at 54.76 to the dollar, which is 4.67% stronger from its all-time low.
Even though the currency has appreciated from its all-time low, inflows into NRI deposits continue on the back of higher interest rates.
---
MIND MEETING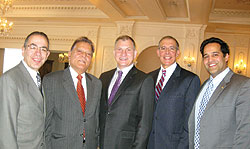 Judge Gardner, Dr. Parveen Chopra, Judge Paradisio, Judge Skelos, Samir Chopra
On January 27, 2013 Community leaders recently met with members of the Judiciary from the District Court, Supreme Court, Appellate Term and the Court of Appeals—New Yorks's highest court. The lavish function was held at the luxurious Carlton Hall located on Long Island, New York. Present on the occasion was India-born Dr Parveen Chopra who has resided in the USA for the past 45 years. He has excelled in academics, and provided leadership to the civil and human rights movement.
---
DECKS CLEAR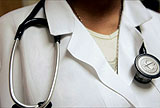 With the rejection of the proposal to enact the National Commission for Human Resources in Health (NCHRH) Bill, the Health Ministry is now planning to amend the MCI Act to allow overseas Indian doctors to practice in India. The provision to enable Overseas Citizenship of India (OCI) card holders to practise in India was part of NCHRM proposal, which was nixed by the parliamentary standing committee on health and family welfare.
The ministry was earlier in the process of setting up a website where NRI doctors willing to serve in India could register. However, with the Bill's rejection, the Medical Council of India (MCI) is unlikely to be out of the regulation scene anytime soon.
---
IDRISI PICKED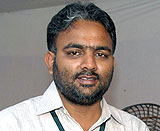 Mr Aamir Idrisi
A software professional has been picked for an American leadership programme that emphasizes the importance of pluralism, tolerance and volunteerism as components of civic life in the US. Aamir Idrisi, 31, is president of the Association of Muslim Professionals (AMP). He is the first Indian Muslim to be selected for the 22-day programme in which representatives from 40 countries have been chosen.
"This programme will allow me to ineract with people from the government and NGOs across the US and others from different countries. It will give me a chance to project India in a much better light and provide an opportunity to share and learn," Idrisi has said.
---
HIGH ON RENT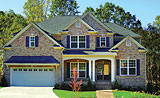 Though Indian-Americans have the distinction of being the highest-per capita income group among ethnic communities, they lag far behind their European counterparts when it comes to owning a house in the US.
According to the 'Homeownership Among the Foreign-Born Population: 2011', released by the Census Bureau, 55 per cent of the Indian-Americans own a house of their own while 45 live in rented accommodation.
Over 70 per cent of foreign-born households with a householder from Canada (71 per cent), Germany (72 per cent), Italy (79 per cent), and the United Kingdom (73 per cent) were owner occupied.
---
MILLIONS RAISED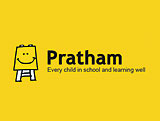 A group of Indian-Americans in New York attended an unusual black-tie dinner gala one evening. Over a video link they chatted with students of a Pune slum school. This was one of many fundraisers hosted by voluntary organization Pratham USA. Its mission: Mobilize Indians in the US to get involved in its work.
The dinner was a success. More than 400, mostly those of Indian origin, pledged support to Pratham USA. On a single night, they donated $1.4million to educate tiny tots in India's impoverished pockets.
For many like Atul Varadhachary (50), one of Pratham USA's founders, the visible impact of Pratham's work and its dedicated staffers are motivating factors.
---
GILL ELECTED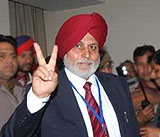 Mr Jasvir Singh Gill
Jasvir Singh Gill was elected as president of the NRI Sabha, Punjab, by defeating rival Kamaljit Singh Hayre by 197 votes, as poll authorities declared the results here in January.
Assistant returning officer-cum-SDM Iqbal Singh Sandhu said Gill secured 657 votes while Hayre bagged 460 votes. Pritam Singh Naurangpur was adjudged a close third with 452 votes. Though over 18,000 NRIs were enrolled as voters, only 1,624 turned up at NRI Sabha Bhawan, the venue for elections, to exercise their franchise. The votes of 55 NRIs were declared invalid.
Interestingly, all candidates were supported by Akali leaders.
---
SENTENCED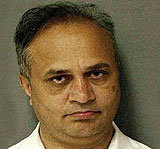 Mr Babubhai (Bob) Patel
An Indian-American pharmacist has been sentenced to 17 years in prison by a US court for a healthcare fraudworth millions.
Babubhai (Bob) Patel, 50, who owned and operated 26 pharmacies across metro Detroit, was sentenced in Michigan court, five months after a jury convicted him of billing the government for more than USD 57 million for painkillers that were medically unnecessary or never provided.
The government said he paid doctors to write the orders and had recruiters offer cash to poor people in exchange for their Medicare or Medicaid number. In addition Patel is to pay USD 17.3 million, and restitution to Blue Cross Blue Shield in the amount of USD 1.5 million.

---
TOP STARTERS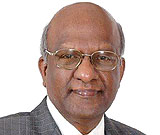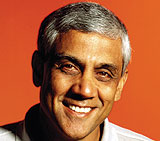 Mr Sridhar Mitta Mr Vinod Khosla
Indian entrepreneurs are the faces behind a growing number of US tech startups. A study by the US based Kauffman Foundation shows that 33.2% of the cofounders of engineering and technology firms founded by immigrants in the US since 2006 were Indians. The next came the Chinese, at 8.1%.
Another study done in 2007 for the period 1995 to 2005 had found that Indians accounted for 26% of the co-founders during that period. So there's been a 7 percentage point increase in the Indian contribution in the post-2005 period. In fact, the Indian immigrant contribution was the only one that increased.