Shripad Yesso Naik, 61, is a third-term BJP MP representing North Goa. He is the party's state unit founding member and still remains the senior-most leader. His mild-manner and infectious smile hides a razor sharp political brain. It is no surprise that he was the most sought after junior minister during the tenure of former Atal Behari Vajpayee government. From 2000 to 2004, he was Minister of State (MOS) in five different ministers under different cabinet minister. Starting with Union Minister of State, Agriculture (30 Sep. 2000 - 2 Nov. 2001), Shipping (2 Nov. 2001 - 14 May 2002), Civil Aviation (2002-2003), Road Transport & Highways (24 May 2003 - 8 Sept. 2003) and Finance, Revenue (8 Sep. 2003 - 22 May 2004). As a junior minister from a tiny state, the young politician could not have asked for more. He got the best exposure dealing complexities all these ministries and gained invaluable experiences in working of government. But of all the ministries, it was his last portfolio in Finance ministry that had excited him most. Given a chance, he would like to go back to the ministry and serve it to bring difference among people. In a wide-ranging interview, Mr Naik talked on various subjects, including the most discussed issue of who will be next Prime Minister (PM) candidate from the party? Will Gujarat Chief Minister (CM) Narender Modi be declared party's candidate before the 2014 general election or party will face election without declaring candidate? Here are extracts of the interview with Special Correspondent Anjay Sinha
Will the party declare Narender Modi as their PM candidate for 2014 General election?
The party has still not taken the decision. The issue has still not been discussed yet. However informal discussion among senior party leaders on the topic revolves around whether to face election by announcing PM candidate or wait for the result before choosing. It is a crucial question as party leaders know the ground reality that the next Government at the centre will also be a coalition. So at present the party is in the process of consultation with the National Democratic Alliance (NDA) constituent parties to gauge their views. It is only after their views are taken that the party will arrive at a decision.
However left to the party's cadre, there is no doubt that Narender Modiji is most popular choice. The enthusiasm he draws among cadres was in full swing during the 3-day executive meeting held in Delhi. His presence electrifies cadres. This was visible in the rousing reception that he received on arrival for the meeting. It was spontaneous, not like those orchestrated by politicians to show their popularity.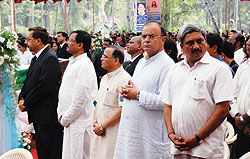 Goa Chief Minister Mr Manohar Parrikar, Leader of Opposition in RS Mr Arun Jaitley, Mr Shripad Naik, MP, Minister Francisco D'Souza
Has extensive discussion in media over who would be the BJP's PM candidate and refusal to immediately announce Modi's name, caused confusion among cadres?
It is a deliberate strategy of opposition parties, especially Congress which is nervous of losing the election to kick-start unnecessary debate. Our cadres understand the tactics very well. They are mature political workers and know well that the reality of politics demands several compromises. So even when they overwhelmingly support Modiji candidature for the PM post, they also understand that without larger support of the NDA parties, there is no way they could dislodge corrupt and rudderless Congress-lead UPA Government. The party cadres, workers and leaders all are clear on the issue that the first task is to throw the corrupt Government.
What is the chance of BJP coming to power?
Every worker is electrified as they sense that this time the power is within reach as public is genuinely fed up with UPA-led Congress Government headed by Dr Manmohan Singh. The public outcry triggered by massive loot of Government money by Congress ministers has made our task easier. The campaign lead by anti-corruption crusader Anna Hazare and Arvind Kejriwal further weakened the Government. In such circumstances, we are more than confident of coming back to power this time. We could feel this in enthusiasm of our workers.
Has factionalism among senior leader weakened the party?
Factionalism among senior leaders is not a new phenomenon in a political party. However party worker see these things as an individual matter. The cadres don't get affected. Maybe handful of supporters of a particular neta might get affected but most of them remain unruffled. Since our party has strong ideology, it keeps ground level workers intact and motivated.

Tell us about the BJP getting unprecedented support from minority Catholic community in Goa?
The Catholic Community overwhelming support to the BJP may have surprised outsiders but we could see it happening gradually. The transformation has not been overnight. The trust has been built with the community over more than a decade.
Long time back we consciously took a decision that the party will focus on important agenda of state like environment degradation due to rampant illegal mining over touchy religious or other issues. Election after election we pushed the agenda of good governance in the state. If you analyze our election results in each assembly election, we kept on gaining votes and seats. At last the members from the minority communities got convinced that the labeling of our party by mainstream media and political parties like Congress as anti-minorities and communal is not true. In last election for the first time they decided to give us a chance. They fought from party and now a record 10 MLAs got elected from the minority community.
The success may seem small but our senior party leaders are very happy over this change. It has given them moral courage to push for making the issue of good governance and anti-corruption top priority for the party at national level. They want all state unit to follow Goa's Model. It is really a proud moment for us in the state unit because it had shattered the Congress biggest political weapon of their claim of being the minorities' sole champion in the country.

Has the cancellation of mining rights affected government revenues, curtailing its social spending?
This is just a myth being purveyed by mining lobbyists who have all got affected due to our Government's strong action. We have successfully curtailed pilferage and leakages, which has boosted our revenue collections from mining. Moreover we have received overwhelming support from the public for our tough actions. The public in our state are extremely conscious of environment. They want it to get protected at all cost. So the money loss is a small issue.

Can you tell us in brief BJP history in Goa since you are founder member?
Till 1988, I was not affiliated with any political party. I was more a social worker. Since I was my village sarpanch, I was aware of social and political issues. In 1988, I founded the BJP unit state along with others and was appointed general secretary. In the last two decades, the party has gradually gained strength and today we are in power with an absolute majority.