NIRMAL SINHA BAGS AWARD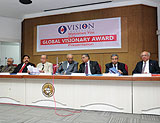 Mr Nirmal Sinha (extreme left) was one of the recipients of the Global Visionary awards presented to 5 Super Achievers by the Vision Foundation in Ahmedabad in March
Mr Nirmal Sinha, Columbus-based political fund-raiser in the U.S., former Civil Rights Commissioner, Ohio, marketing expert, Pravasi Bharatiya Samman Awardee, Ellis Island Honor Awardee, Martin Luther King, Jr awardee received the Global Visonary Award in Ahmedabad in March. In all, the Global Visionary Awards were presented to five super achievers including three NRIs by the Vision Foundation of Ahmedabad at a special award function in Ahmedabad this morning. Award plaques were presented to the five awardees by Dr. J.N.Bhatt, Chairman of Gujarat Human Rights Commission. A Citation and Gandhi Charkhas were also presented to the awardees, including Shri Dipak Jain Management expert of the USA, Shri M.V Tanksale, CMD of Central Bank of India, Dr. V Ramadoss of Seychelles Shri Dilip Dalal Economist and Financial consultant of Mumbai and Shri Nirmal Sinha.
In his acceptance speech, Shri Sinha said that NRIs and NRGs in USA have gained much respect by their honesty and hard work and they are occupying many important positions. He spoke about his efforts to build up harmonious relations between the NRIs, Asians and the non-white people.
Presiding over the function Dr. J.N.Bhatt, Chairman of the Gujarat Human Rights Commission and former Chief Justice of Bihar emphasized on the need to end exploitation of the poor and downtrodden sections of the society and protection of human rights in all fields of life. He said that Gujarat has provided an exemplary initiative in this, by starting the first free legal aid clinic in the country. He lauded India's notable efforts to provide social justice and equality to women soon after its independence providing an example to the entire world. Dr Bhatt praised the work of the Vision Foundation to honour super achievers and said that this has promoted entrepreneurship and enlarged social net working.
In his reply to the felicitation Shri Dipak Jain and NRIs Management Expert of the USA said that the NRI's or all over the world have distinguished themselves by their culture and civilization. He said that everyone must strive to live an ideal and exemplary life to inspire others. Shri M.V.Tanksale, CMD of the Central Bank of India pleaded for combined efforts of all the sections of the society and preservation of the values of India to come out of the present economic crisis. Dr.V.Ramadoss from Seychelles said that the NRIs in different countries of the world have increased India's prestige by their important contribution. He said that his company in Seychelles is providing employment to 3500 persons. Shri Dilip Dalal, Economist and Financial consultant of Mumbai said it is necessary to develop entrepreneurship amongst the youth to increase India's GDP. He wanted Vision Foundation to be more active in this.
Earlier in his welcome address Shri Naren Shah Chairman of the Vision Foundation said that the five Super achievers including three NRIs honored have made distinguished contribution in their fields. He said that the foundation aims to honour super achievers to express society's gratitude to them and provide inspiration to the young generation to emulate the super achievers.
In the end Shri Joitabhai patel proposed a vote of thanks.
---
NO NRI VOTER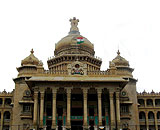 Vidhan Soudha, Bangalore
Not a single NRI from Karnataka has come forward to register as overseas voters even though assembly elections are barely a month away. Chief electoral officer Anil Kumar Jha was quoted in the media as saying that nobody has come forward to register by filling up form 6A. "We've sent information to deputy commissioners and other electoral officers in the districts about this. Our efforts are on to reach out to NRIs," he said. The poor response is also because there's no provision for postal balloting.
Fulfilling the long-pending demand of people settled abroad, the Centre in 2010 amended the Representation of People's Act, 1951, allowing NRIs to vote back home.
---
NRI 2 NRI BIZ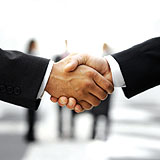 In a classic case of major NRI firms doing business with one another, Essar Steel Minnesota (ESML), part of the Essar group, has entered into a long term iron ore pellet off-takeagreement with ArcelorMittal USA (AMUSA). As per the agreement, ESML will supply 3.5 million metric tonnes of standard and fluxed iron ore pellets annually to ArcelorMittal's North American operations. The agreement will be valid for ten years with supply of pellets expected to commence during the second half of ESML's fiscal year ending March 31, 2014.
ESML has approximately 2 billion tonnes of measured, indicated and inferred magnetite resources.
---
ZED HONOURED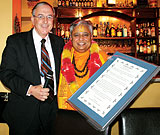 Rajan Zed (right) being presented with the plaque by George M. Keele (left)
In a remarkable interfaith gesture, The Church of Jesus Christ of Latter-day Saints (LDS) has honored Hindu statesman Rajan Zed.
The plaque in his honor, which was presented to Zed (who is President of Universal Society of Hinduism) at an interfaith clergy reception accorded in his honor in Nevada (USA) by George M. Keele, Member Quorum of the Seventy of The Church, read— "Rajan is service. Whether it be chronically abused Romani people, or gypsies; or those among us who know not God; or those of color; or those of unpopular creed; or those whose parents knew only hatred; or those who have known only abuse, Rajan, as a beautifully tuned instrument in the hands of the Almighty…
---
1.6M NRI VISITORS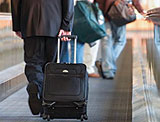 Nearly 1.6 million of the 6.1 million international arrivals in India in 2012 were NRI visitors. This is a 7.5% increase from 2011 arrivals. Of these visitors, 58,120 travelled to visit family and friends, 31,120 travelled for leisure holidays, 28,860 travelled for business and 13,370 travelled for education. A high 6.1 million international visitor arrivals was recorded in the year 2012, an increase of 4.6 percent relative to the previous year. There were 7,20,380 visitor arrivals during December 2012, an increase of 7.1 per cent relative to the same period of the previous year. Out of that, 22,440 visitors traveled from India during December 2012, an increase of 39.4 percent relative to the same month last year.
---
$ 1M PRIZE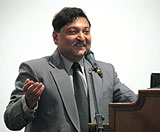 Dr Sugata Mitra
Dr Sugata Mitra, an NRI education pioneer, known for his innovative "hole-in-the-wall" experiment to give computer education to slum children, has been awarded with the prestigious $1 million TED prize.
Professor of Educational Technology at the School of Education, Communication and Language Sciences at Newcastle University, UK, Dr Mitra accepted the award - TED's annual prize of $ 1 million that gives an exceptional individual the chance to conceive and launch a high-impact project. After receiving the award, Mitra said he will use prize to launch global initiative for self-directed learning releases toolkit for schools and families to create self-organised learning environments.
---
POOR INDIANS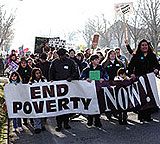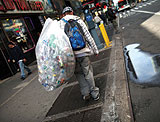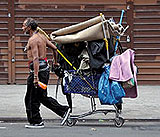 It turns out to be a two-sided story. While all along we've known Indians to be among the highest earners in the USA—in fact Indians have the highest per capita income among all major ethic groups—it now turns out that the cesspool of poverty is also sucking in some in the community.
The latest Census report in the USA says that 8.2 per cent of the three million Indian Americans are living well below the poverty line.
According to the 2007-2011 American Community Survey, 42.7 million people in the United States had income below the poverty level. The national poverty rate is 14.7 percent. With 8.2 percent of poverty rate, Indian Americans are far less poor than other ethnic groups and the national average, the Census Bureau report said.
The Japanese Americans too have a 8.2 percent poverty rate. For the Asian population, poverty rates were higher for Vietnamese (14.7 percent ) and Koreans (15.0 percent ), but the Filipinos have the lowest poverty rate of 5.8 percent.
According to the report, for Asians, nine states had poverty rates below 10 percent (Connecticut, Delaware, Hawaii, Maryland, Nevada, New Hampshire, New Jersey, Virginia and South Carolina). Among Hispanics, national poverty rates ranged from a low of 16.2 percent for Cubans to a high of 26.3 percent for Dominicans.
In its report, the Census Bureau said two race groups had poverty rates more than 10%age points higher than the national rate of 14.3%: American Indian and Alaska Native (27.0percent ) and African-American (25.8 percent ).
Rates were above the overall national average for Native Hawaiians and Other Pacific Islanders (17.6percent), while poverty rates for people identified as white (11.6 percent) or Asian (11.7percent) were lower than the overall poverty rate. Poverty rates for whites and Asians were not statistically different from each other.
---
THEFT AT IGI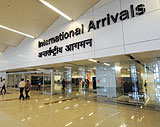 In a bizarre incident in February, a visiting NRI family from the US found that they had been relieved of valuables while on transit.
M. Rajyalaxmi and her daughter Shravanti from New York had declared items at the New Delhi airport and obtained clearance from immigration and customs officials before they boarded a domestic flight to Hyderabad. The family was in for a shock once they reached the city as they found that a brand new iPad and a webcam worth over $900 were missing from their bag.
Thieves had meticulously broken open the lock of the bag with a knife, slit sealed boxes containing electronic gadgets and placed them back in their original position and resealed the zipper.
---
VILLA BURGLED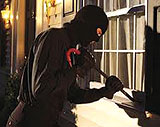 Thieves decamped with 380 grams of gold jewellery from a Non-Resident Indian (NRI) couple's villa at Kompally in Petbasheerabad in February. The thieves sneaked into the house without even breaking the main door-lock while the couple was on a pilgrimage to Tirumala.
The burglary in Ashoka A la maison, a gated community with 15 security personnel guarding it round the clock, was committed by forcibly opening one of the sliding glass windows. The NRIs, Ravinder Prakash, and his wife, Sangeetha Laxmi, who had come to Hyderabad had left for Tirumala, along with Mr. Prakash's parents. Their relatives, who went to the villa for cleaning, noticed the burglary and alerted them on phone.
---
NIKKI POPULAR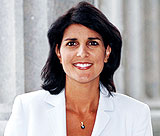 Ms Nikki Haley
The popularity rating of Nikki Haley has increased over the last few years, reveals a recent survey by the Democratic firm Public Policy Polling. In the year 2011, the approval rating of Haley was 34.6 percent, which now increased to 43.7 percent.
"Governor Haley has always said that poll numbers go up and down. But her focus is on the state's jobs numbers, and she's thrilled that they keep getting better and better," her spokesman Rob Godfrey said. Haley is the second Indian-American holding the post of Governor of a U.S. State. The upswing in the popularity rate of Haley is an interesting factor since Bobby Jindal, another popular Indian American leader is experiencing a decline in his popularity rating.
---
AWESOME IQ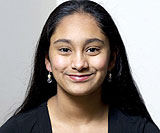 Ms Neha Ramu
Neha Ramu, a 12-year-old Indian-origin girl in the UK, has stunned everyone after she scored an incredible 162 on her IQ test—even higher than Einstein and Stephen Hawking. Daughter of an Indian doctor couple, Neha achieved a score of 162 on a Mensa IQ test—the highest score possible for her age.
The score puts the tween in the top one per cent of brightest people in the UK and means she is more intelligent than physicist Hawking, Microsoft founder Bill Gates and scientist Albert Einstein, who are all thought to have an IQ of 160. "Neha scored 162 on the Cattell IIIB test, putting her within the top one per cent of people in the country," a spokesman for British Mensa said.
---
GOLD GAINS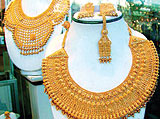 India's budgetary proposal to raise the limit on duty-free gold ornaments that can be carried back to the country by NRIs is set to boost jewellery sales in Oman and other countries in the Gulf region, says a media report.
Leading retailers with presence across the Gulf Cooperation Council (GCC) countries have indicated that since the budget 2013 announcement, NRIs who are planning to travel to India in the coming days started buying more gold ornaments, a report in daily 'Times of Oman' said. As part of the budget proposal, it was announced that male passengers can carry gold worth Rs 50,000, and female passengers Rs 1 lakh compared.
---
AIRASIA NOD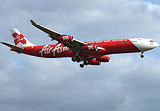 The Indian Finance Ministry has cleared the investment proposal of Malaysian budget carrier AirAsia which seeks to enter India through a joint venture with Tata Group and another company.
"AirAsia's proposal has been cleared. It is as per the policy (which allows) up to 49 percent FDI. Rs 80 crore is initial investment," a senior Government official said.
The Foreign Investment Promotion Board (FIPB), headed by DEA Secretary Arvind Mayaram, approved the proposal at its meeting in New Delhi.
AirAsia has applied to FIPB to take 49 percent in a venture with Tata Sons Ltd and Arun Bhatia's Telestra Tradeplace Pvt Ltd.
---
ART SHOW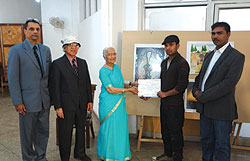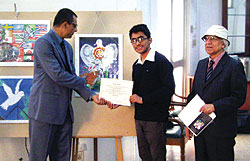 Left:Ms Durga Devi presenting the prize to Mohammed Hussain. Right: Mr Chakravarty presenting the 1st prize to Kamal Dahiya in the presence of Mr Suraj Sadan
For the fifth consecutive year, the Mahatma Gandhi International Foundation under the leadership of its Founder and President artist Suraj Sadan, has been organizing an art Exhibition-Contest on the theme of Peace and Non-Violence through which the art work from young artists was selected from Canada, USA, France and India with the aim of having multicultural perspective of Peace and Non-Violence.
Suggested themes related to non-violence included Friendship, Peace, Love for Animals, Care for Elderly and Environment protection.
From March 1-3, an exbhition in collaboration with India Empire Magazine and Om Prakash Art Frames was held at Gulmohar Club New Delhi which attracted many interested visitors who admired the art work of young stars and wrote eneouraging comments in the visitor's book.
Mr. Sayantan Chakravarty, Editor and Publisher of India Empire Magazine presented the 1st Prize to Kamal Dahiya for his painting "PEACE" The 2nd Prize was presented by Mr. Om Prakash Manager of Art Frames to Prateek Kushwaha for his painting "LOVE FOR ANIMALS" and Ms. Durga Devi a Senior Citizen of Gulmohar Park presented the 3rd prize to Md. Hussain for his painting on "Non-Violence".
---
SSA SIGNING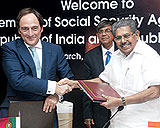 Minister Ravi (right)with Minister Portas
India and Portugal signed Social Security Agreement(SSA) on 4th March 2013 after successful completion of negotiations by both sides. Shri Vayalar Ravi, Minister of Overseas Indian Affairs on behalf of Government of India, and by H.E. Mr. Paulo Sacadura Cabral Portas, Minister of State of Foreign Affairs on behalf of Government of Portugal signed the Agreement.
2. There are about 75,000 Indians in the Republic of Portugal most of whom are working as professionals and self-employed. As such, a bilateral Social Security Agreement with Republic of Portugal is a significant requirement from the futuristic point of view to take advantage of the emerging employment opportunities.
---
117 TERMINATED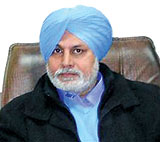 Mr Jasvir Singh Gill
In a major initiative, the newly elected NRI Sabha, Punjab president Jasvir Singh Gill has terminated 117 office bearers of overseas units since such appointments were made in blatant violation of the sabha's constitution, it is learnt. Gill, however, termed the same as a routine
exercise. "I assumed the charge of president after getting elected to the post on January 27. Since the term of these office bearers was co-terminus with the tenure of the sabha president, it was decided to issue a formal order to terminate them," Gill said, adding that none would represent Sabha in foreign countries till the time fresh appointments are made.
---
GULF RICH LIST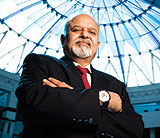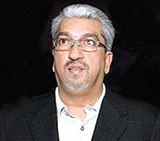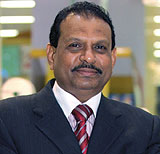 Mr Micky Jagtiani Mr Feroz Allana Mr Yussuf Ali
The Gulf Cooperation Council (GCC) countries have 10 Indian billionaires, according to a new survey.
According to the first-ever GCC Indian Rich Listpublished by financial weekly magazine 'Arabian Business', Landmark Group founder Micky Jagtiani—who once worked as a London cab driver—topped the list with an estimated wealth of $ 4.5 billion.
The top 50 between them are worth $ 40.2 billion, with their average wealth at $ 1.57 billion.
Jagtiani was ahead of food magnate Feroz Allana at $ 4.3 billion, with legendary Dubai-based investor Ragu Kataria placed third on $ 2.5 billion.
The top five included EMKE Group's Yussuf Ali on $ 2.2 billion and BR Shetty on $ 1.9 billion. The highest ranked woman on the list was Jumbo Electronics boss Vidya Chhabria occupied the eighth place with a wealth of $ 1.4 billion.
"The contribution and success of the Indian community in this region is nothing short of remarkable, and our list fully reflects that. What is fascinating is many people on the list such as Micky Jagtiani and Yussuf Ali are self made, starting with absolutely nothing. Their stories are an inspiration to all of us," Arabian Business Editor Ed Attwood said.
---
HUGE GROWTH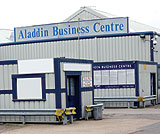 SUN MARK headed by its Chairman, Dr Rami Ranger, MBE, plans to construct a 100,000 sq ft state-of-the-art distribution centre with underground parking, all weather covered vehicle bays, automated picking facilities and additional office space. The new centre will require further investment of £5 million and it is estimated will reduce loading times by 30% and unloading times by 50%. It should be operational by 2015. This will create many more jobs for the local economy. The company's sales are growing at over 30% per annum in spite of the global recession and have done so for over 10 years. Sun Mark Ltd. exports fast moving consumer goods to 110 countries with staggering results.
---
TOTALIZATION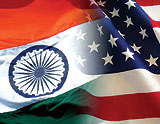 India has been discussing the Totalisation Agreement with the US for a long time now. Both sides are negotiating the Bilateral Totalisation Agreement (BTA), which once signed, would benefit lakhs of Indians who are working in America and paying social security but are unable to get any benefit out of it. According to government sources, there are 300,000 Indians working in the US and they lose their social security contributions if they do not complete 10 years of employment. According to Nasscom Indians on H1 and L1 visas pay almost $1 billion in social security taxes in the US annually, without getting the benefits. The Totalisation Agreement will exempt Indian professionals working in the US from paying social security and medicare taxes.
---
BATRA'S FEAT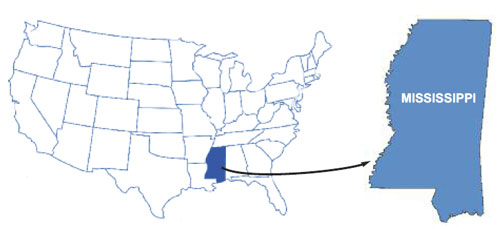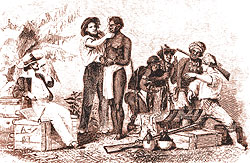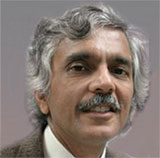 Dr Ranjan Batra
Slavery has been finally abolished officially from the whole of United States—148 years after Abraham Lincoln's emancipation declaration—thanks to an eagle eyed Indian-American professor.
The state of Mississippi finally ratified the 13th Amendment abolishing slavery in February, due in some measure to Dr. Ranjan Batra, associate professor of neurobiology and anatomical sciences at the University of Mississippi Medical Centre. Batra, who became a US citizen in 2008, started looking last November into states ratifying the amendment after watching Steven Spielberg's "Lincoln" depicting the political fight to pass it, according to The Clarion Ledger, a state newspaper.
As Batra learnt from usconstitution.net website, after Congress voted for the 13th Amendment in January 1864, the measure went to the states for ratification.
On Dec 6, 1865, the amendment received the three-fourths' vote it needed when Georgia became the 27th state to ratify it. States that rejected the measure included Delaware, Kentucky, New Jersey and Mississippi. In the months and years that followed, states continued to ratify the amendment, including those that had initially rejected it. New Jersey ratified the amendment in 1866, Delaware in 1901 and Kentucky in 1976.
But there was an asterisk beside Mississippi. A note read: "Mississippi ratified the amendment in 1995, but because the state never officially notified the US Archivist, the ratification is not official."
Batra, according to the Clarion Ledger, then told colleague Ken Sullivan who called the National Archives' Office of the Federal Register to inform them that Mississippi was yet to ratify the 13th Amendment.
Sullivan was able to retrieve a copy of a 1995 Senate resolution, which passed both the Mississippi House and Senate, that ratified the amendment to abolish slavery, but it was never sent to the Office of the Federal Register.
Secretary of State Delbert Hosemann sent the Office of the Federal Register a copy of the 1995 Senate bill and on Feb 7, Mississippi finally ratified the 13th Amendment. "Now it's officially filed and recorded," Sullivan told the Clarion Ledger. "There's no asterisk by Mississippi any more."
"Mississippi gets a lot of bad press about this type of stuff and I just felt that it is something that should be fixed, and I saw every reason that could be done," Batra told ABC News. "Everyone here would like to put this part of Mississippi's past behind us and move on into the 21st century rather than the 19th," he said.
Sullivan also remarked on the unlikely pairing of an immigrant from India and a life-long southerner working together to resolve the oversight.
"You have Dr. Batra, who is the immigrant and me who is the native-born, life-long resident of Mississippi, it was a unique pair," he said.