NETAJI BOOK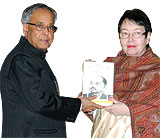 President Mukherjee with Prof. Pfaff
The first copy of the book, "Netaji Subhash Chandra Bose and Germany", by Professor Anita B. Pfaff was presented to the President of India, Shri Pranab Mukherjee at a function held at Rashtrapati Bhavan in February. The book has been brought out by the Federation of Indo-German Societies in India.
Speaking on the occasion, the President stated that he was particularly happy to see this publication as it was an extraordinary collection of records shared by Professor Anita Pfaff herself as well as other eminent writers and biographers.
The President said that the book portrayed some interesting facets of the life of Netaji and his extraordinary contribution to India's freedom struggle.
---
PM SPEAKS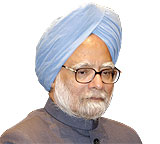 Prime Minister Singh
Prime Minister Dr. Manmohan Singh after his meeting with the British Prime Minister Mr David Cameron said, "Prime Minister David Cameron's strong personal commitment and leadership have imparted a strong momentum to the strategic partnership between India and the United Kingdom. His first visit to India as Prime Minister in 2010, a few months after he assumed office, laid the foundation of our Enhanced Partnership for the Future, which is defined by a high level of economic and technological cooperation, and close coordination on many common regional and global challenges.
The Prime Minister and I reviewed the entire expanse of our bilateral relations. We expressed satisfaction with progress in our economic engagement, while stressing the need to do more to take the relationship to a new high level. We discussed ways to generate higher growth in our trade. I invited increased British investments in India, including in infrastructure and energy.
---
STRONGER POLICE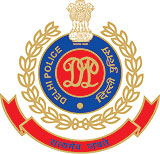 The Government has initiated a time bound action plan to combat crimes against women. A number of steps have been outlined to improve and strengthen the police and administrative system to ensure that crimes against the women are prevented through quick action, a gender sensitive response mechanism and greater accountability of the enforcement agencies.
The Ordinance promulgated by the President on February 3, 2013 deals with the amendments in the criminal law. These measures are in addition to the Ordinance and cut across various ministries.
The Cabinet Secretary has held a series of meetings recently with senior officials of the concerned Ministries to formulate an action plan within an indicated time frame. Secretaries of seven key ministries have been directed to personally monitor the implementation of these measures and report every month to the Cabinet Secretary and the Prime Minister's Office. The measures outlined deal with changes in the police system, a review of the Motor Vehicles Act.
---
UAE INDIA MEET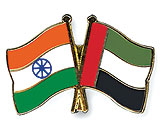 The inaugural meeting of the India-UAE High Level Task Force on Investments was held in February at the Emirates Palace Hotel in Abu Dhabi. More than 50 government and private sector representatives from India and the UAE were present.
The high-level taskforce, co-chaired by the Union Minister for Commerce, Industry & Textiles Shri Anand Sharma and HH Sheikh Hamed bin Zayed Al Nahyan, Chairman of the Abu Dhabi Crown Prince Court, was established in April 2012 as a platform to address mutual issues associated with existing investments between the two countries and to promote and facilitate investments between the two countries. India and UAE are significant trading partners and bilateral trade between the two countries is expected to reach new record levels in years to come.
The meeting of the India-UAE High Level Task Force on Investments included a wide-ranging discussion on priority sectors of engagement for channeling investments in the two countries, areas of shared interest including the agreement in principle to put in place an Bilateral Investment Promotion and Protection Agreement (BIPA).
---
INDIA – MAURITIUS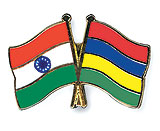 In a bilateral meeting with Mr. Sayyad Abd-Al-Cader Sayed Hossen, Minister of Industry, Commerce and Consumer Protection, Mauritius, the Union Minister for Commerce, Industry & Textiles Shri Anand Sharma said that India and Mauritius have initiated steps towards setting up Mauritius-India Joint Business Council and a Joint Working Group (JWG) on trade and investment. "The Joint Business Council will be a robust institutional mechanism for giving a boost to trade and investment ties by identifying the priority sectors and sectors of engagement. The JWG would further work out the modalities for broadening and deepening the economic engagement between the two countries," said Shri Sharma to the Mauritian Minister.
Shri Sharma conveyed to Mr Sayed Hossen that India and Mauritius should conduct a Joint Commission Meeting at the earliest so as to chart out a thorough roadmap for future cooperative ventures between the two countries.
---
CHAIRMAN LALIT KALA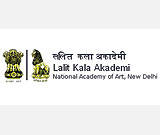 The President of India has appointed Shri Kalyan Kumar Chakravarty, as Chairman of Lalit Kala Akademi. Shri Kalyan Kumar Chakravarty is a 1970 batch Indian Administrative Service Officer and retired in the rank of Secretary to Government of India. In addition to holding posts at district and national level, in developmental and cultural administration in the Govt. of Madhya Pradesh, he held several assignments with an academic content viz. Director, Education, Archaeology and Museums, Government of Madhya Pradesh, Commissioner of Archaeology and Museums, Government of Madhya Pradesh, Special Secretary, Culture, Government of Madhya Pradesh, Director, Indira Gandhi Rashtriya Manav Sangrahalaya at Bhopal, Principal Secretary/Additional Chief Secretary for Culture, Education, Environment, Forest and Tourism, Government of Chhattisgarh, Member-Secretary, Indira Gandhi National Centre for the Arts, Director General, National Museum, New Delhi and Vice Chancellor, National Museum Institute.
---
7 NEW CITIES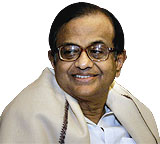 Minister Chidambaram
The Finance Minister, Shri P Chidambaram in his Budget speech in Lok Sabha said that the Delhi Mumbai Industrial Corridor (DMIC) project has made rapid progress. Plans for seven new cities have been finalized and work on two new smart industrial cities at Dholera, Gujarat and Shendra Bidkin, Maharashtra will start during 2013-14. We acknowledge the support of the Government of Japan. In order to dispel any doubt about funding, The Government will provide, if required, additional funds during 2013-14 within the share of the Government of India in the overall outlay for the project.
The Department of Industrial Policy and Promotion (DIPP) and the Japan International Cooperation Agency (JICA) are currently preparing a comprehensive plan for the Chennai Bengaluru Industrial Corridor. The corridor will be developed in collaboration with the Governments of Tamil Nadu, Andhra Pradesh and Karnataka.
---
AEPC AWARDS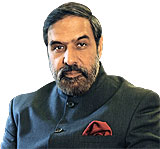 Minister Sharma
The Union Minister for Commerce, Industry & Textiles Shri Anand Sharma presented Apparel Export Promotion Council's (AEPC) Export Excellence Award and Lifetime Achievement Award in February. Chief Guest Shri Sharma while speaking during the occasion said that "apparel symbolises the main driver for the entire textile value chain. The importance of the sector lies in ensuring the preservation of traditional crafts and modern skills coupled with mixing the same with buyers' behaviour." He further added that its economic importance can be attributed to its high employment potential, moderate capital investment, high value addition, and potential to earn foreign exchange. "The apparel sector provides employment to an estimated 11.22 million workers, which mainly come from weaker section including women," Shri Sharma added. Dr. A Sakthivel, Chairman, AEPC, while delivering his address put stress on the fact that the Government's vision of doubling the exports is the Council's mission.
---
WOMEN AT WORK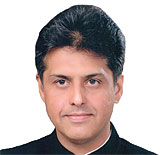 Minister Tewari
Information & Broadcasting Minister Mr Manish Tewari has emphasized upon the need for equal and equitable representation of women in the work force if Indian aspired to make the 21st Century to be truly an Indian Century. Appreciating the fact that the participation of women in the work force was gradually on the rise, Mr Tewari underlined the need for creating a free and a safe environment for the women. He said this while addressing at the annual convocation of Guru Nanak Girls College, Model Town, Ludhiana in February.
On its part, Mr Tewari said that the Government is putting in all the effort to provide a free and a safe atmosphere to the women folk, but legal and administrative action alone cannot succeed unless the society also pitches in and supports the government effort. The Minister said that on their part, the women also will have to play a bigger role in eliminating social evils including the bane of drug abuse."
---
ALLOCATION HIKED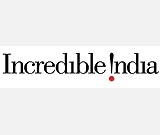 Keeping in view the importance of Tourism sector, the allocation for Ministry of Tourism in the Union Budget presented today has been hiked by Rs.87.66 crore. The allocation for the Ministry this year is Rs.1297.66 crore while it was Rs. 1210 crore in the Union Budget 2012-13 and Rs. 1110.96 crore in the Union Budget 2011-12.
The Budget allocation for Plan rojects/schemes for the benefit of North East region and Sikkim has been hiked from Rs. 121 crore to Rs. 129 crore. The allocation under this head in the Union budget 2011-2012 was 110 crore.
The allocation under tourist infrastructure is for the creation of infrastructural facilities on construction of Budget Accommodation, wayside amenities, Tourist Reception Centers, Refurbishment of Monuments, Special Tourism Projects, Adventure and Sports facilities, Sound and Light Shows, illuminations of monuments, providing for improvement in solid waste management and sewerage management improvement of surroundings, Signages, procurement of equipments directly related to Tourism and Rural Tourism projects.
---
PROSECUTION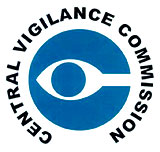 Central Vigilance Commission (CVC) have advised issuance of sanction for prosecution in respect of 8 officials of various Ministries/ Departments/ Organisations during December, 2012. This has been stated in the Monthly Performance Report of CVC for the month of December, 2012. The highlights of the report are as below:-
i. Issuance of sanction for prosecution in respect of 08 officials of various Ministries/ Deptts/ Organisations during the month which includes an IAS officer, then Secretary(Industry & Commerce), Govt. of Andhra Pradesh and a Deputy Inspector General of Indo-Tibetan Border Police(ITBP).
ii. Prosecution sanction issued by competent authorities in respect of 15 officials of various Ministries/ Departments/Organisations which includes an IAS officer, then Principal Secretary, National Rural Health Mission (Govt. of Uttar Pradesh) and a Commissioner of Income Tax (Central Board of Direct Taxes).
iii. 1922 complaints processed (including 158 whistle blower complaints).
---
MGPSY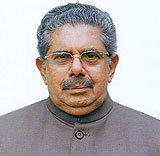 Minister Vayalar Ravi
The objectives of Mahatma Gandhi Pravasi Suraksha Yojana (MGPSY) is to encourage and enable overseas Indian workers having Emigration Check Required (ECR) passports going to ECR countries, to (a) save for their return and resettlement, (b) save for their old age and (c) obtain a Life Insurance cover against natural death during the period of coverage. This was stated by Mr Vayalar Ravi, Minister for Overseas Indian Affairs in Rajya Sabha.
The scheme envisages a co-contribution of Rs.1000/- by Government to overseas Indian workers who save Rs.4000/- per annum so that on return to India, a MGPSY subscriber can utilise these savings for return and resettlement purposes, and also get benefits on the lines of Swavalamban pension Scheme, for which also Government contributes Rs.1000/- (Rs.2000/- in case of females) for a pension contribution of between Rs.1000/- and Rs.12, 000/- by the subscriber.