Narendra Modi has touched India's national consciousness in a major way.
Here is a man that is poised on the brink of taking political leadership to a newer level. With each passing day he's capturing the hearts and the minds of millions of Indians. With each public meeting he attends, he's acing his opponents with a combination of disarming simplicity, intelligence, strategies, ideas, action plans, innovations, results, and, of course, copious amounts of homework. He's the political game changer that India was waiting for.
While across India the chirps of Na Mo are getting louder, success has bred its own share of jealousy and contempt. There is no doubt that his opponents exist both outside his political party—the BJP—and also within. There are those who are trying to belittle him, and slight him at the first given opportunity. At the moment, though, he's just blowing them away. The opposition is learning quickly about the hazard of pitching windbreaks to combat a twister.
THE ASCENT
Modi passed the litmus test at the assembly elections in Gujarat in December 2012. He then announced his arrival on the national stage with a series of public addresses in February and March in the national capital. The noise and the publicity that accompanied his recent Delhi visits have done two things. They have rapidly catapulted him as the BJP's biggest mass leader and crowd-puller extraordinaire with the widest pan-India acceptance. They have also made him BJP's de facto prime ministerial candidate for the next general elections, slated to take place in early 2014, or even possibly in late 2013. Although Modi himself carefully skirts the issue of eyeing the PM's chair, it is clear that his political career is going just one way—upwards. Even his own family has said that it is time for him to look beyond Gujarat and rule India from Delhi.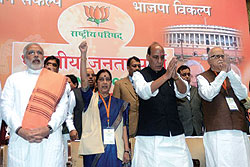 The BJP brass has rightly concluded that Narendra Modi is the man to lead the party at the next Lok Sabha polls
POLARIZING FACTOR
The announcement by the BJP at the national council meet that he would head the party's poll campaign for the Lok Sabha elections has sown the seeds of polarization—one whose scale could be unprecedented in India's political history since the country's partition in 1947. Modi has left people with no choice, either they are with him, or against him. You just cannot ignore him. At the moment, gauging by the public mood, it does seem that there are more with him, than against. But the announcement will test the loyalty of traditional NDA allies, especially the JD (U) headed by Nitish Kumar, chief minister of Bihar.
Narendra Modi surely divides opinions, but of late he's had more opinions in his favour, than against. Having secured his third term as Gujarat CM in the assembly elections of December 2012, having swept the BJP to power with a resounding victory, and having been instrumental in the demolition of the main political opposition in the state (Congress) against some pre-poll odds, Modi cut himself the ribbon that will allow him complete access to the national political scene at the highest levels. Observes Wilfred Mesquita, state BJP spokesman in Goa, "Modi is the only leader among all political parties that should take ahead the country at this juncture."
The confidence flows from his performances. Somewhere, Modi's success in developing Gujarat as a key business destination and a hub of multinationals seeking a stable, secure political climate has made him a model administrator. Coupled with that the unabashed patriotism that he wears on his sleeves—now known as India First in his own words—makes him a serious candidate that can wean away young voters from traditional Congress constituencies, and eat into the factious vote banks that are dependent on caste in large, majorly-decisive voting states such as Uttar Pradesh and Bihar.
There are ways and ways to evaluate Narendra Modi, but the foremost must be to look at public opinion. Apart from his own state where he has shined like the Great Bear constellation, in opinion polls India's young population, half of whose average age is below 25, has generally sided with him when it comes to opting for a future PM, ahead of the likes of Rahul Gandhi—who will be Modi's principal opponent in the run-up to the Parliamentary elections—and L.K. Advani who led the BJP at the last Lok Sabha elections.
A recent opinion poll by Ipsos, a market research agency, shows 43 per cent Indians backed Modi as the leading choice for the next Indian PM. Rahul Gandhi with 36 percent votes emerged as the second choice for the same job. But the divide is sharpening, and the gap could be widening.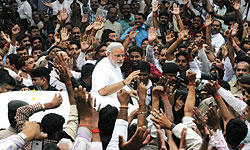 Narendra Modi has the kind of magic and aura that very few political stalwarts can claim to have
THREE PLATFORMS, THREE DEFINING SPEECHES
At the BJP National Council meeting at New Delhi's Talkatora Stadium, Modi went for the jugular, unleashing nothing but disdain at the Congress and its leadership. He described the Congress as a "commission-seeking" entity, saying the BJP was for "a mission, the Congress for commission" in a caustic reference to the numerous financial scams that have besieged the UPA II. He equated the Congress party to termites, drawing a sharp reaction from senior Congress leader Mani Shankar Aiyer who called him a scorpion and a snake. The impassive Manmohan Singh for Modi was the "Gandhi family's night watchman," the equivalent term for a weak batsman in cricket who's sent out to weather a difficult spell of bowling without placing a better batsman at risk. He said that instead of making Pranab Mukherjee the Prime Minister, the Congress chose to elevate him as President, because had Mukherjee been PM, "then the Gandhi family would no longer reign supreme in the Congress."
At SRCC, about a month earlier in early February, Modi stole the hearts of his young, sharp, educated and engaging audience, never once failing to connect with a constituency that today forms 50 per cent of Indian voters. Throwing carefully crafted jargon around, he said India was no longer a land of snake charmers, but a nation of mouse charmers, a reference to India's IT power through the computer mouse. He said that he wanted the youth to be a New Age voter, but also wanted to see it as a New Age Power. Invoking the powerful words of Swami Vivekananda, Modi said that undoubtedly one day "Bharat Mata would be a leader of the world". And finally, he spelt out that India's time had come in the 21st century, and it was also time to shun vote-bank politics and give a thumbs up to development politics, a model he'd practiced with some success in the rapidly growing state of Gujarat for over a decade.
And in March again, at the India Today Conclave, he opened his speech with a short film on Gujarat, showcasing how it was possible to bring in world class infrastructure and technology into everyday living for the benefit of the people, creating more employment, and driving a double-digit growth rate consistently over time. Tweeted well-known economist Bibek Debroy, "Have attended several India Today Conclaves. At none have I seen such a huge crowd waiting to get in (to hear Modi)." And the crowd, by the way, included India's Who's Who.
In time, he spoke with clarity and conviction on why it was not the business of the Government to be in business. He spoke of innovations and privatization, in particular of the railways that would increase efficiency. He spoke about setting up solar panels along the Gujarat border with Pakistan that would generate energy, and also act as a good buffer and keep intruders at bay. The ideas and practical applications just kept streaming out.
WEST LOOKS EAST
Long shunned by the West for the 2002 riots and the finger-pointing on Modi's role in it, it now does appear that the winds of change are blowing the Gujarat CM's way. In October 2012, after years of diplomatic boycott, Britain opened up to Modi when its High Commissioner to India announced plans to call on him in Gujarat. Then on January 7, a lunch between European Union ambassadors and Modi finally knocked away the iron curtain that stood between Europe and Modi's Gujarat.
Ambassadors of nations such as Canada, Japan and Germany flock to Modi's Vibrant Gujarat held in January every second year. Vibrant is a largely successful investment meet. Modi is praised by corporate India and foreign investors alike for presiding over an economic boom in his state. Sweden and Denmark too engage with him regularly.
Even the USA is warming up to Gujarat and diplomats from New Delhi regularly visit Ahmedabad to clear the path for what may be the removal of visa restrictions for his formal visit to that nation.
UPWARD SWING
Things are on the move. Narendra Modi is the only chief minister from India who's been invited to address the Google Big Tent Activate Summit 2013 in March through the Google+ hangout on the theme Technology in Politics.
Snubbed by the Wharton School that had initially invited him as a chief guest and then rescinded the invitation, Narendra Modi went on to address the Indian diaspora in the USA and Canada through a video conference, also in March. Speaking to the NRI and PIO audience he called for "Ek Bharat, Shrestha Bharat", stressing on keeping India above every other consideration. Gujarat he said had lit up a small lamp in an ocean of darkness, and it was natural that the eyes of the world were trained on the state.
UNITY
A BJP that was factious till recently is slowly coming to terms that Modi's march forward is unstoppable. BJP President Rajnath Singh showered eulogies on him during the national council meet. Senior leader Arun Jaitley defended him vigorously when recently Press Council of India chairman Justice Katju attacked Modi. Even leader of the Opposition in the Lok Sabha, Sushma Swaraj, agreed that Modi had made a defining statement in Indian politics by winning the Gujarat elections for the third straight term. Even if reluctantly, the seeds of unity and harmony are being sowed, and senior leaders are coming around to a position of acceptability on Modi. The brass does realize that for the BJP to come to power in New Delhi they need Modi now than ever before. They also realize that is only possible if they work with him, and not against.
THE ROAD AHEAD
The man who joined a Rashtriya Swayamsewak Sangh shakha early in life, and has today used the discipline acquired during those years to shape his conduct, his speeches, and his very life, is now poised on the brink of making history again. He's talked the talk, and has so far walked the walk. An entire nation now will be watching keenly to find out where that walk is going to take him.
By remaining focused on the present, Narendra Modi has been shaping Gujarat's future for quite some time. Now it does appear that he's ready to shape India's future as well.
Modi is the only leader among all political parties that should take the country ahead at this juncture.
—Wilfred Mesquita, spokesman, BJP, Goa



Modi's Gujarat model can never become a national model for development. It has given priority to big industrial houses at the cost of the common man.
—Prakash Karat, CPI-M leader


It is a settled issue. At this time Narendra Modi is the only viable PM candidate in the party.
—Arun Shourie, BJP leader


Narendra Modi seems a PM candidate of foreigners in America, UK and the west. He will not be able to fulfill his dream.
—Lalu Prasad Yadav, RJD president


Who will lead will be decided by the central Parliamentary board. But one thing is certain, no one can deny the popularity of Narendra Modi.
—Rajnath Singh, BJP national president


"I think he is yet not capable of attaining the stature of a national leader. Self-propaganda does not make him one."
—Rajiv Shukla, Union Minister