STOPS LIST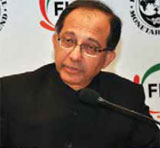 Kaushik Basu
India is the largest recipient of remittances in the world, receiving USD 69 billion in 2012, the World Bank has said.
India topped the list of countries receiving remittances, followed by China (USD60 billion), the Philippines (USD24 billion), Mexico (USD23 billion) and Nigeria and Egypt (USD21 billion each).
Other large recipients include Pakistan, Bangladesh, Vietnam, and Lebanon.
According to the latest edition of the World Bank's Migration and Development Brief, officially recorded remittance flows to developing countries grew by 5.3 per cent to reach an estimated USD 401 billion in 2012.
Remittances to developing countries are expected to grow by an annual average of 8.8 per cent for the next three years and are forecast to reach USD 515 billion in 2015, it added. "Migration and remittances offer a vital lifeline for millions of people and can play a major role in an economy's take-off. They enable people to partake in the global labour market and create resources that can be leveraged for development and growth. But they are also a source of political contention, and for that very reason deserving of dispassionate analysis," said Kaushik Basu, the World Bank's Chief Economist and Senior Vice President for Development Economics.
Officially recorded remittance flows to South Asia are estimated to have increased sharply by 12.8 per cent to USD 109 billion in 2012, the World Bank report said. This follows growth averaging 13. 8 per cent in each of the previous two years, it added. As a percentage of GDP, the top recipients of remittances, in 2011, were Tajikistan (47 percent), Liberia (31 percent), Kyrgyz Republic (29 percent), Lesotho (27 percent), Moldova (23 percent), Nepal (22 percent), and Samoa (21 per cent), the report said. Remittance flows to developing countries have more than quadrupled since 2000. Global remittances, including those to high-income countries, are estimated to have reached USD 514 billion in 2012, compared to USD 132 billion in 2000, the report added.
---
MITTAL PAUL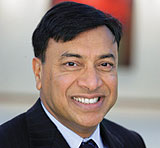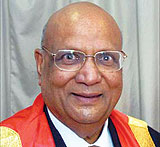 LN Mittal Swraj Paul
Indian-origin steel tycoon Lakshmi Mittal, who spent eight years at the top of the Sunday Times Rich List, has dropped down to fourth position this year while leading NRI industrialist Lord Swraj Paul has emerged as the wealthiest Peer in the House of Lords.
Sri and Gopi Hinduja, the Chairman and co-Chairman of the Hinduja group, take the third place. The Hinduja brothers are worth 10.6 billion pounds in 2013 as against 8.6 billion pounds last year. 59-year-old Russian Billionaire Alisher Usmanov, who has a near 30 per cent stake in Arsenal Football Club, is the richest person in Britain with a fortune worth 13.3 billion pounds.
His business empire, which started with the making of plastic bags, ranges from Metalloinvest, Russia's biggest iron ore producer, to a stake in mail.run, the country's largest internet company, and a big holding in MegaFon, a mobile phone operator which listed on the London and Moscow stock markets last year.
Mittal, now worth 10 billion pounds, is the biggest faller in wealth terms. His wealth was worth 12.7 billion pounds last year. The report said "the 40 per cent stake Mittal and his wife Usha hold in the steelmaking giant ArcelorMittal has plummeted from 28 billion pounds at its peak to 5.95 billion pounds."
According to the list, Lord Paul, Chairman of the Caparo Group is the richest Peer in the House of Lords with a fortune worth 2 billion pounds. According to the list, Lord Paul's fortune has been boosted by profits from his Caparo steel and engineering firm.
The highest placed UK-born person is Gerald Grosvenor, the Duke of Westminster, who is worth 7.8 billion and ranked eighth. Russian-born Len Blavatnik, whose rise in wealth from 3.4 billion pounds last year to 11 billion pounds this year, makes him the highest riser in wealth terms. Bhavatnik owns Warner Music, and received 2 billion pounds last month for his stake in TNK-BP.
The number of billionaires in the UK has increased 10-fold since the Sunday Times Rich List was first published in 1989, shooting from nine to 88. There were 77 last year. In 1989, the Queen topped the list with total wealth of 5.2 billion pounds. This valuation included all the Crown Estates and the royal art collection. In later years, the Queen has been valued solely on her personal wealth and no longer topped the list after 1993.
---
LALVANI WINS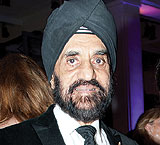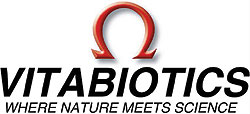 Kartar Lalvani
'Vitabiotics', UK's largest supplier of minerals and vitamin supplements to the retail trade, won the award for the development of its Pregnacare range and in recognition of its successful Pregnacare clinic research.
This marks the third Queen's award that Vitabiotics has received, following awards forInternational Trade in 2003 and 2008.
"Vitabiotics' ambition has always been to create the very best, scientifically researched supplements for our customers. We are delighted to be recognised for this and as Britain's first ever vitamin company to receive a Queen's award for innovation, it is a huge honour to receive this accolade," said Lalvani, President of Vitabiotics.
---
RANGER'S FEAT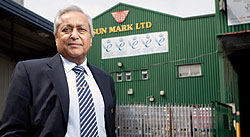 Rami Ranger
An NRI-owned British company has won the Queen's Award for Enterprise in International Trade for an unprecedented 5th year in succession. Sun Mark Ltd won this year's award which is a unique achievement as no other British company to date has won five consecutive Queen's Awards.
Founder and Chairman of Sun Mark, Rami Ranger said, "For Sun Mark Ltd to win this accolade in 2009, 2010, 2011, 2012 and now again in 2013 means that its name will be set in stone as being the only company to have won five consecutive Queen's Awards for Enterprise and this achievement will remain in the business history books forever."
---
NRI SERVICE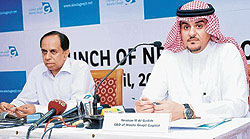 M. Al Gadah
To cater to the investment needs of NRI investors in Saudi Arabia, Aloula Geojit Capital Co has launched its NRI Advisory Service.
This was jointly announced by Ibrahim M. Al Gadah, CEO of Aloula Geojit Capital, and C.J. George, Managing Director of Geojit BNP Paribas, at a press meet here.
AGC, a member of the Saudi Stock Exchange, through its investment advisory service will offer its NRI clients both research and investment advice. AGC is the only Indian joint venture which is a member of any local stock exchange in the Gulf Cooperation Council.
Speaking about the company's new service, George said that there has been renewed investor interest among NRIs.
---
STABBED IN GULF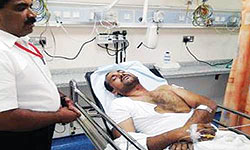 Radhakrishnan Thankappan Nair
A 35-year-old Indian man in Bahrain was stabbed, allegedly by one of his employers, in a row after he went to collect his passport.
Radhakrishnan Thankappan Nair, 35, was stabbed in Bahrain by one of his employers following a dispute when he went to collect his passport. He sustained injuries in his hand and shoulder and was sent to the intensive care unit of the Salmaniya Medical Complex in Bahrain's capital, Manama, the Gulf Daily News. According to the report, when Nair, hailing from Thiruvananthapuram in India's Kerala state, went to get his passport ahead of a planned holiday, his employer allegedly told him that he would get it only if he signed a blank document.
---
CRITICAL GAP SAYS STUDY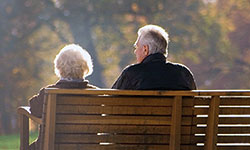 At least 75 per cent of UAE-based NRIs expect to be cared for in old age by their children, leading to critical gaps in financial and retirement planning among them, a study has claimed.
"Only one in ten (10 percent) people have invested in retirement plans for their golden years," said the Standard Life NRI Wealth Study, with "family expectations" playing a huge role in this decision. "75 per cent of respondents expected to be cared for in retirement by their children," it added.
This study by the investment company here also lists aversion to risk and lack of professional advice as factors holding back sound retirement planning among the research group. The results of the study are based on a research of the saving, spending, investment behaviour and general aspirations of nearly 300 NRIs across the UAE. "NRIs are seen to be a family oriented community who rely much on their children and family for their retirement years.
This is simply amazing from a family bonding perspective, but it is always advisable to take professional financial advice when it comes to retirement planning," said Chris Divito, CEO, Standard Life International Limited (DIFC Branch). "With 75 per cent of respondents having three to five financial dependants, there is greater strain of finances and therefore a prudent approach to financial and retirement planning is highly recommended," he added.
While as many as 90 per cent of the respondents have made long term investments in the past, most of their preferences were towards relatively illiquid assets like gold/diamonds (77 per cent) and property (55 per cent).
The interest in asset classes like mutual funds (19 per cent) and equities (15 per cent) was rather low, the study found.
Despite a positive feeling among 63 per cent respondents about the National Pension Scheme (NPS) of the Indian government, most of them have not subscribed to it. "25 per cent are of the opinion that NPS will not provide sufficient income for their retirement years," it added. Also, a quarter of these NRIs plan to return to India after retirement.
"26 per cent of respondents said they hope to return to India after retirement, while 24 per cent would retire in a third country," Standard Life said in a statement.
---
ENHANCED TIES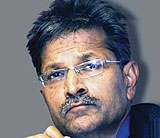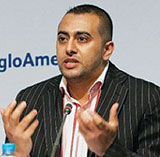 HE Virendra Gupta Abdullah Verachia
Leading South African-Indians joined speakers from India and the US and have discussed ways to strengthen economic ties with their home country at a series of seminars hosted by the Indian High Commission.
"There were very good views shared in the conversations, which often lead to ideas and policies," said Rajiv Mehrishi, Secretary, Ministry of Overseas Indian Affairs after the seminars in Johannesburg, Durban and Cape Town over the past week.
The seminars focussed on how NRIs and people using the Indian government's Persons of Indian Origin scheme could take advantage the sizeable economic opportunities in a wide range of sectors back home.
Abdullah Verachia, head of the India Africa Business Network at the Gordon Institute of Business Science which co-hosted the event with Indian High Commissioner Virendra Gupta, said there needed to be a dialogue about the specific role the diaspora can play.
"Other communities in the diaspora have started to build the bridges between them and India as a home country economy, and I think it's time Indian people here start looking at the fact that India is one of the fastest growing economies in the world and take advantage of the opportunities this presents," Verachia said.
Munish Gupta, International Coordinator - Africa, Global Organisation of People of Indian Origin (GOPIO), hailed the revival of the group's activities here after a gap of several years.
"South Africa was a part of it then too and some people did try to start a GOPIO South Africa, but it did not take off then...it has been revived now," he said declaring the launch of the Durban chapter of the organisation today, which was started in US to give Indians globally a common voice.
Tina Kuriakose Jacob, Head of Research Division at India Centre for Migration in Delhi, gave a detailed presentation on how the Chinese and Jewish diaspora played a role in the economic development of their countries of origin.
---
MUNSAMY WINS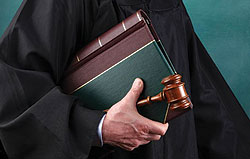 An Indian-origin police officer in South Africa, who was overlooked for a promotion because of his race, won a unfair discrimination lawsuit on Monday and was awarded about 20 lakh rupees as compensation. The officer, Captain M Munsamy from KwaZulu-Nata had applied for three superintendent posts in 2000. He was recommended for one of the posts, but was not appointed because "Indian males were over-represented and Africans were under-represented" at the level of superintendent, Acting labour court judge Benita Whitcher said in her judgement.
In respect of the other two posts, police management said he lacked relevant experience for one.
---
SENT TO JAIL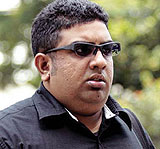 Aravind S. Menon
A 25-year-old Indian origin former drama teacher has been sentenced to one year in jail by a Singapore court after he pleaded guilty to having sex with a partner under the age of 16.
Aravind S. Menon, 25, was charged with having sex with a 14-year-old girl on three occasions in May and July, 2009, The Straits Times reported. The accused, then aged 20, was working voluntarily as a drama teacher in a school when the girl joined the drama society in 2008. According to the report, the girl grew close to Menon and the two ended up having sex in 2009.
However, the student's parents got suspicious when they saw text messages from Menon to their daughter.
---
FRESH NOTICE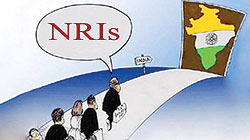 The Overseas Citizens of India card holders, while travelling to India, must carry the OCI booklet and their passport having 'U' visa sticker, the Indian Government has said.
While the OCI card provides its holder a multiple entry, multi-purpose life-long visa for visiting India, in many cases its holders are required to apply for its re-issuance, including re-issuance of new passport for those below 20 and above 50.
"For an applicant who is 21 to 49 years of age, there is no need to re-issue OCI documents each time a new passport is issued. However, if the applicant desires, he/she can request that the OCI documents be re-issued so that the OCI documents reflect the correct passport number," the Embassy said.
For an applicant who is 50 years of age or older, OCI documents must be re-issued once after the issuance of a new passport, the statement said.
One should apply for re-issuance of OCI card in case there is a change in personal particulars, loss or damage of passport and/or OCI booklet, for correcting personal details entered wrongly while submitting online applications.
However in case of emergency, the OCI card holder can continue to carry the old passport wherein OCI 'U' visa sticker is pasted along with the new passport and the OCI booklet for visiting India.
"It is important for the OCI card holder to carry the OCI booklet along with the passport having U visa sticker. Both these documents should always be in the possession of the OCI card holder while travelling to India," it said. Minor children of OCI card holders are not eligible for OCI cards, it said adding that they can apply for PIO (People of Indian Origin) card.
An individual who has ever been a citizen of Pakistan or Bangladesh, is not eligible for OCI card.
---
CLUB TURNS 46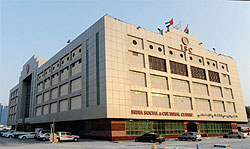 The Indian Social and Cultural Centre (ISC) in the UAE, considered the largest Indian recreational club in the Gulf, is celebrating its 46th anniversary.
Started in a small building in 1967, today the ISC is housed in a 35-million dirham five-storey building. About 2,600 members of the centre and their families and friends celebrated the 46th anniversary at a ceremony recently.
A large number of people enjoyed a musical programme where famous South Indian singer Rimy Tomy and her team performed.
Several projects and programmes have been planned for this year, along with the establishment a kindergarten for the community.
---
PATEL FETED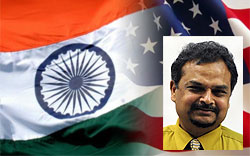 Kiran Patel
Kiran Patel, an Indian American businessman has been awarded by a US business chamber as its 2013 Ambassador of the Year. Patel was named as the 2013 Ambassador of the Year by the Henderson Chamber of Commerce in the city of Henderson in the US state of Kentucky.
"Like previous winners of the Ambassador of the Year Award, (Patel) puts in several hours every day at their job and is very active in the chamber: attending ribbon cuttings, Brown Bag lunch events and other chamber events held throughout the year," a gleaner.com report quoted award presenter Janet Hortin as saying. After moving to Henderson with his family in 1994, Patel bought a motel and in 2011 bought the Henderson Hotel building.
---
CHANGE CHAMPS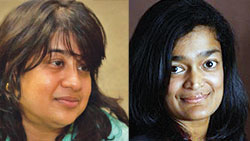 Aparna Bhattacharya Pramila Jayapal
The US has honoured 15 Asian American and Pacific Islander (AAPI) women, including two Indian-Americans, as "champions of change" in recognition of their significant contribution to the community. The two Indian American women—Aparna Bhattacharyya from Atlanta and Pramila Jayapal from Washington State—were recognised at a White House. A passionate advocate for immigrant survivors of family and sexual violence and ensuring they have access to safety, justice and healing, Bhattacharyya is the Executive Director of 'Raksha', in Atlanta, Georgia. She has worked to ensure that attorneys, law enforcement, and service providers are culturally competent to serve immigrant survivors.
---
GUPTAGATE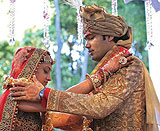 South Africa has suspended nine police officers accused of escorting and providing unofficial security to guests attending the "memorable" wedding of Indian-origin tycoon Atul Gupta's daughter. The authorities initially found that the officers allegedly fitted blue lights and false number plates to their private vehicles to escort guests from Waterkloof Air Force Base to the Gupta family wedding at Sun City. "The officers would receive their suspension letters," Tshwane metro police executive director Console Tleane said."The members will have their firearms and appointment certificates confiscated," he said. Tleane said one of those officers had not been served with a notice to suspend because he was in hospital.