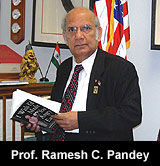 In a career spanning 40 years, Professor Ramesh C. Pandey has pushed the frontiers of biomedical sciences. Having spent most of his career in medicinal chemistry and pharmaceutical drug development, he has recently moved his focus to bring Ayurvedic and other traditional herbal products for the treatment of cancer, sickle cell disease, diabetes, malaria and HIV/AIDS through the US-FDA as prescription drugs.

A Life Member of GOPIO International, Prof Pandey has been associated with ayurveda since his father rajvaidya (royal physician) Gauri Dutt Pandey served as the personal physician to the erstwhile rulers of Kumaon. In particular, his family hails from Naugaon, District Almora, Uttarakhand, located in the foothills of the Himalayas. He has been working with national and international herbalists and scientists from the US, India, Nigeria, and other African countries. "This is not an easy task," he says.

In 2001, he established the GD Pandey Ayurvedic University (GDPAU) as a non-profit organisation in New Jersey with the vision to bring credibility and recognition to the traditional systems of health and medicines through research, education, training therapy and mass promotion.

For his dedicated work in bringing quality control, standardization and setting specifications in ayurvedic preparation, he was honoured with the Vaidya Ratna at the Fourth International Healthcare and Herbal Expo and Seminar, New Delhi, India, April 2004. He was awarded the prestigious "Professor Priyadaranjan Ray Memorial Award" by the Indian Chemical Society in December 2006, acknowledging his contributions till date to the world of chemistry.
---
| | |
| --- | --- |
| | |
| Prof. Ramesh C. Pandey with US and International Delegates at GOPIO's 20th Anniversary Celebration and Global Convention, August 20-23, 2009, New York | Prof. Ramesh C. Pandey with Nigerian President H.E. Olusegun Obasanjo at the NICOSAN™ (a drug for sickle cell disease) launch ceremony |
---
In December 2006, Prof Pandey was given the "CBS MarketWatch Reader's Choice 2006 CEO of the Year" award, pulling ahead of Mr Steve Jobs, CEO of Apple and Mr Warren Buffet, CEO of Berkshire Hathaway.

In 2008, he was honoured with the Asian American Heritage Council of New Jersey's "President's Award" for his distinguished career in biomedical sciences. The following year, he received the "NRI Institute Lifetime Achievement Award" for Achievement and Excellence in the Chosen Field, by President Sir Anerood Jugnauth, in Mauritius.

Prof Pandey was a member of the editorial board of the International Journal of Antibiotics and Indian Journal Chemistry for year 2008-10, Emeritus member of several professional societies including the American Chemical Society (ACS), American Society of Pharmacognosy (ASP), American Society of Microbiology (ASM), and a member of American Council for Medicinally Active Plants, Indian Science Congress and New York Academy of Sciences.

The professor has made over 100 presentations at national and international conferences; authored (and/or co-authored) 95 peer reviewed scientific papers and chapters in books, while holding several patents for biotechnology analysis and rare drug production processes, including paclitaxel, a plant product used for the treatment of ovarian, breast, small-cell lung cancers, AIDS related Kaposi's sarcoma and stomach cancer.

He has been involved in the research, development, novel extraction/purification processes and production of proprietary and generic drugs from worldwide indigenous natural sources, especially the traditional Chinese medicines (TCM), ayurvedic Indian medicinal plants, and recently the Nigerian medicinal herbs used in the folklore for various ailments.

Under Prof Pandey's direction, his group successfully developed the technology for the commercial scale production of generic Vancomycin (an antibiotic produced by fermentation). As the chairman, CEO and founder of Xechem and XetaPharm, he expanded operations to India, China, the UK and Nigeria. He led Xechem to develop nine new, next-generation paclitaxel analogs with better anticancer activity. He worked as the Principal Investigator on several Small Business Innovative Research (SBIR) Grants for National Cancer Institute (NCI), National Heart, Lung and Blood Institute (NHLBI) and National Aeronautics Space Administration (NASA).

His community service expands to being a member on the Statewide Advisory Committee of the Board of Managers, New Jersey Agricultural Experiment Station, Rutgers University, New Jersey. He is involved with the New Jersey Technology Council Life Sciences Advisory Board Member and was a member of the Advisory Committee for the Science Transfer and Science Technology Program at Middlesex County College, Edison, NJ.

Prof Pandey is a Member, Past President and Paul Harris Fellow of the Rotary Club of New Brunswick. He is involved with local community services and school children in South Africa, Nigeria and India. Through the New Brunswick N.J. Rotary Club District 7510, he took a delegation to South Africa to help schools by donating books, dictionaries, papers and pencils.

Experienced in coordinating projects between universities and industries to develop drugs of commercial importance, Prof Pandey has provided innovative solutions to various problems in the isolation, purification, process development, and commercial scale production of biologically active pure compounds from natural sources using the most advance state-of-the-art technologies.