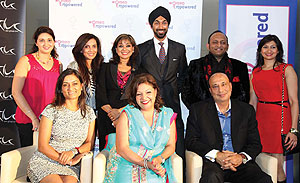 L to R – Reena Ranger, Mona Remtulla, Mimi Harker (WE Champion), Kulveer Singh Ranger (WE Champion), Deepak Kuntawala (Sponsor), Anjali Pathak (WE Champion), Shavata Singh, Shashi Gossain and Hiro Harjani
The perennially relevant topic of entrepreneurship was revisited by Women Empowered at their event sponsored by Deepak Kuntawala of DVK on October 2, 2013—Mahatma Gandhi's birth anniversary—at Baker Street. Mr Kuntawala an entrepreneur himself shared his journey and expressed his reasons for supporting the initiative as well as how women played a vital role in his organisation. He commented "DVK are proud to partner with Women Empowered and help champion the message of the importance of empowering women, be this in the workplace or when starting their own enterprise. I am felt humbled to be a part of a forum where women could find the support and input they need when starting their journey, be this in business, helping others or any other parts of life. It was a pleasure to hear the speakers provide inspirational talks that would help those in attendance to gain a better understanding of the different avenues they may wish to take if ever starting their own business."

Reena Ranger and Mona Remtulla, founders of the social initiative, explained that more and more women and men are looking to start their own enterprises for a variety of reasons which may include, child care costs and flexibility, aspiration or for a change of direction and emphasized that when women are economically empowered they are catalyst of social change and they build a fairer world for us all.

Speakers for this event were Shashi Gossain Founder and Managing of Pharmaclinix Ltd., Shavata Singh Founder of Shavata Brow Studios and Hiro Harjani, Chairman of Aftershock London.

Shashi Gossain explained that due to an industry decline in pharmacy she decided to diversify, she needed to be different and her niche was defined by many of the women who came to see her. There was a gap in the market and she decided fill it! She spoke candidly about venturing into new markets, how although there was an economic downturn in the UK and many other countries, her business thrived in Dubai. New markets meant new challenges. Cultural differences between men and women meant that she had to be sensitive and she persevered and it paid off. New markets and new countries also mean new rules, regulations and norms. Research is vital otherwise money and time may be lost. She emphasised the need to be determined and persevere, to set out time specific goals and try to achieve them along with the need to have a 5, 10 and 15 year vision.

Shavata Singh of Shavata Brow Studio joked that she had plucked her way to the top! She emphasised her immigrant origin, humble background and the strong work ethic she inherited from her parents. This was part of her story, the other factors of hard work, passion, commitment and luck had led her to where she was today. She urged the women to be brave in business. She took a junior position in a salon she wanted to work in as she knew she wouldn't stay a junior forever. She built a clientele working when others were at lunch or going home. Wherever she saw a gap, she would fill it. She spoke about the power of the press and how an article no bigger than an inch each way transformed her business and how she used her life savings to launch a brow pencil and how she had to find a manufacturer who would make a small enough quantity that she could afford. She explained that she took any opportunity she could find and emphasised that one should never let an opportunity go. Not being a business women but a therapist she made her mistake early on and learnt from them within a set infrastructure and then set out alone.

"Life is a juggle, if you drop a ball, stop; pick it up and start again, you must never punish yourself. Trust your instincts; invest in your staff they reflect your passion, drive, hard work and ethic".

Mona Remtulla took time to explain that Women Empowered was all inclusive and urged men to attend to create a meaningful dialogue, she went on to say that "we always take a male perspective so that we can understand if the challenges faced are the same for men and women and to create a balanced discussion and promote better understanding". The male perspective for the evening was provided by Hiro Harjani of Aftershock Clothing PLC. Arriving in the UK with zero business experience, no contacts and very little money. He started by running a market stall in Petticoat Lane in London and when an opportunity came up to buy a ladies clothes store, he took it, selling his wife's wedding ring to fund the purchase. He asked the previous owner to stay so he could learn from her. He made the decision to move from being a shop owner to wholesaler and wholesaler to branding his own items and opening his own store. He had to learn everything, how to build a business from nothing. He is always asking and learning. Mistakes were made because of lack of understanding or research but he again emphasised not to give up and if you have a vision, keep on till you achieve it. He stressed that it was important to try to find a niche and his was affordable fashion and today's businesses are facing more and more competition. He urged the guests to look at new markets and new opportunities; to keep moving working harder and faster than your competition but if you put your mind to it there is a lot to achieve. Hiro also spoke about giving back and taking care of yourself, to invest time in yourself and the world around you otherwise making money can feel empty.
The Power of One!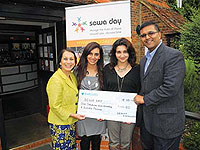 L - R: Lopa Patel MBE, Mona Remtulla, Reena Ranger and Vikas Pota
Four years ago one individual had an idea, told some friends, who told some others and those others got some others involved and thus it began. The idea was born from a need to teach young children that charitable giving is not always about donating money, it was, many a times about donating time - the concept of selfless service that generations of Indians (and many others under a variety of names) have known as 'sewa'. From this the concept of having one day in the year when people come together to "do sewa" for others was born and named, "Sewa Day". Four years on Sewa Day projects are being held in 25 countries with over 250 projects and a staggering 75000 people taking part.

On Friday, one woman had an idea, she told her friend and they told others and the result was the Women Empowered charity lunch to raise funds for Sewa Day. 70 women attended and enabled a cheque for £1111 to be presented to Deputy Chair Lopa Patel MBE and Vikas Pota for Sewa Day.

The lunch held in Indigo Restaurant in Gerrards Cross was a vibrant afternoon. Between sumptuous courses of food, women browsed through the exhibitions, clothes by Jyoti Chandok Ltd and Miss Fashionista by Payal Malhotra; jewellery from Tanaya by Taruna Ananad and Candles from Spry Candles by Ravleen Sharma.

Lopa Patel MBE and Vikas Pota, representatives from Sewa Day, addressed the guests and explained how the initiative started and how people could get involved and organise activities. Projects can range from tidying up a communal garden, reading to someone who may welcome the company or taking an elderly neighbour for their weekly grocery shop to large scale clean ups and collections. More information about Sewa Day can be found at http://www.sewaday.org/

Reena Ranger and Mona Remtulla of Women Empowered thanked the guests for both their time and money that afternoon and encouraged everyone present to exercise their "power of one" as great things can be achieved and cited the lunch as an example. Women Empowered is a social initiative bringing inspirational speakers to anyone who wishes to hear them. There is no joining fee or membership requirement and the events are open to all including men. More information can be found at www.womenempowered.co.uk.