As a champion of the Pravasi movement, please tell us about the significance of the Aapravasi Ghat?
The Aapravasi Ghat World Heritage Site, formerly known as the Immigration Depot, is a unique place in time and space as it has left indelible marks in the sands of humanity's common history. It is the first and only site to be intimately linked with the history of indentured labour among UNESCO's 981 World Heritage Sites. It is through this hallowed site where the ancestors of more than 70 per cent of the Mauritian population first set foot on Mauritian soil and climbed the emblematic 16 steps as they started a new life in this small Indian Ocean island. They include the ancestors of such stalwart and eminent personalities such as Sir Seewoosagur Ramgoolam, the father of the Nation, Dr. the Honourable Navin Ramgoolam, the present Prime Minister, Sir Aneerod Jugnauth, ex-Prime Minister and ex-President, Cassam Uteem, former President, other historical figures such as Sookdeo and Basdeo Bissoodoyal, Pandit Sahadeo.

Between 1826 and 1849, more than 117,000 indentured men, women and children passed through different sites in Port Louis harbor and from 1849 to 1910, more than 350,000 immigrants were registered and housed at the Immigration Depot or the Aapravasi Ghat before being sent to work and live on the sugar estates. The Aapravasi Ghat was the first immigration depot of its kind to be established in the plantation world and it was the place where the "Great Experiment" started. It was the success of this labour experiment which encouraged other British, French, Dutch, Spanish, German colonies and other Western countries to adopt this labour system in different parts of the world between the 1830s and 1920s. It is precisely from this lieu de memoire in Mauritius that the genesis of the modern contractual labour system took place and spread to other regions of the globe. After all, Mauritius received a total of around 467,000 immigrant men, women and children out of the total of 2.2 million migrants who left India, China, other parts of Asia and Africa and the Pacific to emigrate to the European overseas colonies.

In June 1970, Shrimati Indira Gandhi, the then Prime Minister of the Republic of India, while on a state visit, climbed up the historic steps of the Aapravasi Ghat World Heritage Site and paid a heartfelt tribute to the achievements and memories of our immigrant ancestors. She started a long and rich tradition which has seen different historic figures such as H.E. Zail Singh, Hon Dev Gowda, Koichiro Maatsurah, the Secretary General of UNESCO, Kenneth Kaunda, the former President of Zambia, Hon. Manmohan Singh, Prime Minister of India, President Abdul Kalam and more recently President Pranab Mukherjee. The visits of successive Indian leaders bear testimony to the rich, long-lasting and complex relationship between Mauritius and India. At the same time, it emphasizes the fact that this site belongs to the people of Mauritius, the Indian Ocean and all of humanity.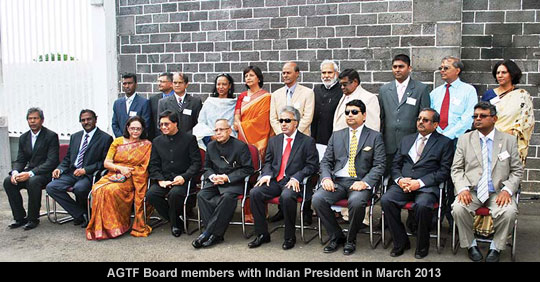 What kind of activities have you planned at the Aapravasi Ghat?
The landscaping of the Aapravasi Ghat World Heritage Site has just been completed and shortly, specifically in March 2014, the Beekrumsing Ramlallah Interpretation Centre (BRIC) will be open to welcome Mauritian and foreign visitors. In 2014 and after, we are expecting to cater for the arrival of more than 100,000 Mauritian and foreign visitors, especially Indian tourists, and we will be encouraging young Mauritians and our elderly citizens to visit our site. It is important to highlight that an itinerant exhibition concerning BRIC has been completed and will be sent to Reunion Island, South Africa and India. In January 2014, in New Delhi, it will be one of the important exhibitions at the next PBD and will help to create a greater awareness among the active and prominent members of the Diaspora about the importance of the history of the Aapravasi Ghat World Heritage Site and the Mauritian experience with indentured labour. By the middle of next year, we are also expecting a favourable reply for the dossier of Mauritius for the inscription of the Indenture Immigration Archives of the Republic of Mauritius on UNESCO's Memory of the World Register. By the second half of 2014, the conservation of the Trianon Barracks or Old Labourers Quarters, another important indenture site, will be completed. A Heritage Trail for the Aapravasi Ghat site and its Buffer Zone will also be developed.

The 2nd November 2014, marks the 180th anniversary of the arrival of the indentured labourers. In this important context, we are planning to have a series of national activities such as an international conference on indentured labour and other related themes which will focus on setting up an International Indenture Labour Route Project. Mauritius through the Ministry of Arts and Culture, AGTF and other important stakeholders will play a central role in the establishment of such a mega project and the crucial support of the Government of India will also be sought. More than 20 seminal publications and monographs on the history of indentured labour, the experience of indentured workers, the villages, localities, sugar estates and camps which are associated with indentured labour will be launched.

AGTF is also planning to publish two major publications, firstly a large prestige style edition on the history of the Aapravasi Ghat, other indenture sites and the experience of the indentured workers and secondly, a book on 180 immigrant ancestors associated with the Aapravasi Ghat and their descendants. Therefore, we are planning, with the support of India, to have a replica of the ship "The Atlas" anchored in front of the Ghat. We are also planning on having a grandiose national commemoration which will definitely surpass the historic 1984 national commemoration. The indenture ship and these commemorations will enhance the Visitor Experience and both our fellow citizens and foreigners will experience the 19th century saga of the immigrant men, women and children. In the near future, we intend to acquire a historic warehouse next to our site in order to have the second phase of the BRIC project, which is a long-term plan.
| | |
| --- | --- |
| | |
| AG Steps 2011 | Minister Vayalar Ravi with Mr. Utchanah and AGTF board members at Aapravasi Ghat |
Have other countries learnt from the Mauritius indenture experience and building similar heritage sites?
Mauritius was where the "Great Experiment" began and the Aapravasi Ghat was the first depot to be erected in an European overseas colony to cater for the arrival of large numbers of indentured workers. This labour experiment and the establishment of depots were emulated by other countries around the world including the Caribbean, the Americas, Africa and the Pacific. Mauritius was among the first countries to have commemorations marking the arrival of indentured labourers such as in 1935, 1970, 1984 and 2001.

AGTF is one of the first trust funds to be established by a national government in the world under a specific act to manage a national and international heritage site dealing with indentured labour as well as to encourage research in indentured labour. It was the first country to have undertaken conservation of its indenture heritage sites and initiated in-depth research on their historical and heritage significance. Mauritius is also among the first to have suggested the establishment of an International Indentured Labour Route Project.

In October 1984 and December 2011, scholars and academics from different parts of the world, who attended conferences, in Mauritius were clearly impressed with what had been accomplished by Mauritian writers, scholars, researchers, archivists, technicians and bureaucrats. As the first country of the Indian Diaspora to have a World Heritage Site associated with indentured labour, Mauritius can offer a lot in terms of expertise in historical research, heritage management and conservation to countries with PIO communities in Africa, the Caribbean, the Americas and the Pacific.

Mauritius is ready to offer advice for example for the conservation of the indenture site such as the Grande Chaloupe in Reunion Island, on Nelson Island near Port of Spain, Trinidad and on Nukalau Island near Suva, Fiji. It goes without saying that over the past three decades, Mauritius has come a long way and has a lot to share and offer, which it has already done, with other countries of the Diaspora. At the same time, there is a need for Mauritius, Reunion and South Africa to forge strong and long-term links concerning collaboration in terms of multi-disciplinary research and projects. Mauritius can for example provide technical assistance for the study and restoration of the Grande Chaloupe and other indenture heritage sites in Reunion Island.

What kind of initiatives are you taking to intensify PIO dialogue with India?
I visited Guadeloupe, French Guyana and Martinique in the Caribbean and participated at an international conference in Paramaribo, Suriname. In each of these countries, I strongly advocated the establishment of an International Indenture Labour Route. This will create strong and long-lasting ties and collaboration among overseas Indians and encourage further rapprochement with Mother India.

Mauritius will have to play a pivotal role in this process and the firm support and commitment from the Indian Government will have to be solicited. I have also encouraged countries of the Indian Diaspora to send delegates to the Pravasi Bharatiya Divas and take part in its activities. Furthermore, I took active part in the inauguration of a monument in memory of Indian immigrants who were deported to Ilot Cabris from mainland Guadeloupe and encouraged the preservation of the heritage site located on that islet.

The GOPIO movement is not a unified movement right now. What needs to be done to unify this movement?
It is interesting to suggest for the GOPIO movement to be a more unified movement, but how can it be humanely possible even with modern technology and communications because there are between 25 to 30 million overseas Indians in more than 120 countries worldwide? This would be a herculean next to being an impossible task but, it should be noted that GOPIO International has headquarters in both New York City and Mauritius. Over the past decade, I have tried my best to bring the members of GOPIO and its different chapters together. I am the founding President of GOPIO Francophone and I have established more than ten chapters in the Indian Ocean region, the Caribbean and Western Europe.

My objective was and still is to bring the Francophone-speaking countries closer to India and form an integral part as an active force within GOPIO. They felt largely neglected and it is the wish of overseas Indians in Reunion Island, Belgium, Switzerland, Guadeloupe, Martinique and French Guyana to have strong ties with India and be more active in GOPIO. Among the requests of the Francophone-speaking countries, which I have fully supported and encouraged, are their wish to have a consulate in their respective countries, make it easier to obtain PIO cards, be allowed to visit and conduct business without a visa in India and to develop closer economic and business ties and investment opportunities.

Recently you've visited several countries in the Caribbean to talk to your brothers and sisters from the PIO community. What was the outcome?
As mentioned earlier, my tour to the Caribbean was successful since our brothers and sisters from the PIO communities there fully supported my proposal for an Indentured Labour Route, for their greater participation in the PBD and for closer social and economic ties with Mother India. I encouraged them to have a stronger presence at the next PBD in January 2014 in New Delhi and to reinforce or forge new business and cultural ties with their Indian brothers and sisters and also seek investment opportunities.

Among some of the eminent personalities whom I have met and discussed my propositions are: Professor Maurits Hassankhan, ex-Minister, ex-Vice-Chancellor, and famous historian in Suriname, Hon. Soewarto Moestadja, Minister of Home Affairs of Suriname, Hon. Shirley Sitaldin, Minister of Education of Suriname, Dr. the Hon.Surujattan Rambachan, Minister of Local Government of Trinidad and Tobago, Dr.the Hon Roodal Moonilal, Minister of Housing and Land of Trinidad and Tobago, Hon. Ramnarain, Minister of Energy, Government of Trinidad and Tobago Dr. Chan Choenni of the University of Amsterdam, Dr. Narinder Mohkamsing of Leiden University, Mr. Laurent Bernier, the Mayor of Saint Francois in Guadeloupe and Mr. Teddy Mary, Deputy Mayor of Saint Francois.

It is important to note that recently His Excellency Malay Mishra, the former Indian High Commissioner to Trinidad and Tobago expressed his interest and also the urgent need in approaching the Government of India for the setting up of the International Indenture Labour Route Project.

Do you think that the PIO youth are still as much interested in connecting with India as the generations before them?
Ever since the 1990s and even more so today, it is largely thanks to Bollywood movies, popular Indian music such as bhangra, TV serials, music channels, cable TV, clothing, and food that PIO youth keep connected with India. I know many young people, including my children, who watch Bollywood films, listen to Indian music and appreciate Indian cuisine. It goes without saying that the present emerging young generation thanks to modern technology and communications such as internet, email, cell phones, ipods and ipads, that they feel ever closer to India and its culture. There are young people who are active in GOPIO and at the PBD, but still a lot remains to be done to rope in young PIO professionals and businessmen into these organizations and activities and to make them feel closer to Indian culture and India. After all, it forms an integral part of their identity and culture.

It is my humble request to the Government of India to set up cultural centres, a PIO TV similar to the French TV5 as well as consulates in the countries of the Overseas Diaspora so that a greater number of PIO youth can learn about Indian culture and heritage. I congratulate Honourable Minister Vayalar Ravi for introducing the "Know India Program". Next year it will be the 27th edition which will be held in Himachal Pradesh. This has helped a lot of our PIO youth worldwide to connect with Mother India.

Who is the greatest influence in your life and why?
The greatest influence in my life is Mohandas Karamchand Gandhi or Mahatma Gandhi, the father of the Indian Nation, and one of the greatest Indians who ever lived who ranks with the likes of Buddha, Kalidasa, Chandragupta Maurya, Asoka, Chandra Gupta, and Akbar. Gandhi was a pacifist, a religious man, almost like a yogi or sanyasi and the greatest figure of 20th century world history. In 1901, he visited Mauritius for 3 weeks and told our forebears that we should educate our children and he believed in what Sir Francis Bacon, the English statesman and philosopher said—"knowledge is power".