Way back in history, Amrapali was an enchanting courtesan. Those who were spellbound by the stories of her extraordinary beauty and magical charms likened her to the timeless legend of Queen Cleopatra. And so the name came to symbolize enduring beauty and elegance. It is a name that has endured in modern India with the majestic rise of the Amrapali Group.
The name sits well on the crown of the Chairman and Managing Director of the Amrapali Group, Dr Anil Kumar Sharma. He is also, today, the President of the CREDAI-NCR. The CREDAI itself is the apex body of builders and developers in India.

The Amrapali Group has catapulted into fame in a short span of barely over a decade. It has undertaken over 50 projects across 24 cities in India. Success walks hand-in-hand with success. That is how Amrapali's brand ambassador is none other than M.S. Dhoni, India's most successful Test and ODI captain. The similarity between the two successful men does not end with fame alone. There is more. While Dr Sharma hails from Bihar, Dhoni hails from Jharkhand, a state that was carved out of Bihar.

The Amrapali Group has delivered about 15,000 units till now. More than 30,000 units are under construction, catapulting it into the league of the heavyweight builders. Buoyed by success and backed by a sharp mind, the group has diversified into townships, malls, commercial complexes, IT parks, hotels and hospitals.

The group has a strong presence over various locations in north, central, eastern and southern India covering cities such as Bhilai, Lucknow, Bareilly, Vrindavan, Muzaffarpur, Purnea, Gaya, Jaipur, Jodhpur, Udaipur, Raipur, Kochi and Indore. The Group is the destination to one of the largest home producers in Noida and Greater Noida. Projects include residential condominiums, commercial plazas, those related to hospitality, multiplexes and townships.

Dr Sharma is soft- spoken. But his words flow with conviction and from a position of confidence and strength. Here's a man who set out to execute his plans, and did so quite brilliantly. After all not too many men have so much captive real estate at their disposal, not in the National Capital Region at least. Somewhere hidden behind Dr Sharma's friendly visage is an astute mind that is scanning the horizon and thinking of spreading the group's presence across new acres. The eyes tell a story of their own-----of dreams made possible, and milestones made real. In an industry that has seen its fair share of ups and downs, Dr Sharma's vision for raising the bar is well known. And for a man who has earned numerous accolades, awards, encomiums and laurels in India and across the world, Dr Sharma is inspiringly down-to-earth. It has also perhaps something to do with his background and education.

Dr Sharma was born at Pundarak, a hamlet about 50 kilometres from Patna. He attended a village school initially before joining the Patna Science College. He attributes his higher education to the guidance and mentorship of his father, Mr Madan Mohan Sharma, who wanted him to be a civil engineer. A B-Tech degree with distinction was obtained from NIT, Calicut and then an M-Tech in structural engineering from IIT, Kharagpur. He followed up his engineering degrees with an LLB and MBA from Patna. And then he launched himself into a technocrat's career by joining the National Thermal Power Corporation (NTPC) and then the National Project Construction Corporation (NPCC). He briefly served in the Bihar Civil Services.
---
Interview with Dr Anil Sharma
CMD, Amrapali Group and President, CREDAI-NCR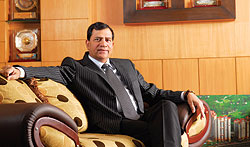 In an exhaustive interview with India Empire's Consulting Editor Yogesh Sood, Dr Sharma speaks about his growth trajectory, his vision for CREDAI and his own past. Reading through it is a fine lesson in the beauty of an entrepreneurial mind, and what it can achieve. Indeed, the entrancing legend of Amrapali lives.
Tell us about the inception of Amrapali?
Amrapali started in the year 2003 in Delhi with one project in Noida where we had to build 107 flats. We completed the project in two years. It was one of the landmark projects of that time and also one of our journey's many milestones. At that time, Noida had a handful of projects and the industry was still dormant. Therefore, our project, being the first-of-its-kind, got a very good response. This was the threshold of our journey. Thereafter, we started taking up more projects.

How did you come up with the name Amrapali?
Amrapali is a historical name which signifies beauty and patriotism. Way back in history, Amrapali was a beautiful duchess. At times her beauty was compared to the likes of Cleopatra. Amrapali worked hard for the unification of her kingdom and refused to leave even after losing worthy things that were offered to her due to her love for her community. Hence, the name reciprocated our pure and unadulterated endeavours to 'Develop India'.

What potential did you see in the tagline 'Developing India'?
Profit is one of the biggest motives of any business. However, our motto was not only about earning profit as we wanted to bring affordable housing to the common people. We believe that we should not only target upper class as the customer base. This is the USP of Amrapali. We targeted the affordable segment and currently have the highest number of affordable housing projects in India. Hence, the tagline 'Developing India' details our initiatives in the best possible manner. Housing is a burning issue in our country and the Government's contribution is only about 7 per cent till date. Rest of them need to be built by the private sector. Therefore, private developers need to pay heed to the need of the common man and not only the elite class. So, in the lieu of our motives, this tagline.

Amrapali Grand, Greater Noida

Amrapali Sapphire, Noida Sec-45
In how many states is Amrapali is currently working? Do you follow marketing strategies that are region-specific?
Currently, we are working in many states. Other than NCR, we have erected structures in Bihar, Orissa, MP, Kerala, UP, Haryana and Maharashtra as well. We are also undertaking projects in other states. As far as our marketing strategies are concerned, they are holistically dynamic as we cater to the needs of the people of the entire nation. We prepare independent marketing strategies for different states as each state's individual performance is quite different from the other.

Working in multifarious cities, how do you successfully manage to cater to the needs of the customers?
Before starting up any project, we conduct a proper survey and due diligence about the specific region we intend to enter. The socio-economic analysis gives us an understanding about what kind of project would be feasible and profitable in that particular region. The methodology works according to the cadre of people and their paying capacity. For example, in Indore, selling a property worth crores would be difficult as the majority of people reigning in the city belong to middle class with far less paying capacity. So, we would bring a project accordingly. But, if there is an oil or tea industry (super industries) present in the state, then the majority would be of people belonging to elite or upper middle class. Hence, the project would be something that would match their expectations.

With a vast experience in the field of construction and a civil engineering background, what innovations have you brought in to the field of real estate?
Being an institution of technocrats, we believe in bringing innovation in every work we do. In this regard, we are bringing in new technologies that will reduce the wastage, gestation period and pilferage during the construction process. We are importing different innovative techniques from various countries. For example, very soon Amrapali will start using the pre-cast technology imported from Germany and Dubai. The technology is a revolution that will pioneer the construction techs of the Indian real estate industry. With the use of the technology, we will not only save time but also reduce wastage. While it may vary from project-to-project, on an average, we will be saving up to 10 – 15 per cent of the project cost.
| | |
| --- | --- |
| | |
| Amrapali Hanging Gardens, Sector-107 Noida | Amrapali Corporate Hub, IMT Manesar |
Cricket stalwart MS Dhoni is your brand ambassador. What was your idea behind associating him with your enterprise?
The brand ambassador performs a monumental duty of bringing the brand under spotlight. He/she is a famous personality known by a fairly good section of general public. Also, if you want that your company and product should be known by the people who don't even wish to buy a house, the brand ambassador leaves an iota on them as well. For the last six years, MS Dhoni has performed well. Amrapali is now synonymous with Dhoni's name. Our alliance with Dhoni has taken our company's name to even to the remotest places in India.
You have achieved numerous accolades and awards. Do they act as a motivation for you?
Awards are like a 'Feather in the Crown'. They act as the overall motivation not only to the winner but everyone associated with him and give them a sense of proud. So whenever I win an award, it is not only for Mr. Anil Kumar Sharma. It is a message for the entire people associated with me like the employees, investors, consumers, etc. that the company is doing well.

Talking about the company's projects, what is the ratio of delivered projects in comparison to the under-construction ones and what basic USP they carry?
First of all, most of the projects which we have taken in the last three years will be delivered within this year. We are about to deliver about 15,000 units till today and more than 30,000 units are under-construction. We have the maximum delivery rate. We try to deliver each of our projects on time; in case it gets delayed due to some unforeseen events, we try to compensate. Also, we never escalate our prices. Sometimes, it may result in fewer profits but we bear it. We can afford to lose on our profitability but we never lose our customers.

How paramount is customer satisfaction for you?
Well, let me put it in these words which buzz in the market for our company; whenever a customer searches for a property, he/she first looks for the options available with Amrapali and then goes anywhere else. This is the level of satisfaction we provide to our customers.

What is the process of addressing customer's grievances?
Being the Chairman of the organisation, my email-id is open to every customer who can straightaway mail me their queries. Every day, I receive about 25-30 such mails. Sometimes, I even personally resolve their queries in case they are not satisfied with the response they receive from my employees. As compared to our wide domain, we receive minimum number of complaints which we try to resolve within our ambit.

What kind of relationship do you share with your employees?
The working environment at Amrapali is very cordial. We provide best medical assistance to every employee free of cost. We also support the employees who are unable to get the education for their children. Other than that, the company also provides facilities like Gratuity, Provident Fund, Bonus, Yearly Increments, etc. so very few employees wish to leave Amrapali.

Amrapali Group has entered into many segments like FMCG, Hospitality, Entertainment, etc. What is the group's performance so far?
As far as the performance is concerned, Amrapali Media Vision has produced two movies till date, i.e., 'Gandhi to Hitler' and 'I Don't Luv U' under the guidance of my wife and company CEO, Dr. Pallavi Mishra. On the consecutive row of success, the group has created milestones in the field of education and hospitality. We have 3 star hotels working in Bareilly and Deoghar and have plans to bring few more in Indore, Udaipur, Kochi, Greater Noida, etc. Amrapali Hospital in Greater Noida region is running successfully, created with the aim to serve the needy with best medical treatments at cheaper rate. Moreover, today Amrapali Group is connecting itself with the kitchen through Amrapali Mum's as it produces FMCG food products from processing plant at Rajgir, Nalanda district in Bihar. It is available at all major retail stores like V-mart and Big Bazaar.

What Amrapali is doing in terms of the Corporate Social Responsibility?
When it comes to CSR, we target people with utmost need. We have opened school for labour's children; we have opened a hospital with the aim of not making money but for social good. We are sponsoring education of brilliant students who are unable to get their education. We are also supporting many sportspersons by giving them employment. However, there are thousands of others who need support, so even if we would be able to help only 1 per cent of them, we would be satisfied.

Amrapali Group has dominated the real estate sector, where do you see it in next 5 years?
When it comes to work, I respect Mr. Donald Trump and admire him as my Guru from the bottom of my heart; he is a Real Estate Mogul and a Multi-Billionaire, a true inspiration. I want to learn from him and succeed like him. In the near future, I want to put all undeterred efforts to make my group reach heights and build projects on the international parameters.

Being the newly-elected President of CREDAI-NCR, what is your prime focus?
Currently, my focus is to bring transparency in the industry. The industry should be consumer-friendly. As representatives of Confederation of Real Estate Developers, we have few objectives among which the first one is Mission Transparency. Real estate requires transparency, the consumer must know what is being given to him and he is not being cheated in the name of vague industry terms.
The other one is Consumer Redressal. Usually, consumers are handled by the lowermost staff of the company and they are not able to get the answers of their queries. In order to address the issue, every developer has signed a 'Model Code of Conduct' where they have been asked to create a Consumer Redressal Cell within their company which is directly connected to the Secretariat, CREDAI-NCR. Sometimes when a consumer directly files a complaint to us, we direct it to the respective developer. If he overlooks it, we try to get the matter resolved by holding meeting and pressurizing the developer. If nothing happens, then we expel him from our Confederation.

Recently, the CREDAI has constituted a Youth Wing. What was the need for it?
It was an excellent idea to assemble the next generation. They have lots of innovative ideas with immense amount of energy to materialize them. They can introduce new techniques and technologies in the system. Things like innovative buying, innovation in construction, technologies to reduce the construction cost, energy saving concept, green technology, etc. can be fully adapted in the system by the young generation only. Feeling the heat, we have come up with the Youth Wing to encourage the young people working in the industry.

Recently some of the members including leading industry names were expelled from the CREDAI. What do you have to say about it?
There is a strict system followed by the national body of CREDAI that if any member doesn't sign the code of conduct or adhere to the policy of Mission Transparency, he will be expelled from the Confederation. The same thing happened that time and according to me, this is a good system.

What kind of initiatives are you taking to create awareness among the consumers about CREDAI-NCR as a majority of them are still unaware about its existence?
There are a variety of measures that are in pipeline. For instance, we are going to hold conferences and we are approaching different media formats. Sometimes, we also organize exhibitions and cultural evenings. We are also going to various institutes and asking the fellow developers to create awareness at such institutes. We are making people aware about us with the use of pamphlets, media advertisements, etc.

What is CREDAI's contribution in enhancing the construction activities in India?
We are already interacting with the policy makers who give a preferential value to us by taking our suggestions. In fact, we are also taking suggestions from various reputed institutions in this regard. We are hiring global firms in order to bring positive change in the construction activities. Our annual NATCOM conference is scheduled in Moscow this year wherein we will be having a special session on the use of latest construction technology by the eminent personalities of the world.

What steps is CREDAI taking for making housing more affordable?
Till now, we have not focused on this particular subject. But the policy is under process which is going to give a mandate that every developer has to construct a certain part of his project for EWS and middle class.
AMRAPALI GROUP PROJECTS
Amrapali Sapphire: Strategically located at Sector-45 Noida, close to Greater Noida Expressway, launched in two phases; spread over 22.5 acres in totality, premium residences; home of bureaucrats, IAS and IPS officers, amenities like Swimming Pool, Play Area, 24hrs. backup, Security, Club House, Rain Water Harvesting, Gymnasium, etc., 2, 3, and 4 BHK apartments; price range Rs. 75 lakh to Rs. 2.05 crore

Amrapali Platinum: One of the largest Projects of the Group, located in Sector-118, Noida, offers best and high standard living, amenities include 80% open area, Vastu compliant apartment, state-of-the-art features, Duplex Villas, Penthouses and Apartments from 1495 to 6000 sq.ft.

Amrapali Silicon City: Located at Sector-76, Noida, Hi-tech city, 2, 3 and 4 bedroom apartment, lies in vicinity to residential and commercial development coming up in Noida.

Amrapali Zodiac: Located at Sector-120 Noida, one of the biggest projects of the group, one of the largest planned townships in Asia, located on FNG Expressway behind Noida SEZ, amenities include 80% open area, Vastu compliant apartment, state-of-the-art features.

Amrapali Leisure Valley: Located at Tech Zone-4, Greater Noida West (earlier known as Noida Extension), 3, 4 and 5 BHK Duplex Villas being offered ranging from 1835 sq.ft. to 2950 sq.ft., rate- Rs. 7000 per sq.ft., MS Dhoni Cricket Academy for sports lover, amenities include health club, gymnasium, Fully-air-conditioned party hall, green area, 3 tier security, etc.

Amrapali Golf Homes: Located at Sector-4, Greater Noida West (earlier known as Noida Extention), designed to bring in quality of life into everyday living, treasure house of amicable amenities, lavish luxuries and cool conveniences, lies in vicinity of DND Flyway and Sector-18 Market, Noida, amenities include 9 Holes Executive Golf Course, Fully equipped Cricket Academy, Multi-facility Sport Hall, Video games parlour, Skating Ring, An indoor Snooker/Billiard and Card Room, etc.

Amrapali Leisure Park: Spread Over 25 acres, situated next to Hindon River, independent Gated Community, well-planned infrastructure, exquisite landscaping, water features and parks inside the complex.

Amrapali Princely Estate: Located at Sector-76, Noida, spread over 12 acres, an extension of Silicon city, 1/2/3 BHK and Studio Apartments with full of amenities, housing Loan Facility Available from Leading Financial Institutions, timely Possession with Penalty Clause.

Amrapali Eden Park: Located at Sector- 50, Main Road, Noida, spread over 3 acres, 2, 3 and 4BHK Apartments, 75% of open land area for free flow of light and air to every corner of each apartment, surrounded by all the developed societies with basic facilities like Educational Institutes, Hospitals, Commercial Complex, Banks, Metro Connectivity.

EDUCATIONAL VENTURES
Amrapali Institute of Technology, Lakhisarai

Amrapali Institute of Hotel Management, Noida
FOOD PROCESSING VENTURE
ENTERTAINMENT AND PRODUCTION WING
HOSPITAL
HOTELS
Amrapali Clarks Inn at Bareilly

Amrapali Clarks Inn at Deoghar