What is the core philosophy of LABA?
Leicestershire Asian Business Association was established in March 1986 by a group of British Asian businesses and women in Leicester with support of Rt Hon. David Trippier MP, the Minister for Small Business under Mrs Margaret Thatcher's premiership. LABA's philosophy remains simple—a mechanism for British Asians to take an active part in the economic prosperity of their communities and in ensuring this becomes an integral part of United Kingdom's economic well-being. "Whilst the formation was a team effort" said Jaspal Singh Minhas, the current President, "the leadership came from Uday Dholakia our current Chairman. Uday was a senior technocrat with Leicester City Council, who in 1986 was endowed with a scholarship from the Home Office's Commission for Racial Equality to visit the USA to study urban business development." LABA was based on the successful Asian Business Association of Los Angeles. The LABA model was disseminated to Birmingham, Coventry, Bolton, London, Liverpool, Leeds and Newcastle. For more details visitwww.labauk.org
Please let us know about the new development initiative by LABA?
LABA today is an active member of the National Asian Business Association (www.nabauk.org) launched in 2013 by Rt Hon Dr Vince Cable MP, the Secretary of State for Business Innovation and Skill. The distinguished Right Honorable Usha Prashar CBE of Runnymede is the President and Uday Dholakia its executive Chairman. LABA is housed in its own dedicated International Trade Hub inaugurated in 2013 by H.E. Dr Jaimini Bhagwati, the Indian High Commissioner in the UK.
The current offering of LABA is made up of the following:
A Business Advice and Support Centre

Indo British Trade Council (www.ibtc.org.uk)

International Private Equity Hub

A dedicated Food and Drink supplier chain hub

Advice, lobby and advocacy for better regulation and access to public procurement

European Centre for Creative Media

Hosting the European Ethnic Minority Business Network.
What are the ongoing business engagements with India and Indian organizations?
They are carried out through LABA's Indo British Trade Council, led by the dynamic philanthropist Professor Nat Puri DL as President and Rt Hon Nicky Morgan MP as Vice President. For over twenty five years the IBTC has long standing links in India with Jammu & Kashmir, Punjab, Haryana, Rajasthan, Maharashtra and Gujarat states. Additionally, through practical and action based MOUs with the Maratha Chamber of Commerce and Industry (MCCIA) in Pune, the Gujarat Chamber of Commerce (GCCI) in Ahmedabad, coupled by a close relationship with the British High Commissions in Delhi and Mumbai.
LABA has a long standing partnership with Confederation of Indian Industries in the UK with a rolling programme of inward and outward missions and joint procurement opportunities symposiums. The dynamic UK Director of CII, Dr Gunveena Chadha is a board member of IBTC and a distinguished Patron of LABA. LABA hosts access for CII's members in the Midlands as a soft landing zone for visiting Indian companies. Additionally, LABA works closely with the Overseas Indian Facilitation Centre (OIFC) in promoting NRI investment into India. LABA has hosted all the Vibrant Gujarat proportional activities in the UK and fielded a delegation to all the Vibrant Gujarat events in Gandhi Nagar. LABA hosts a number of high profile Indian visitors to the Midlands including Shri Keshu Bhai Patel, during his term as Chief Minister of Gujarat.
What is the importance of the Leicestershire region to the Asian business community?
Leicester embodies the spirit of economic migrants. Be they from Punjab, Gujarat and Pakistan in the 1950-60s or the Ugandan evacuees in the 1970s or the arrival of Asians from Portugal, Malawi and Mozambique in the 1980s. About 48 per cent of the city of Leicester is made up of Asians. The city remains an attraction for Indian shopping on its Melton Road, designated as the "Golden Mile", centre of food and textile manufacturing and increasingly a centre for religious activities. The Diwali lights switching-on ceremony attracts some 30,000 -40,000 people every year on the night.
Leicestershire has some 2,600 Asian businesses. There are eleven Indian banking and private equity organisations with a comprehensive provision of Asian accountants, lawyers, estate agents and other professions. "The City and the County" confirms Jaspal Singh Minhas " is truly a gateway to Europe for Indian companies, especially SMEs looking for new markets, joint ventures and investments."
What kind of services does LABA offer its members?
LABA strives to facilitate improvements in the business competitiveness of its members through being locally sensitive and both nationally and internationally aware.
Specifically LABA aims:
To continually monitor the needs of its members and the broader business community and effectively respond to the changing needs of its members which the business environment generates.

To effectively represent its members at all levels within the business community by actively driving forward relevant business issues and seeking clarification of issues which may, do or will affect its members:

To actively seek partnerships with other organizations which can assist in the attainment of LABAs mission;

To communicate and inform members of issues and initiatives which can assist in the better management of their operations; and

To facilitate opportunities where effective networking can occur for its members.

NEW INITIATIVE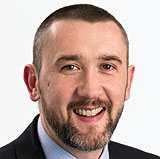 The launch of a new initiative to help bring forward key privately-owned sites in Leicestershire with the potential to support economic growth, encourage inward investment and create significant new employment opportunities, was announced in September by the Leicestershire Asian Business Association (LABA).
The project will be led by Uday Dholakia, Chairman of LABA, and involve local landowners, developers and business leaders.
LABA President, Jaspal Singh Minhas said:
"By taking a co-ordinated approach to key sites across Leicestershire, we can meaningfully inform a strategic dialogue with the Leicester & Leicestershire Enterprise Partnership (LLEP), local authorities and Government, drive local economic development, and, where necessary, secure access to regional and European growth funding."
GVA, one of the UKs leading property advisers, will work closely with LABA to crystallise the economic growth opportunities that could be realised through development across this portfolio of sites.
Nick Harrison, a Director in GVA's Midlands office, said:
"GVA is delighted to be advising LABA on this innovative private sector led initiative. It has the potential to contribute significantly towards the achievement of wider economic growth objectives in Leicestershire, and aligns well with the company's focus on expanding our presence in the East Midlands."
GVA is one of the largest multi-disciplinary property consultancy practices in the UK, providing a full range of property related services to clients in all sectors, including agency, planning and regeneration, building consultancy, investment, property management and valuation consultancy. The firm has 12 offices across the UK, and employs approximately 1,200 staff generating a turnover of Ł147.3m in 2012/13.

—For further information about the Leicestershire initiative, please email uday@labauk.org.
At a time when businesses around Europe have slowed down, Asian businesses seem to be going quite strong. What according to you makes this possible?
"The unique selling proposition of a British Asian Business" confirms Jaspal Singh "is its resilience to challenges and the ability to circumvent challenges. Added to this are the entrepreneurship cocktail of; hard work, tenacity, family support, courage and the ability to take risk and learn from success and failure with equal gusto. The added advantage being that we have is mobility. In that you can travel to Russia, to Bulgaria, Portugal, Spain and Ireland, there are Asian communities there and we are all very well networked. This network has strengthened with the arrival of internet based multimedia convergence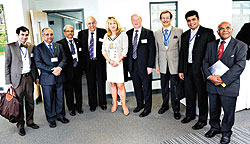 A CII delegation in the summer of 2013
What role does LABA play in U.K.'s trade and business engagement policies with India?
"LABA through NABA, is being actively lobbying the Government to take its equitable part in promoting bilateral trade and inward investment with countries like India where we have business, cultural, academic, research and religious ties" said Jaspal Minhas having just returned from a trade mission to India led by Eric Pickles MP, the Minister for Communities and Local Government.
The Indian Government has long valued the support of the Indian diaspora in the UK in promoting bilateral trade between the two countries via the Consul General's Office in Birmingham. This is now being reflected by the British Government resulting in closer working relationships between the UK Trade and Investment (UKTI) and LABA and NABA. As Chairman, LABA, I am a regular participant at Select Committees at Westminster, ensuring that the influence and the contribution of the British Asian Community is at the heart of the Government's policy making.