April 2013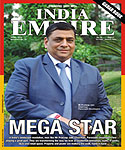 INDIA EMPIRE
N 126, II Floor,
Greater Kailash I,
New Delhi
110 048
India.



Telefax: 91-11-29231515.

Advertisement: Call 91-11-29231515, 29233647, +919899117477.

Email:

sales@indiaempire.com You can also write to us at the following emails:

At info@indiaempire.com with news, views, and opinions from across the world. We cover the Indian Diaspora (NRIs/PIOs) from India, like no other Indian magazine does.

You can also write articles from your country that may be carried in both our online and offline editions. Please remember to mention your contact details when you send us articles. Articles will be carried after careful screening, and due editorial attention.

At subscription@indiaempire.com for subscribing to INDIA EMPIRE issues or for procuring back-dated issues.

At letters@indiaempire.com for sending letters and opinions on articles that have been published in the magazine.