Mr Barak Granot Head of Economic and Trade Department, Embassy of Israel in India
Mr Barak Granot Head of Economic and Trade Department, Embassy of Israel in India
On the significance of Israel's participation at the India Water Week…
Israel has the knowledge, knowhow, expertise in combating drought situations, converting sea water to drinking water (desalination), recycling waste water through advance STPs.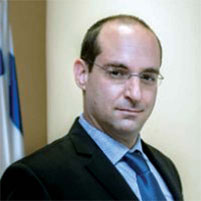 Mr Barak Granot We are a water scarce country and have been facing many challenges similar to India. We have been recycling 80 per cent of waste water, which is the highest in the world and we are keen to share our experience with our Indian friends.
On the 2008 - 2009 water crisis in Israel…
It was so severe that there were commercials all over TV, radio, newspapers urging the people of Israel to stop watering lawns, gardens, and start conserving water. Twenty four municipal corporations were created, Israel's public expenditure on water was increased, loss through leaking pipes during distribution was almost completely arrested. Large investments were made to improve infrastructure. It helped us overcome a variety of difficulties in the arena of sewage water, household water, agriculture water.