"My vision is to bring social transformation through dynamic education research and innovative healthcare startups"
A professor, an ace research scientist and an entrepreneur, winner of several prestigious international awards, accolades and fellowships, Prof Dr Harvinder Popli is a name to reckon with in the pharmaceutical industry and in the academic world. She speaks with Consulting Editor (Business and Commerce) Yogesh Sood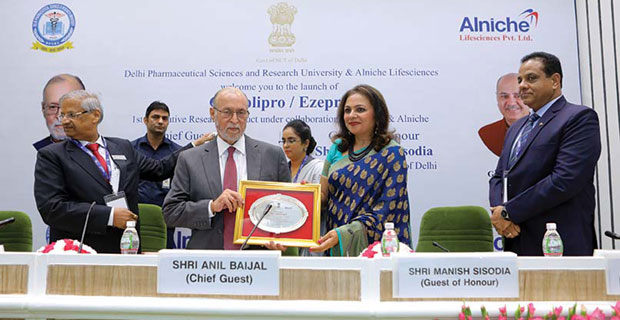 Product launch by LG for chronic kidney disease developed by Prof Dr Popli in collaboration with Industry in Vigyan Bhawan
Getting into the private sector on a platform such as Ranbaxy Laboratories must have been quite compelling. What change did you feel after having taught at the College of Pharmacy for nearly 10 years?
While I was doing my post doctorate in the UK, I was working on industrial projects which gave me insight on commercialization. Having 10 years in academics, I was technically very sound. However, working in the industry requires a business mindset. In academia, research is done for the sake of learning as opposed to clinical application. In academics, we would spend days on researching new drugs and performing experiments but working in the industry was very different as I had to think about the viability of a product, and justify researching on a product.
Please walk us through your role and the numerous recognitions and awards that you've received in your career with industry.
My work profile at Ranbaxy focused on collaborations, partnerships, co-development and licensing, so as to complement various R&D capabilities and to strengthen business, branded portfolio through in-licensing, co-development, co-marketing of differentiated/value added/ biological products for emerging markets in all therapy areas and select products for developed markets.
The profile involved participation right from scouting partners to lead molecules to final deal execution, followed by project management activities for timely launch of the product in the market. The function required working with a diverse group of stakeholders at all levels within the company.
My work has been recognized at many national and international forums. Some of my notable achievements/ awards in academics are Nagai Foundation Award for contribution in controlled drug delivery, Lloyds Lifetime Achievement Award, Pharma Ratna Lifetime Achievement Award, International Icon Award, Development of 1st Innovative Product commercialized by Alniche for Critical Care, and Distinguished Service Award in Cardiovascular Sciences from the International Medicine and Surgery, Winnipeg, Canada.
I have 5 books, eight chapters in national and international books, 3 US patents, 2 EU patents with over 100 publications. I have guided 76 students of Masters and PhD and am currently guiding 8 PhDs and 6 Masters students in pharmaceutical sciences.