"My vision is to bring social transformation through dynamic education research and innovative healthcare startups"
A professor, an ace research scientist and an entrepreneur, winner of several prestigious international awards, accolades and fellowships, Prof Dr Harvinder Popli is a name to reckon with in the pharmaceutical industry and in the academic world. She speaks with Consulting Editor (Business and Commerce) Yogesh Sood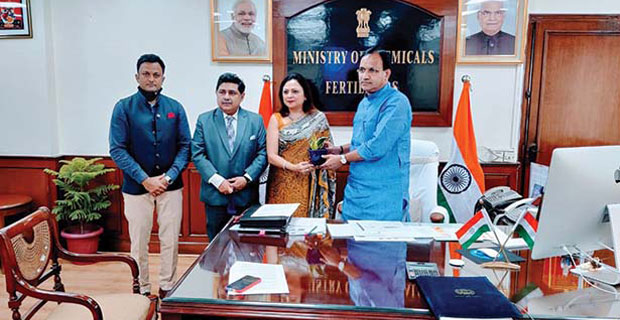 Prof Dr Harvinder Popli meeting with the Minister of State for Chemical and Fertilizer Mr Bhagwanth Khuba
You've spoken about the support from family that has helped you to balance your career and home over the years. Can you please elaborate on this?
My family has played a very important role in my success. I am blessed to have a husband who shared my dreams and helped me overcome the challenges in taking care of children while I was either studying or travelling overseas for work. Other important things which helped me to succeed was my pro-active and sincere attitude. To be successful, one needs to be adaptable and open to new ideas. Having access to resources increased my efficiency, knowledge and chances of succeeding.
What inspired you to join academics again, after a successful stint in industry?
I always wanted to give back to society. I realised that there were plenty of gaps in academia-industry wherein I could contribute. I decided to be a visiting professor at my alma mater. I have always enjoyed teaching and I feel that you learn a lot while teaching the younger generation. In the year 2016, I joined as Professor in Delhi Pharmaceutical Science and Research University (DPSRU).
What is your vision now as Director in the University?
I've been fortunate to work both in academics and industry. My vision is to make the university a Centre of Excellence in Research in Pharmaceutical and Healthcare sciences to benefit society in the form of commercialized products and services.
Which professional and social organizations are you involved with?
I am the National President of the Society of Pharmaceutical Education Women Forum and the State President, Delhi Pharmaceutical Council of Women's Indian Chamber of Commerce and Industry. I have been associated with the Rotary International since 2010 and am President for Rotary Club for 2021-22. This has provided me an opportunity to serve the community through health camps, service projects, awareness campaigns for disease prevention, water and sanitization, supporting the environment, and maternal and child health. I also got the opportunity to charter Rotaract Club of DPSRU, sponsor Rotary Club of Delhi Shine and spearhead Start-up and Innovation Initiative of Delhi State and University wherein I facilitated 15 start-ups and 5 commercialised products.