"Our High Commission has been able to maximize economic diplomacy between Zambia and India"
In this interview held at the High Commission of the Republic of Zambia in New Delhi, H.E. Mrs Judith K.K. Kan'goma-Kapijimpanga, High Commissioner of the Republic of Zambia to India, focuses on the deep and abiding relations between India and Zambia. She throws considerable light on the waves of Indian investors who are now making Zambia their second home. She spoke to Sayantan Chakravarty, Editor and Publisher, India Empire Magazine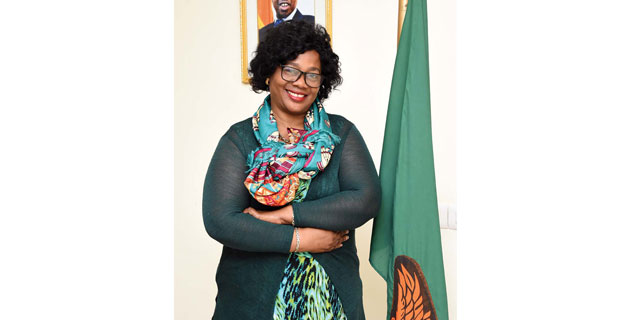 Kindly apprise us of the high-level visits that have taken place between Zambia and India in recent times…how far have you gone towards strengthening ties between our two nations?
Our President H.E. Edgar Lungu has indicated that he'd like to get maximum benefits from India through the promotion of economic diplomacy. Because of our sound and very brotherly relationships even Zambia in itself has recognized that there are lots of low hanging fruits in India which we can pluck. The Head of State invited his Indian counterpart President Ram Nath Kovind to undertake a State Visit to Zambia. The President of India arrived in Zambia on April 10, 2018 for a three-day State Visit. It is the first time in 30 years that a President of India last visited Zambia. The Heads of States witnessed the signing of formal MoUs between India and Zambia aimed at investment cooperation in various sectors. The first MoU was on avoidance of double taxation which was signed by Foreign Affairs Minister Hon. Joseph Malanji, and India's High Commissioner of Zambia H.E. N.J. Gangte. The second MoU was signed by Home Affairs Minister Hon. Stephen Kampyongo and India's High Commissioner of Zambia H.E. N.J. Gangte on visa exemption on diplomatic passports that is allowing the diplomatic passport holders to enter either country without visa. The third MoU signed by Minister of Justice Hon. Given Lubinda and India's High Commissioner of Zambia H.E. N.J. Gangte on judicial cooperation and training and expedition of judicial matters affecting the two countries and their citizens.
The fourth MoU signed by Commerce Minister Hon. Christopher Yluma and India's High Commissioner of Zambia H.E. N.J. Gangte seeks for the establishment of an entrepreneurship development institute in Zambia conforming to the vision of 2030 which would help entrepreneurs to access finance and general empowerment. On the other hand, Zambia and India signed a MoU aimed at promoting skills between Zambia's health experts and those from Apollo Hospital. Our Hon. Minister signed the MoU in Lusaka on behalf of the Zambian Government in the presence of Foreign Affairs Minister Hon. Joseph Malanji and Apollo Hospital Vice President for Corporate Development Dr Harinder Sidhu in the presence of Zambia's High Commissioner to India, that is myself. The MoU entails that Apollo will help in training Zambians in kidney and heart transplants, among others, and I'm proud to mention that a few weeks ago such a transplant was done.
President Kovind and President Lungu also addressed the historical forum in Lusaka which was key in the promotion of economic diplomacy. The two leaders reaffirmed their commitments towards facilitating smooth trade and investment between India and Zambia. President Lungu and President Kovind also commissioned roadworks to decongest Lusaka City and the long-awaited project to see some flyover bridges constructed, especially for buses. The project is expected to be completed within six weeks with funding from the Government of India through the EXIM Bank. This is to the tune of USD 286 million. During this visit, tourism was also top of the agenda. President Kovind took part of his delegation to Livingstone to appreciate the Victoria Falls. And in the delegation were his immediate family members—his wife and grandchildren. Zambia High Commission in India anticipates that President Lungu would also undertake a reciprocal visit to India as he has been invited by President Kovind. The benefit of President Lungu visiting India is to complete other pending agreements, among others.