MOVING BEYOND DEFENCE - BUSINESS TO BE FOCUS OF INDO-RUSSIA TIES
Business is going to be the thrust area ...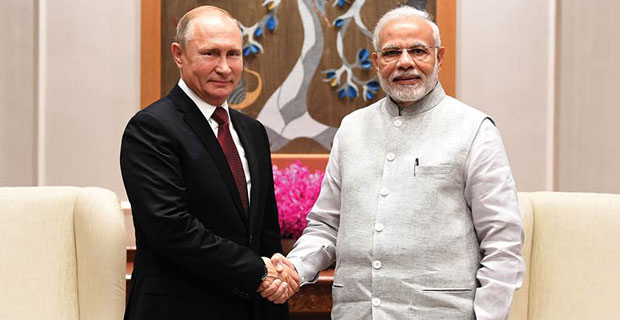 Prime Minister Mr Narendra Modi meeting the President of Russian Federation Mr Vladimir Putin in New Delhi in October 2018
He identified energy and minerals as sectors with a lot of scope. Russia is rich in these resources and India could invest in these. Mr Modi said during his visit, about 50 agreements have been signed in various areas, which are expected to translate into investments worth several billion dollars. "I am not here to deliver a lecture and leave," he told the gathering, implying that he meant business. He said both Mr Putin and he shared a trait—that both are "never satisfied". The two leaders laid the road map for enhanced cooperation during their talks. Among the other sectors identified for intensified cooperation are agriculture, pharmaceuticals and infrastructure. They also discussed easing of visa norms for Indian business persons and smoothening of currency matters.
Significantly, Mr Modi proposed export of Indian manpower to Russia, highlighting how it has helped increase incomes of its host countries, like the Gulf nations. The Indian diaspora has also been contributing to India's income through remittances. A decision was taken to start shipping services between Chennai and Vladivostok, to improve connectivity between India and Russia's Far East, where India will be stepping up investments, especially in energy and mining. The Russian President spoke about energy sector and said his country is a reliable supplier. He referred to a major scope for cooperation in the field of energy, particularly Liquefied Natural Gas (LNG) in the Far East and Arctic regions. The two leaders agreed on enhancing two-way investments in the energy sector through a five-year road map. Indian Foreign Secretary Vijay Gokhale told media persons that the decision to give thrust to boosting economic ties would lend a new dimension to the ties between the two countries. Mr Modi and Mr Putin also discussed the prospects of Russia getting involved in inland shipping in India for tourism purposes.