Indian heads big ticket New York projects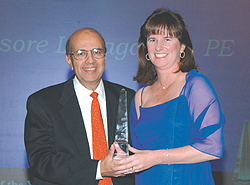 Mysore Nagaraja is the man in the hot seat in the Big Apple. Nagaraja is the president of the newly created Capital Construction Company by the Metropolitan Transit Authority, New York. Nagaraja's new role will see him presiding over multi-billion dollar capital expansion projects in New York City.
Then there are more than 300-400 engineers and hundreds others in every position from supervisor to computer programmer to conductor and token booth clerk working under Nagaraja's supervision.
Nagaraja is a licensed professional engineer in the states of New York and New Jersey. joined New York City Transit as a project manager in August 1985, was promoted to assistant vice president in October 1986, to deputy vice president in June 1989, and to senior vice president and chief engineer in 1996.
As Senior Vice President and Chief Engineer at MTA New York City Transit where he oversaw all aspects of the Capital Program including the reconstruction of the 1 & 9 subway line section within a year and four days of its destruction during the 9/11 attack on the World Trade Center.
Beauty out of Africa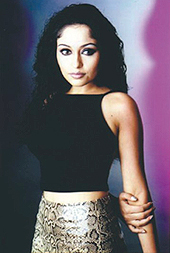 She is an Indian beauty born and brought up in South Africa. Tarina Patel, 25, has long been an established name in that part of the world. But the model-turned actress has moved on to become a name in the global glamour and movie world.
Patel has been chosen to play the lead role in a gender-bender, sexy comedy called Rainbow Rani. Caribbean film producer Mickey Nivelli, whose earlier movies include The Right and The Wrong, The Caribbean Fox, Jealous, Girl from India and Man from Africa, will direct the film.
Nivelli, previously known as Harbance "Mickey" Kumar, chose Tarina Patel after a worldwide talent search that ended last week. "Tarina Patel beat thousands of contestants to bag the role," he says.
Rainbow Raani is a movie with a message of love that knows no geographic or gender barriers. The story revolves around a musical band called The Rainbows: a quartet, like the Beatles, but composed of an African, an Indian, a Caucasian and a Chinese player.
The actress made her big-screen debut in One Night with the King, which starred Omar Shariff and Peter O'Toole.
Patel appeared in the SABC2 series The Res, where she essayed the role of Keshni, an Exotic Indian student, from a very rich family and at war with Hindu Tradition and Western emancipation.
This Durban model was also the only Indian among six finalists in a competition to find a new face for the popular South African soap Egoli. Needless to say, she's been featured in numerous ads in magazines, on billboards and TV. Patel spent two years in Mumbai as a model. She also did a number of commercials. She has been on the covers of Femina India, New Woman and India Today.
"I wanted to get into modelling and the film industry and decided to go to India, because the industry is larger and with more opportunities.
"But for me to get into Bollywood, I must be able to speak Hindi and Urdu fluently, which I am working on," she has been quoted saying. She has an honours degree in psychology.

Scientist Raj is back in Britain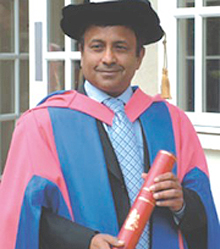 Britain is not really at the cutting edge of science and technology. But the country, which kickstarted the Industrial Revolution a couple of centuries back, is beefing up its scientific cadre. Recently, it appointed scientist Raj Rajagopal as a member of the British Council for Science and Technology. The Council of Science and Technology is the government's top-level advisory body on science, engineering and technology policy. Rajgopal is the chief executive of BOC Edwards and an executive director of the BOC Group, producer of industrial and medical gases and equipment and services to the semi-conductor. Rajagopal chairs the Institute of Electrical Engineers' manufacturing sector panel.
Rajagopal's appointment and that of 15 others was made recently by UK Prime Minister Tony Blair and represents a wide range of experience from the scientific community, business and charities.
"Science and technology are a foundation stone for future UK competitiveness and a better quality of life throughout the world. We are committed to excellence in UK science so that the health and wealth of the nation can benefit from new technology and scientific breakthroughs," Blair said announcing the appointment.
Lord Swraj Paul to head London Olympic panel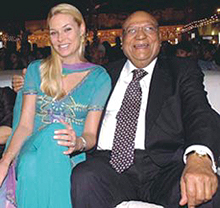 UK-based NRI industrialist Lord Swraj Paul has been appointed chairman of the Olympic Delivery Committee with the key task of initiating measures to acquire land and provide infrastructure for the London Olympics 2012.
The appointment of the six-member committee headed by Lord Paul, British Ambassador for Overseas Business, was made by the London Development Agency, which is London Government's agency for regeneration of the Capital of which he is a director, official sources said on Sunday.
Work of the committee would merge with the Olympic Delivery Authority, once that is formed.
"It is a great honour and challenge and I look forward to play my part in this prestigious event for London," Lord Paul said commenting on his appointment.
Lord Paul was part of the Board of Olympics which fought a keen battle in Singapore and won the Games for Britain for the year 2012.
After the successful completion of the Games in 2012, the Olympic Delivery Committee will be responsible for the legacy of Olympics, the sources said.
Meanwhile, London 2012 will hold an event to mark the 2012 bid victory and kick off a multi-million pound campaign to boost London's economic recovery.
The event on September 1 will reveal the work already underway towards the London 2012 Olympic Games and Paralympic Games.
Lord Paul had also recently announced the setting up of a world class school in Jalandhar, which is the place of his birth. According to reports, his Caparo Group signed a memorandum of understanding with the Punjab Technical University (PTU) to establish a school for manufacturing and material technology on the outskirts of Jalandhar. The school is expected to start from the academic year 2006.