India wants to boost FDI to $10 billion in 2006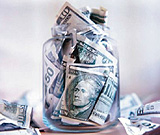 India hopes to nearly double the inflow of foreign direct investment (FDI) to $10 billion in 2006.
The U.N. Conference on Trade and Development said in its last report that FDI flows into Asia's third largest economy rose to $6 billion last year from $5.3 billion in 2004.
The country's economy could grow by as much as 10 percent in the 2006-07 fiscal year if it ramped up investment levels, its finance minister said recently.
Yet its reliance on union-backed communist parties for support has hampered attempts to dismantle protectionist laws.

Mumbai women most Net savvy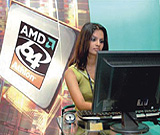 The number of women using the Internet in India has gone up by over 4 per cent since last year and women from Mumbai top the list of female Internet users among all metros across the country.
So say statistics from a study undertaken by the Internet & Mobile Association of India (IAMAI) after surveying 6,365 respondents in December 2005.
The survey stated that since 2004-05, the percentage of online users has increased by 54 per cent to 38.5 million users. Male online users increased in absolute numbers but dipped from 72 per cent (2004-05) to 68 per cent (2005-06).