BENGAL POLLS: EUNUCHS PARTY

FEWER FREE SEATS AT AIIMS
In their glittering saris and red lipstick, they barged into the middle of a queue in front of a polling booth in Kolkata. They clapped, laughed, made bawdy comments and even abused in Bengali. The eunuchs had arrived. This time they were not capering for money. The intention was slightly political: send the voters scampering home. Sure enough, they were paid by the rival party. For the 8,000-odd transgendered people in West Bengal, the first phase of assembly elections on April 17 gave scope for a different type of tamasha.
Says a eunuch from Howrah: "When 60-70 voters of the rival party line up before the booth, we get a signal to go ahead and start our tamasha. Disgusted, they leave."
The Supreme Court has directed the Union Health Ministry to keep 10% seats in each subject in abeyance for the reserved category students in admission to Post-Graduate medical science courses in All India Institute of Medical Sciences (AIIMS).
The bench comprising Justice KG Balakrisnan and Justice DK Jain issued the directions when the matter was mentioned before the bench contending that the first counselling for admissions to PG medical science courses was to start on Friday and unless and until interim relief was granted by this court no seat will be left for reserved category students.

IAF SHOOTS FOR IIT-IANS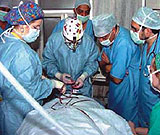 In the first-such initiative to tap top brains, the IAF will host as many as 57 IIT students for a two-month summer-training stint in a bid to motivate them to become "air-warriors".
Being a technology-intensive force with frontline fighter jets, radars and missiles, the IAF wants bright youngsters to joint its engineering ranks. And what better talent can it expect than the globally-recognised IITians. The IAF, in fact, wants to attract IITians to join it as pilots. The idea is that with fighter jets getting more and more advanced, pilots should have more technical knowledge than merely having the skills to fly the sophisticated machines.