Rocking the Atlantic City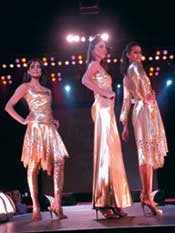 Extravaganza dazzles Trump Taj Mahal Casino, Atlantic City
A.R. Rahman, Alisha China, The Bilz and Jay Sean among winners
Manish Malhotra and Suneet Varma bag top fashion awards
It was big event all right. A packed audience went into raptures as the big names from India's entertainment world performed at the Bollywood Music and Fashion Awards 2007 at the Trump Taj Mahal in Atlantic City, New Jersey. Culminating in a combined show of music and fashion awards on November 17, the extravaganza drew thousands of people from New Jersey, New York and Connecticut to Atlantic City where the audience saw their favourite music and fashion stars perform live.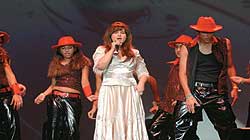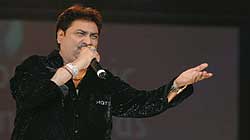 Alisha Chinai, Kumar Sanu, Kavita Krishnamurthy, Jay Sean, The Bilz, Tara and top Caribbean artists Rooplal G., Dheeraj, Geeta Bisram with the Angels band thrilled the audience. A surprise performance was by five-year-old Sana, daughter of Kumar Sanu, who took the audience by storm.

The master of ceremonies was the irresistible Rajiv Satyal, America's number one desi comedian, who kept the audience in splits with his NRI jokes.

The first two awards of the night went to Aryan Vaid and Anchal Kumar for the best model of the year–male and female respectively. Manish Malhotra bagged the best costume designer of the year (film) and Suneet Varma won the best designer of the year (non-film).

The sterling performance by Alisha Chinai, who entertained the audience with her numbers like "Made in India" and "It's Rocking". Kumar Sanu's electrifying performance was simply outstanding, with the audience asking for more. Kavita Krishnamurthy performed all her hits and overwhelmed the audience with her mind-blowing performance. The Bilz were rocking and had the audience on its feet.

The distinctive Caribbean flavour with the unique style of performance by Rooplal G. Dheeraj, Geeta Bisram and the Angel's Caribbean band added gusto to the event. Jay Sean and Tara also performed to the crowd's delight.

The glittering event left thousands with warm memories of a magical evening. The winners:

Fashion:
Best Designer of the Year-Film: Manish Malhotra
Best Designer of the Year-Non-Film: Suneet Varma
Best Model of the Year-Male: Aryan Vaid
Best Model of the Year-Male: Anchal Kumar

Music:
Best Music Director: A.R. Rahman – Guru
Best Male Singer: Sonu Nigam-Kabhi Alvida Na Kehna
Best Female Singer: Alisha Chinai – Its Rocking- Kya Love Story Hai ,
Best Song of the Year: Alisha Chinai – Its Rocking- Kya Love Story Hai
Best Bhangra Artist: Josh - Mahive- Mausam
Remix Album: DJ Sanj - Block Party
Best Pop artist: Jay Sean - Ride It
Best Dance Video: The Bilz - 2 step Bhangra.