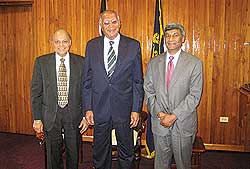 CARIBBEAN CELEBRATIONS: Inder Singh, President of GOPIO International, Max Richards, President of Trinidad & Tobago and Ashook Ramsaran, Secretary General of GOPIO International
ARRIVAL PARTY
A GOPIO International delegation, comprising GOPIO President Inder Singh and Secretary General Ashook Ramsaran participated in the annual anniversary of Indian Arrival Day in Trinidad on May 30, in St. Vincent on June 1, and in Suriname on June 4. Vijay Ramlal, Trinidad Indian Arrival Day Coordinator was part of the GOPIO delegation in Trinidad and St. Vincent's while GOPIO Guyana Chairman Yesu Persaud and Chan Misier of the Netherlands became part of GOPIO delegation in Suriname.

In Trinidad, GOPIO President Inder Singh spoke at the Diwali Nagar NCIC annual commemoration event and reminded the audience of the first arrivals of Indians, recognizing "their pioneering spirit, determination, persistence and endurance under extremely harsh conditions". Said Inder Singh, "We also recognise the invaluable contributions they have made to the diverse culture and economic development of Trinidad and Tobago". Inder Singh and Ashook Ramsaran were interviewed on "Sunshine Live" WIN-TV where both Singh and Ramsaran re-iterated that "GOPIO is not a political or religious organisation".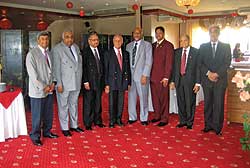 STANDING TALL: GOPIO Secretary General Ashook Ramsaran, GOPIO Suriname Secretary Ramdhani , GOPIO Suriname president Ambassador Nandoe, GOPIO Guyana chairman Yesu Parsaud, Suriname Home Minister Hassankhan, Suriname Justice Minister Santokhi, GOPIO President Inder Singh, and former Suriname Vice-President Ajodhya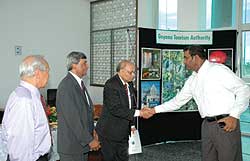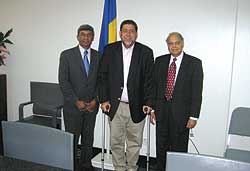 TWO TO TANGO: Inder Singh, President of GOPIO International; Hon. Bharrat Jagdeo, President of Guyana
POWER TEAM: Ashook Ramsaran, Secretary General of GOPIO International; Ralph Gonsalves, Prime Minister of St. Vincent's; Inder Singh, President of GOPIO International

The GOPIO delegation held a series of informative and productive meetings with President Hon. Dr. George Maxwell Richards; Deputy Prime Minister Hon. Lenny Saith, and Leader of the Opposition Hon Kamla Persad-Bissessar. In addition, meetings were held with Hon Winston Deokarran and Shamshu Deen of GOPIO/MOIA Tracing The Roots Project that is of interest to many PIOs. There were also visits made to notable Hindu temples and to ASJA Girl's College run by the PIO Muslim community.

On June 1, 2007, the GOPIO delegation attended the Indian Arrival Day celebrations in St. Vincent organized by the Indian Heritage Foundation and Dr Arnold Thomas, GOPIO member. India's Minister of Overseas Indian Affairs Vayalar Ravi was the chief guest at the anniversary function. Indian Ambassador to Suriname Ashok Sharma also participated in the event.