United Kingdom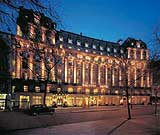 Gulshan Bhatia is a front runner slated to acquire the Waldorf Hilton in central London for 185 million pounds sterling. The 299 room Waldorf owned by the Royal Bank of Scotland and operated under lease by the Hilton Hotels Corporation. Bhatia who faced competitition from mega investors from Qatar, Bahrain and Israel is expected to retain the lease arrangement with the Hilton Group, though sources believe she may look to convert the lease to a management contract with the US hotel mammoth.

Gurinder Chadha returned to Clifton Primary School Southall, her primary school in west London, to direct the Christmas Nativity play there.
Chadha, whose big screen credits include Bride and Prejudice and Bend It like Beckham, stated she was touched to have been asked to direct the play, saying it will be the first time she has gone back to her old school.
The Nativity play will be available to watch on the Sky Movies website and is expected to become an annual event at the school for which a different director will be invited each year to take part. Chadha received an OBE..


US & UK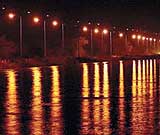 The Sidhwan Canal, Ludhiana, which has been turned into a dumping site and faces the threat of massive pollution, has attracted the attention of NRIs who have come together to launch a clean up campaign.
They have arranged 100 JCB machines to dredge the canal provided at a
subsidised Rs 500 ($12.50) per hour.
Other people in Ludhiana are said to be showing interest, including farmers and village headmen, who have pledged to provide tractors and trolleys for the campaign.
Gurbaksh Singh, a retired commandant of the Home Guards who is spearheading the effort, said around the end of January a 500 metre stretch of the canal will be clean and the soil and waste dredged from it will be used to construct a road beside the canal.
Among the NRIs who decided they would come to the rescue of the Sidhwan Canal are Sukhmandar Samra, Gursharan Nat, Kuku Grewal, all from the US, and Gurpreet Singh from the UK. Ten more NRIs have now extended their support to the clean up campaign.
MGI MOKA MAURITIUS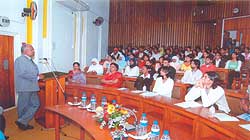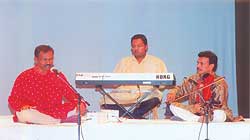 Established by an Act of Parliament in 1970, the Mahatma Gandhi Institute was inaugurated formally in October 1976 by Sir Seewosagur Ramgoolam and Indira Gandhi, the then prime ministers of Mauritius and India. It was put in place with a common vision, to promote Indian languages, tradition and culture on Mauritian soil. Since then, it has come a long way. The Folk Museum of Indian Immigration is a treasure house of information and data, managed by its dynamic curator Saloni Deerpalsingh. The Director General of MGI, J.L.R. Putty says that the need of the hour is to do much more to invigorate relations between PIOs and India. "The MGI is ready on its part with information and data. We need greater communication from the Indian end to build stronger bonds. We need more channels to open beyond what takes place at the PBD." Looks like India and MGI need to interact more if the vision of its founders are to be met.

United States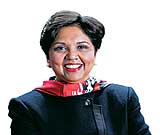 Indra krishnamoorthy Nooyi, head of PepsiCo, traced her management style to her origins and the inspiration she received from people along the way.
Nooyi, who was brought up in Chennai, nutures memories of the city that she stated has great intelligence, culture and values that she uses in her work.
PepsiCo's mission statement 'Performance with Purpose' is embedded, Nooyi stated, in society, drawing parallels with the Bhagavad Gita and the conflict btween the moral positions of Krishna and Arjuna.


UAE
Dubai-based Syed Mohammad Salahuddin and his son are the first to get a licence to operate a low cost regional airline in India. The two run a $3.8 billion business empire. They also run a company that has been leasing planes to Air-India and are GSAs for most airlines in Dubai.
The airline, Star Aviation, is to begin operations with a fleet of four ATRs in mid 2008 in South India. Their planes will fly between Bangalore, Chennai, Madurai, Trivandrum, Kochi, Vizag, Hyderabad and Bangalore.


Sri Lanka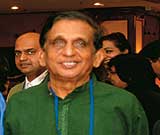 Overseas Indians should venture beyond fighting for their ethnic rights and become a bridge between various ethnic groups among whom they live, says P.P. Devaraj, a Sri Lankan of Indian origin who has been elected president of the Global Organisation of People of Indian Origin (GOPIO).
"Indians settled overseas should harmonise their ethnic identity with the diversity around them," said Devaraj, who was elected president at the ninth convention of GOPIO at Kuala Lumpur.
"They will have to take a holistic view of their problems. In fact, all parties will have to look at particular issues from several angles. They have to take into account the need to remedy ethnic inequalities, the reality of globalisation, and the need to address the concerns of the dominant communities," he said.
"The Indian diaspora should help maintain ethnic harmony in the host societies while fighting for its own identity and rights."
GOPIO should get the youth to carry this message, says the 74-year-old former Sri Lankan minister, long associated with the Ceylon Workers Congress (CWC), a plantation sector trade union cum political party of the Indian origin Tamils.