Not privileged to the whole length of over two thousand kilometres, and confined to the stretch between Haridwar and Gangotri, a land otherwise known as 'DevBhumi', or 'levels of the Gods', the only direct knowledge I have of the river is of a tumbling, youthful, powerful with life-force energy.

It is not hard to understand why such a title may embrace this place, for its shaded valleys of evergreen trees, towering above great gorges and channels of the 'Abode of Snows', the 'Himalayas' lend a beautiful picture to the beholding eye.

So, despite the mass media coverage of her current status as over polluted, lacking flow and in some cases 'dying', it is difficult for me to relate to her as a kind of dredging creature, which she has unfortunately become famed for in her lower reaches these days.
| | |
| --- | --- |
| | Susan M. Griffith Jones was born in the UK. Having completed her education there, she has spent much of her life living in different countries. After locating to Kathmandu in 2001, she took position as Copy Editor of the largely distributed English language newspaper of Nepal, The Himalayan Times. In recent years, photography and filmmaking have become her prominent activities. Her up and coming exhibition of photographs, films and discussions on 'Creative film and photography' will take place in Rishikesh, in October 2009. Information about the exhibition is available on www.pyramidkey.com |
On my first visit, which was the 'down' visit, I was to travel from her source at Gaumukh to Rishikesh a few hundred kilometres downstream. Obviously in order to come down that way, first one has to go up.
It is a sly way to visit a source as one would imagine to start from the source and expand outwards, but in this case, one has to travel along much of her mountain flow by road before reaching a point at Gangotri from which you must walk around twenty kilometres in order to arrive at the place where the water first rushes out of the glacier.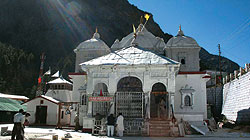 All backwards.
The place is named Gaumukh, 'cow's mouth' to describe the shape of the opening from which water flows out from beneath the glacier and you find yourself wondering at what a huge effect this proportionally small gushing of water has on a land, on a nation, on world stability.
With a kind of dizziness from altitude sickness, I look up at a glaring light upon the glacier, forming rainbows over its body of ice and mirrors within the melting water upon its surface, overpowering in its sheer huge size, creaking and groaning at the change of temperature at this moment where its solid form turns to liquid.
I wonder at its melting rate, which has quickened pace since the nineteen sixties enormously.
I drink the crisp, cool water feeling the power of the healing energy of minerals and vitamins contained within this clear substance. It is believed that to drink this water means a hundred years of life. I think of my hundred and wonder what this landscape may look like by that time, 2073.
Gangotri is the nearest habitation to Gaumukh and itself is quite modest in standard. The town grew up due to the temple, which stands at the place where King Bhagirath did penance, greatly wishing for Ganga to come to earth.
One wonders where theses stories come from, written in ancient texts by ancient beings. Were we so much more intelligent in ancient days? Reading between the lines, the mythology of the river is as deeply enmeshed in inner symbology as outer representation and is as relevant to our state as 'humans' today as it was when it was written.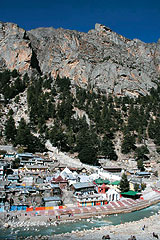 Evergreen advise.
My first images of the river were at Haridwar, a number of years ago. Then, I was moved by the Aarti puja, held every evening at the Hari ki pauri ghat, where a drop of the nectar of immortality is said to have fallen from the heavens as demons fought possession of it from the gods.
Many types of pujas are recited here, for the dead, for wealth, for health and bathers enjoy the fast flow of current through a channelled section that rushes past the ghat.
The Aarti puja is performed at many key locations along the river, including Rishikesh, slightly nestled in the Shivalik Hills, where she emerges on her final stretch to Haridwar just before which a large percentage of her flow is channelled off to the Great Ganga Canal, built under the British rule as an architectural feat of its day.
The rest of her flow then continues unhindered into the plains of Northern India, where after Haridwar she will tackle sandbanks roaming with bandits and wild beasts. Through Kanpur, Allahabad, Varanasi and along the Hugli tributary, to Kolkata, she emerges at Sagar Island, in the Bay of Bengal.
According to her mythology, she came to earth in order to redeem the souls of the sons of King Sagar by washing their ashes, which were located at the shrine of Kapil Muni, a great sage of his day. A long story precedes the event, in which his sixty thousand sons had been burnt by the wrathful eye of Sage Kapil Muni as he was disturbed out of deep meditation.
The help of many Gods were sought in order to liberate their wandering souls and in short, Ganga agreed to Lord Brahma that she would flow down to earth in order to save them.
This is where her saintliness comes into being. I didn't see it immediately, but as I returned to follow her course from the other direction, travelling against her flow, my 'up' visit, I watched the many events taking place along her banks and how she painlessly offered herself to all, in whichever manner they may seek of her.
To the one who wishes to bathe, she offers water; to one who wishes to drink, she offers water; to one who wishes blessings from her, she blesses; to one who wishes to make electricity out of her, she offers her course, her flow, her energy.
Yet these are all very logical reasons as to how mankind uses water flow both as a practical natural resource as well as a spiritual refuge. But inevitably facing the consequences of our actions, we will see what we have set into play and how the river, no matter what damage we may provoke of her, will not fight back, but will continue to stand the abuse of whoever and whatever may befall her.
She is the saint, we humans are the needy.
At first, gaining new courses as her flow is diverted, she will always follow the path of least resistance in order to reach the ocean, her destination. Whatever obstacle stands in her way, she will erode. If it is strong enough, it will withhold.
One of the world's highest dams has been built at Tehri in the Garhwhal hills of Uttarakhand, the state which encompasses "DevBhumi". Controversies have been hot over its safety and distribution of produced power, which tends to light the bustling middle class activity of the big cities, rather than villages of the mountains.
The dam lake that builds up behind the dam every year after the heavy monsoon season, which ends around mid September, has completely drowned villages and towns that were once the make-up of this valley.
The previous inhabitants have relocated to settlements higher up the side of the valley, and many such new little towns made of the bricks and building materials of the old have sprung up. I spent one eerie night in a town of such type, devoid of character, small square boxes, piles of bricks littered along the road. At times, during the lean season, the ruins of the town of Tehri may be seen poking through the waters as an island. The king's palace, the old market place, the clock tower, now broken off from its original stem.
Diverting her flow into tunnels through the mountains to feed huge turbines tens of kilometres downstream, blocking her natural passage with dams, feeding out the majority of her water flow into irrigation canals; worshipping her deity aspect at the temple and by her banks, bathing to cleanse, drinking to alleviate thirst and receive her curative properties are just a few of the mixed bag of activities going on.
Two sides to the same old coin.
Yet awareness of both her spiritual and physical aspects can help gain her as a giver of life, health and prosperity, as a provider of precious substances both in the form of her water supply and that which grows and develops along her banks……bridges that span her widths, breadths and depths.