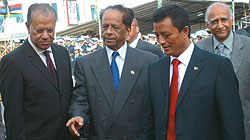 You are visiting India at a time when the country is going through a troubled phase. India needs the support of its diaspora now, than ever before. What role can be played by the diaspora to strengthen India's hand at this moment…
It is true that the Indian Diaspora should remain united as it gives moral support to India.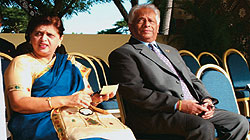 You have been a chief guest at an earlier edition of the PBD. You have been conferred the Pravasi Samman Award. India has recognized your contribution in a leadership role in world affairs. Where do you see relationship between Mauritius and India going from here?
I am grateful to Mother India for the Pravasi Samman Award conferred upon me.
The relationship between Mauritius and India has always been very strong and as I have so often said our relationship is one of blood. This will continue for ever. Mauritius and India have always been on the same wavelength on many world issues. We have always backed India for a permanent seat at the United Nations Security Council. We have unreservedly condemned terrorism and we will always stand by the side of India on this matter.
Mauritians and Indians have always been working together to promote international peace, friendship and brotherhood among all nations of the world.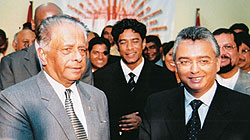 When you were conferred the Pravasi Samman Award, one of the points the citation mentioned was your immense contribution to fostering and augmenting economic ties with India during your terms as Prime Minister. Do you see the same momentum being carried forward today?
The citation was quite correct. That has always been the philosophy of our two countries and I have no doubt that this momentum will continue whatever be the Government in the two countries, because our co-operation is between India and Mauritius.
You were credited with the economic miracle of Mauritius in the 1980s. What are the main challenges before the Mauritian economy today, given that sugar is no longer its mainstay?
It is true that we no longer depend only on sugar now. We have diversified our economic base and the agricultural sector. We not only produce sugar but also its by-products such as special sugars, liquor, rum, perfumes, vinegar and alcohol. And we very often export certain fruits and vegetables when in excess and cut flowers all year long. We also have very solid financial, offshore, freeport and ICT sectors, and tourism and textile industries. We also have a fish canning industry and the present Government is working hard to make Mauritius a seafood hub and a knowledge hub.
How can India further strengthen its relations with the diaspora, apart from engaging its members at the PBD?
India can further strengthen its relations with the diaspora by putting at the disposal of the people facilities of movement to and from India.
India is planning a heritage site in Kolkata from where thousands of indentured workers and their families left to work in different parts of the world. Something like the Aapravasi Ghat in Mauritius. As someone with an Indian ancestry, what does this kind of heritage site mean to you?
First of all it reminds me of our origin and it is a symbol of the place from where the indentured labourers left India, just like the Aapravasi Ghat in Mauritius where they first landed. These two sites will always remind us of our origin and our history and will further solidify the bonds existing between our two countries.

It is one thing to reach the top in politics, quite another to remain there for so long. Share with us some of the secrets to your political longevity?
There is no particular secret to the success of my political career. It has been so because there has always been sincerity of purpose, a vision for the country, strong leadership with discipline and hard work, confidence and determination to achieve what I have aimed at for the country. I was successful so long as the majority of the population had their trust in me