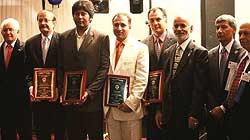 GOPIO International—the Global Organization of People of Indian Origin—celebrated its 20th anniversary convention in New York between August 20 and 23. The conference, appropriately themed "People of Indian Origin: Strengthening Global Connections", was attended by over 500 members from within the Indian diaspora across twenty countries. Indeed, apart from celebrating its age, the large attendance reinforced GOPIO's growing clout among the overseas Indian community.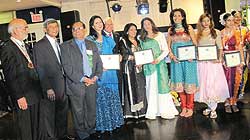 A critical evaluation was made on GOPIO's progress in the last 20 years. To reiterate that the GOPIO had laid its foundation solidly, a message from Indian Prime Manmohan Singh was read out before a high-profile audience. It said, "GOPIO has emerged as a leading organization providing a unique platform to the vast Indian Overseas community for promoting its interests and realizing its aspirations. It has contributed significantly in the process of engagement between the Government of India and the Indian Diaspora. The bonds between the motherland and people of Indian origin across the globe are valuable and precious. It is my hope that through such events, they will continue to flourish."
---
Following several rounds of discussions, GOPIO passed 16 resolutions. They are quite crucial to India's engagement with its diaspora
---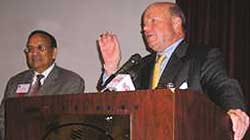 Meanwhile, following several rounds of discussions, GOPIO passed 16 resolutions. They are quite crucial to India's engagement with its diaspora.
1. Great need for peaceful coexistence of PIOs in multi-ethnic societies. Conflicts are evident in everyday social, economic, academic, professional and political lives of PIOs. These conflicts are in subtle forms in continents such as Europe and North America that have stringent laws against racism. In some places, the conflicts take extreme forms, for instance brutal attacks, murders and violence perpetrated solely against PIOs like in Uganda, Fiji, Australia, Guyana, Trinidad, Sri Lanka and Malaysia.
2. The GOPIO has asked the Indian Government to raise its voice against the problems faced by the Malaysian Indian minority in Malaysia.
3. Urged the Government of India to prevail upon the Australian Government to initiate strong action against those who have attacked Indian students in Australia. Many of these attacks have a clear racial overtone.
4. Ensuring safety of life and property of citizens of India who are subject to regular terror attacks.
5. To involve members of the GOPIO and to use the organization's outreach in assisting the Global Advisory Council set up by the Indian Prime Minister. The aim of the council which comprises of eminent overseas Indians and Indian cabinet ministers is to seek methods of accessing skills and knowledge of the Indian diaspora in order to meet India's developmental goals, and to facilitate investments by overseas Indians in India.
6. To enact a legislation whereby fast-track courts are in place for speedy resolution to property disputes of NRIs. This is necessary, given that the NRIs and PIOs are involved in the process of investing substantially in residential and commercial real estates. Besides, NRIs are keeping their emotional ties alive with their motherland by maintaining hereditary properties, yet they are subject to a growing number of scams, both civil and criminal in nature, requiring their presence in the courtrooms. It is, however, not possible for them to be physically present in order to attend long-drawn court hearings, some of which can easily last for over a decade. If this area is not addressed swiftly, NRIs and PIOs might be forced to divert their resources to other parts of the world for want of adequate protection of their properties.
7. GOPIO to establish a committee to look into antiquated rules in India that require NRIs to pay a 10 per cent tax on short term gains. As a special case, NRIs based out of Mauritius are exempt from paying taxes on gains made through the Indian stock market. While overall the NRIs are considered a national resource in India, the privileges otherwise extended to Indian citizens are not available to the rest of the NRIs.
8. GOPIO will present a comprehensive set of recommendations for boosting the prosperity of India by establishing a committee that looks into how the wealth of technical know-how available with NRIs can be easily shared with India. Presently, due to antediluvian rules and regulations, NRIs find themselves caught up in a bind and this not only serves as a dampener to their enthusiasm, it also hinders India from turning into a very vibrant knowledge-based economy.
9. GOPIO will ask the Government of India to ban clinical trials on the uneducated and poor by multinational pharmaceutical companies in order to safeguard and protect the interests and health interests of the Indian population.
10. GOPIO to request the Indian Government to formulate a policy whereby certain states do not charge very heavy registration fees for the transfer of the title of educational institutions. Sometimes these are as high as four times the cost of the acquisition of the land itself. This deters interested NRIs from investing in institutions of learning, especially in rural areas where girl children find it difficult to keep their tryst with education.
11. Urges modifications in the anti-dowry law (section 498 A of the IPC) so that it is not used as a means of extraction of money by unscrupulous women from the families of numerous harassed husbands. While the law must have been enacted in all good intent, it needs urgent modification when its misuse amounts to a violation of the liberty and dignity of man.
12. Urges the Indian Government to form a 9-member committee (including 4 GOPIO members and 5 nominees of the Government) that works out a project to encourage young overseas Indians to partake in volunteer work in India, especially in rural India.
13. Urges the Indian Government to allow NRIs to cast absentee votes and initiate a process of providing voting rights. Most countries allow this but for about 9.2 million of the 25 million Indian diaspora, this is not a right, yet. It should be.
14. Allow Indian missions to accept property and municipal taxes from NRI / PIO owners of properties in India, so that their legitimate rights of ownership are protected and maintained.
15. Urges Government of India to allow retired NRIs and PIOs residing outside India to receive their pensions through Indian missions.
16. Undertake dialogue with the Indian Government so that a uniform policy for admission of NRI/PIO students to Indian colleges is in place. Due to insensitive administrative procedures, often such students who are otherwise interested in keeping connected to their ancestral land through the medium of education, are discouraged from studying in India. Equivalency Certificates issued by Indian missions are not honoured regularly.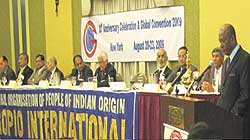 The convention itself was inaugurated by Basdeo Panday, former Prime Minister of Trinidad and Tobago, presently the leader of the opposition. Among those who spoke included Frank Wisner, former American ambassador to India. He tried to allay fears about President Barack Obama not having the larger interests of India in his mind. Wisner said that India's relationship with the USA had undergone a sea change over the past half a century. Between the Cold War era and now, the two countries had got closer, and today they shared a strategic and a vibrant business relationship in equal measure.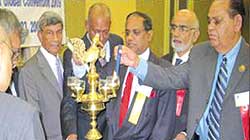 Outgoing GOPIO chairman Thomas Abraham spoke on how the Indian diaspora had turned into a most dynamic one in the world, spread as it was across 150 countries. GOPIO had been able to make its presence felt across 30 countries, and through its untiring efforts hoped to increase trade, investments and business opportunities between countries with a large PIO population. "Overseas Indians have played a major role in India becoming a destination for new investments and setting new businesses as well as for many multinational companies to go to India," Dr. Abraham said.