Commonwealth Games has given us the opportunity to showcase our city and Delhi Government has drawn ambitious plans to give the city a facelift not just in terms of roads and flyovers but also in transforming the city with world class amenities and facilities.
Improvement of Street Lighting: Street lighting is one of the areas of significance where it has been planned to change the street lighting by adopting modern design and efficient energy technologies. PWD, NDMC and MCD are planning to change the street lights by 424 lane kms, 150 lane kms and 960 lane kms at the cost of Rs. 197 crores, Rs. 100 crores and Rs. 387 crores, respectively.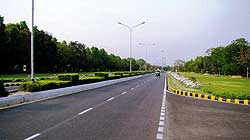 Improvement of Street Scaping: As a part of obligations of Government of Delhi under the Host City Agreement, it has been planned to undertake comprehensive street scaping works on all the roads around the Games Venues. The project is being coordinated by PWD and involves aesthetic development of the roads and street furnishing with various utilities. It also includes beautification of the area, signage and various items of street furniture such as information kiosks, public toilets, PCO booths, garbage bins and bus Q shelters. Providing land scaping of available space, environmental works and pedestrian facilities will create aesthetic look. The estimated cost of the project is approximately Rs. 400 crores.
Modern Bus Q Shelters: All bus Q shelters are in the process of upgradation under PPP mode. NDMC has already completed and commissioned all 197 BQS under its control. Out of 1,425 BQS outside NDMC area, 250 BQS has been completed by DTC and others are being taken up. All the BQS will be ready before the Commonwealth Games 2010.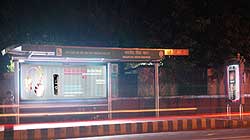 Improved Road Signages: It has been planned to improve the road signages to bring them up to international levels. At present, a pilot project has been started by PWD at a cost of Rs. 2 crores. NDMC is also revamping road signages at a cost of Rs. 70 Crores. All the major roads of Delhi will be covered under this scheme.
Connaught Place: As a part of its 'Return to Heritage Project', NDMC has prepared an elaborate plan to revamp and redevelop this landmark of Delhi. The plan includes provision of heritage sensitive signage, sewerage, water supply and sub-stations etc., development of adequate parking,
new look walkways and more. The pilot project of upgradation of C block has been completed and the complete project is being initiated at the cost of Rs. 615.26 crores.
Gole Market: NDMC has also undertaken a project of restoring and reinstating Gole Market at a cost of Rs. 5 crores, another heritage market developed in 1918. The basic components of the project include structural and architectural restoration, removal of incongruous additions, service up gradation, signage control, building illumination and provision of heritage sensitive furniture etc.