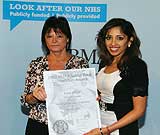 VANITA GOSSAIN: YOUNGEST AWARDEE
Dr Vanita Gossain, 25 and her publishing companyAce Medicine Ltd bagged first prize in the Electronic Media category from the British Medical Association during their Annual Book Award in September. The event was held at the BMA House London. The award aims to encourage and reward excellence in medical publishing.
Dr Vanita Gossain is the youngest to have received this prestigious award. The award was for "Ace the Osce" an online video library which shows medical students how to perform clinical examinations on real patients at a standard required for them to qualify as medical doctors. This multimedia publication also helps to elucidate practical examination techniques for the students. Normally students rely on their text books to learn and revise for clinical finals.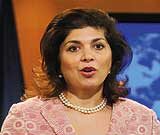 FARAH IS AMERICA'S SPECIAL REP
Farah Pandith, an Indian- American, was formally sworn in as the first US Special Representative to Muslim communities. The appointment is part of the Obama administration's efforts to reach out to the Islamic world.
At a ceremony held at the Foggy Bottom headquarters of the State Department, Farah took the oath administered by Secretary of State Hillary Clinton in mid-September.
Forty one-year-old Pandith whose family migrated from Jammu and Kashmir in the late 1960s is the first Special Representative to Muslim Communities of the United States.
Clinton said she was best suited for the position. "It is apparent now more than ever that we have to do more to promote dialogue and diplomacy, and Farah will play a key role in that process for us," she said.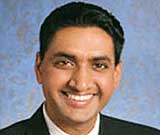 KHANNA IS TOP U.S. AIDE
US President Barack Obama has appointed Indian-American attorney R.O. Khanna to a key post in the US Commerce Department. Khanna, 32, will work to open foreign markets to US technology. Khanna, a prominent attorney who specializes in intellectual property law at O'Melveny & Myers' San Francisco office, was sworn in as deputy assistant secretary for domestic operations of the US and foreign commercial service, international trade administration. Among his duties will be to lead trade missions to countries like India and China.
Since his loss in 2004 to Congressman Tom Lantos, Khanna has remained active in Democratic party politics. Most recently, he was the chair of the Indo-American Council of Democratic Congressional Campaign Committee.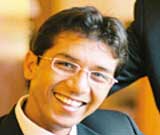 KANSAL, SERIAL ENTREPRENEUR
Here is another success story from the Caribbean. Best described as a serial entrepreneur, Shashank Kansal co-founded 7 successful start-ups. He currently manages Caribbean business for NYSE listed global technology firm—Mahindra Satyam which is part of the USD 6.7 billion Mahindra Group. In particular his work is around Oracle and SAP-based new businesses for multiple verticals—airlines, Government, healthcare, banking, oil and gas, ICT. In the past he directed and managed a joint project by Accenture, Vodafone and OneWorld, driven on mobile technology with focus on emerging markets in Africa and Asia. Earlier, Kansal managed pan-European business for Nasdaq listed firm Primus Telecommunications as a Senior VP for Europe. He has travelled to over 85 nations. Way to go.