Indian Hospitals offer cheaper healthcare to Canadians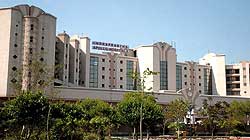 India has launched a big initiative to woo medical tourism from Canada, showcasing the country's high-end and much cheaper healthcare industry to Canadians. In November, the Indian Medical Travel Association (IMTA) launched the three-day 'India: Medical Tourism Destination 2009' conference in Toronto - the first such initiative abroad by the Indian healthcare industry. India's top-notch hospitals, including Max, Fortis, Apollo and the Asian Heart Institute, are participating in the medical tourism conference.
As the organisers said at the opening of the conference, the Indian medical foray into Canada comes at a time when this country's public healthcare is becoming expensive and the wait period getting longer.
"Lots of Canadians are already coming to India for medical treatment because of long waiting period here...even for an MRI you have to wait for three to four months," said Pradeep Thukral, director of IMTA.
"We are here to tell Canadians that India offers first-world medical care at third-world rates. An open heart surgery in North America costs up to US$ 100,000. But in India, it will cost you just US$ 10,000, including airfare and five-star accommodation," said Thukral.
After the IT sector, the Indian medical tourism sector is the next big thing. A study has shown that this sector will grow to US$2 billion by 2012, the figure of US$ 600 million has been crossed. Describing India as the emerging global healthcare hub, Thukral said more than 500,000 foreigners came for treatment in 2008. "And this traffic is growing by 30 percent each year. Nearly half of these people came from the West." Citing reasons that will boost medical tourism to India, he said: "Since there are so many Indian-origin doctors in the US and Canada, people from here coming to India will have a comfort level because they already know Indian doctors. Further, all Indian doctors and nurses speak English." Well-known commentator Narottam Puri, who heads the Fortis Healthcare Group, said the current expensive healthcare system in North America was not sustainable.
"We are here to showcase that India has reached that stage where it offers the best in medicare. We are here to tell them that India is a great destination for healthcare as well as for collaboration."
Indian Healthcare in Mauritius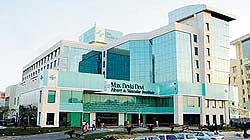 Impressed by the growing healthcare infrastructure and quality of doctors in this country, Mauritius is seeking India's help to boost its medical tourism industry and has invited Indian healthcare majors to invest in the island nation. Two hospital chains have already responded.
"India is a growing power in the field of both tertiary healthcare and drug development. We are inviting major players in your country to invest in Mauritius. Pharmaceutical, hospital and clinical trials. The opportunity for Indian players here are very good," said Nitin Pandea, head of Healthcare and Life Sciences Cluster at the Board of Investment, Mauritius.
"As you know, both Fortis and Apollo hospital chains have entered our country. They have generated hundreds of jobs. We are in talks with a few more hospital chains in India. At least two more including an eye care hospital chain is set to invest in our country," Pandea said.
He said the Indian Ocean island now gets fewer than 4,000 foreigners a year coming for medical treatment and wants India's help to increase its revenue from this sector. India gets around 500,000 foreign patients from across the world every year.
"Once big names from India enter, it will instill more faith among patients from abroad. We have started feeling the effect and hope to invite over 10,000 medical tourists to our nation," Pandea said.