Chronophage Clock gets starring role in Bollywood Movie Paa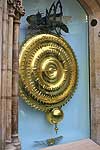 John C Taylor's famous Chronophage Clock, already an international tourist attraction, has a starring role in a Bollywood film Paa released on December 4 worldwide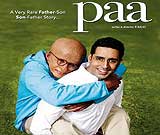 The hotly-anticipated film Paa, starring Amitabh Bachchan, and partly filmed at Cambridge University, England, has provided a starring role for an extraordinary public clock.
The Chronophage Clock, invented and created by John C Taylor, has already captured the imagination of the world's media and visitors to Cambridge, who have been mesmerised by the strange creature driving the mechanism. The clock was voted one of the best inventions of 2008 by Time magazine and was unveiled by world-famous scientist Professor Stephen Hawking.
The Clock now has the chance to capture the imaginations of thousands of movie-goers all over the world when they see it featuring in the English language blockbuster film released on 4th December. Paa is the story of a 13 year old boy who suffers from a rare genetic defect which causes accelerated ageing, and is played by the veteran actor Bachchan. The clock provides a reminder of the passing of time, and features prominently in the trailer, and in several scenes in the film, which is showing in cinemas across the US and Canada, UEA and UK.
John C Taylor, inventor of the Chronophage Clock, commented:
'I'm delighted that the clock has been used in this film to create a poignant reference to relative time and the ageing process, as that is exactly what I created it for. The fearsome beast which drives the clock indicates that time is often our enemy, not our friend. I hope that people around the world who see it featuring in Paa will be curious about the clock and want to find out more!'
The Chronophage Clock is on public view outside Corpus Christi College, Cambridge, England. John C Taylor is currently working on a second Chronophage, and will also offer a small number of exclusive commissions.