From the paradise Islands of Trinidad and Tobago...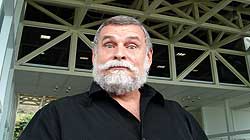 - By Sayantan Chakravarty
It is not without a great sense of humility, I am sure, that Raul Bermudez and the good people at Parodice Games have decided to take on the cricketing world through India. After all, India's population is one thousand times that of Trinidad and Tobago—where Parodice Games is based—and the twin island state forms part of the West Indies, whose cricket teams have been on the receiving end of many severe thrashings from India over the last decade and a half. I would not mind, however, taking some of the credit for getting them here.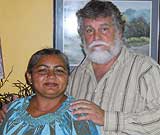 Our paths first crossed in the Trinidad Hilton in 2008 at a Trinidad and Tobago-sponsored Trade and Investment Mission from South Asia, organised by their High Commissioner to India, His Excellency, Pundit Maniedeo Persad. Upon meeting him, Raul gifted me a copy of the prototype of his cricket board game. Pretty much everyone present understood cricket, so it was not surprising that all who did were instantly fascinated with the box. Eventually, when we were politely asked to put the game away, I understood that there was something so irresistible about it that I should not return home without finding out as much as I could about what Raul's plans for the game were.
It took not much effort on my part because Raul insisted that I allow him to introduce me to his beautiful homeland, its people and their food. Over the course of my stay and some long conversations I developed a hearty appreciation for all and got a good understanding of the man and his product.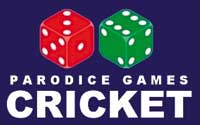 But I've digressed. You'd forgive me, I'm sure, for it's important for us to know that the majority of the people of Trinidad and Tobago (T&T) resemble us. Therefore, when we visit T&T, we will quickly sink into an environment we recognise and one that accommodates our every need.
The facts that T&T shares the Eastern Time Zone with the United States of America and is positioned at the gateway to Latin America and the Caribbean, make it a serious venue to consider for anyone wanting to do business in that part of the world, facts that are not lost on His Excellency Malay Mishra, India's representative in Trinidad and Tobago.
It probably was not lost on Venky's too, when, in response to last minute appeals, it agreed, two months aback, to sponsor the T&T cricket side's participation to play the CLT20 cricket tournament in India.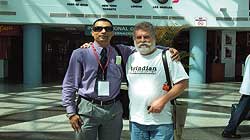 With the Author at Piarco International
Underdog T&T gave the the world's top teams a run for their money. As it progressed, fans sat up and took notice, no doubt reminiscing of the days when the sport was, well, a sport, not a mercenary affair. Their outstanding performances catapulted hitherto unknown faces into international stardom in a matter of minutes on the field, so much so that whenever T&T played, the highest viewership sat glued to their TV sets.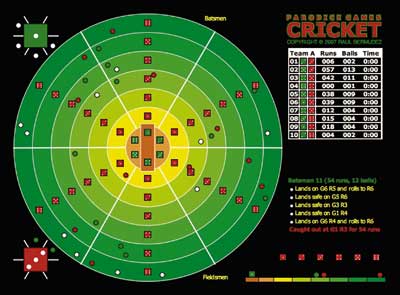 No surprise that when the Daren Ganga-led T&T cricketers went back home, they went not just with a runners-up cup, but also with an overflowing cup of goodwill, garnered from millions of cricket-lovers in India and all over the world who enthusiastically cheered them as they played Calypso Cricket at its best.
No gainsaying, too, that Venky's came away with more than handy value for its investment. How Caribbean companies must still be ruing opportunity they wasted.
Perhaps then, Parodice Games' decision to launch its cricket board game in India is the best decision it could ever make, especially if the game has plenty Calypso flavour.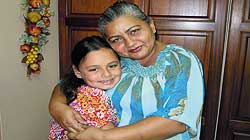 Many of you would have noticed the Parodice Games full page advertisements in the 2009 issues of India Empire magazine. We are happy to announce that these board games will soon be available on the Internet and in toy stores near you. It was Raul himself who broke the news in an exclusive interview in early December with us, which is reproduced alongside.
How did Parodice Games come about and, why cricket?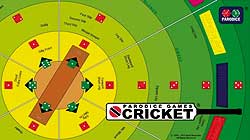 It is a very long and somewhat sad story—which I am sure you do not want to hear again.
Most will remember the rumours of war that started in July of 1990; some will never forget that actual conflict erupted at that time where east meets west. Well, we too in T&T had some civil unrest—to put it mildly—that may or may not have been directly related to what was going on in the rest of the world.
At that time I was running a computer consultancy that offered support to the print and advertising industries. There was very little of that happening and you know what they say about idle minds. I had also just started a family and our first child, Cristina, was just about two years old and was doing very well in kindergarten. I was amazed at the ease with which she was learning to read and thought that I would do something to introduce her to numbers.
Dice were a natural choice to convey the numbers because she was already counting dots at school. Using a pair of dice—one red, one green—I created a six-by-six grid and, using Cartesian co-ordinates, populated the cells with the product of the numbers indicated at the top and left of the grid with dice. It was quite boring, but suitable for her age. I still have those drawings in a box somewhere.
To add some life to 'the game', I added a cricket theme by inserting a pitch under the centre of the grid and fading shades of grass to create the illusion of wear and tear. The ball would land at the intersection of the red die (the ball) and the green die (the bat). I never intended for it to get any more complicated than that.
It was only after a weekend of trying to explain the sport of cricket to the children of some of the members of staff of the Venezuelan Embassy here in Port of Spain, that I thought that the game could be used for more than it was originally developed.
I think it fair to warn you, however, that Parodice Games is far more than cricket. We have a dozen other proprietary games that, God willing, we will also be producing in India...once PG-Cricket gets established.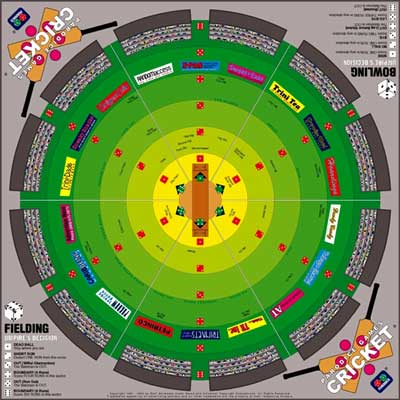 Are you yourself a huge cricket enthusiast?
I was born here—in Trinidad and Tobago—but I lived in Venezuela from the age of ten to twenty-seven. Baseball is to Venezuela what cricket is to Trinidad and Tobago. I therefore grew up in Venezuela playing baseball. Despite growing up there, I love my native country and, as you would see in our mission statement, at Parodice Games we firmly believe that if we unleash the creativity and industriousness of our people to promote the natural beauty and resources of Trinidad and Tobago, these Paradise Islands can become the industrial centre of the world.It is a tall order, for sure, but we are determined not to shy away from it.Besides all that cricket is, we see PG-Cricket—the board game—as a mechanism that will allow us to fulfil our mandate.
What are you saying, are you marketing Trinidad and Tobago with your games?
Not to the extent with which you at India Empire Magazine market India, but we hope to get there one day.
When we say: "From the Paradise Islands of Trinidad and Tobago, to the Cricket Lovers of the World, PG-Cricket, a Parody with Dice by Parodice Games" we mean it.The game is our gift to the world. But it comes at a price.Like it or not, we are going to use every opportunity we are given to tell you and the world how nice Trinidad and Tobago is and what a wonderful people we are.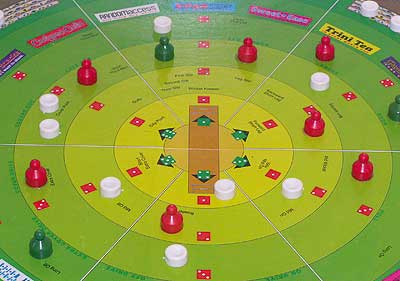 What can you tell us about the advertising banners on the game board?
Long after newspaper, magazine and electronic media reports of sporting events have been discarded and forgotten, there will be copies of PG-Cricket on the pantry tables and computer screens of the world that will continue to promote the products and services of the companies that advertise on them. So, we pose the question: Where will you rather spend your advertising dollar?
I could not begin to describe what it meant for us here in T&T that an Indian company, Venky's, picked up the sponsorship to the T&T team for the Champions League Twenty Twenty (CLT20) tournament in India a few months ago. It matters not what their motives were: I, as do many citizens of T&T, personally consider myself indebted to the people at Venky's for life, for we had pretty much given up on the team—something I hope we never again do.
Why India?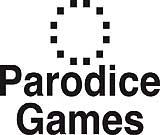 Sayantan! As far as I'm concerned, you may take the credit for us making that decision, for, when it comes to cricket, there's no guesswork: India is where it happens!
Long before the Twenty20 version of the game established itself on the cricket calendar and in peoples' minds, the ICC had been telling us that India generates 80% of the revenue cricket produces. Malcolm Speed—when he was Chief Executive Officer of the ICC—told us here in Trinidad that an important part of the decision to move the ICC headquarters to Dubai was to be closer to India's time zone. As if that were not enough to inform our decision to go East, we noticed that the Indian Sub-continent accounted for most (59.84%) of the free downloads of the computer version of our cricket board game.
When will you make the board game available, and where?
It is our intention to print PG-Cricket in New Delhi towards the end of February 2010. The board game will initially be available online in India, the United States of America and the United Kingdom. We plan to finalize some sort of distribution arrangement in India once we have product in hand.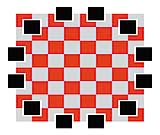 Will people be able to access an online version of the game?
There isn't an online version of the game just yet. You will, eventually, be able to challenge friends and absolute strangers to a match over the Internet, but, for the time being, anyone can download the free computer version of the game and play against the computer or a friend.But we have held discussions with companies in India that have expressed an interest in developing the online version of the game. We plan on meeting with them when we visit New Delhi in the first quarter of 2010 to cement the way forward.
Will you look for a global distribution tie-up, or will it be with individual distribution companies in different countries?
It would be silly of us not to give serious consideration to any suggestion we receive. The big players do not know that the product exist, so we must continue making it happen on our own.
We have a dozen other game ideas that are at different levels of development and we hope to use the experience gained by bringing PG-Cricket to market to pave the way for the other projects we have in mind.

What do you expect to find in India?
As I told your High Commissioner here in Port of Spain some time ago: my only fear about going to India is not wanting to come back home once I get there. Needless to say, this, too, is of great concern to my wife and five children. I may have to send for them. (Chuckle)
I already have great friends in India, present company included, but you can never have too many of those...so I'll be working on securing a few more.
I love the food and I am curious to know if what we call 'Indian Cuisine' here in T&T actually is. Also, having been involved in Information Technology for most of my adult life, I am very aware of developments in India in this regard.
The fact that such a high percentage of our population here in T&T comprises people of Indian origin, I am certain to feel at home once I get there.