The Idea of Giving chronicles the lives of Overseas Indians that have striven to carry out a range of philanthropic activities in India. It also talks about philanthropic organizations run by Overseas Indians that have made an impact on Indian soil.

The book has been published by the India Development Foundation of Overseas Indians (IDF-OI), a not-for-profit trust that functions under the aegis of the Ministry of Overseas Indian Affairs (MOIA) in New Delhi. The IDF-OI, inspired by Prime Minister Dr Manmohan Singh, has been established to serve as a single window for the Overseas Indian community and is headed by Minister for Overseas Indian Affairs, Mr Vayalar Ravi. It forges partnerships between donors and credible non-Government and non-profit voluntary organizations working in the social sector in India through innovative projects. The Foundation subjects all philanthropic activities to International Accounting Standards and weeds out less credible organizations through objective criteria, so as to provide a list of credible institutions, projects and programmes.

As the publisher puts it, The Idea of Giving is a labour of love, a recognition and documentation, for future generations, of the numerous and valuable contributions, some well known, many unknown, by Overseas Indians and philanthropic organizations in India. As Minister Ravi writes in the preface, "The Idea of Giving celebrates the power of giving. It pays tribute to some of India's illustrious sons and daughters, who having forged their destinies in different parts of the world, chosen to give back to our country, in part or substantial measure, the fruits of their fortune. They have chosen to address very fundamental questions and have made choices that have touched the lives of millions in our country."

They have chosen to build schools, breathe life into villages, recast livelihoods, empower women and children, reach out to the poor, the ill and the helpless, and in doing so, have been instrumental in fundamentally transforming lives, perspectives and aspirations.

BACKGROUND
The Indian Diaspora is the second largest of its kind in the world. Overseas Indians today are not only a formidable but also a significant economic, social and cultural force. Formidable, because of the positive influence they wield in their host countries and societies, and significant because of their power as change agents, both at home and abroad.

Large numbers of Overseas Indians have been true global citizens, heading countries, corporations and communities. They have been visionaries, statesmen, leaders, factory workers, entrepreneurs, teachers, writers and scientists.

A large number of them have descended from their pioneering forefathers, some of whom, out of force of historical circumstance, or economic compulsion, or even conscious choice, set up home, away from home. Others set up home in the world at large during the past few years, quickly making a mark in their chosen vocation.

They have, through gritty determination, sought excellence in their pursuits. The consequence of excellence cannot be but excellence itself. Not surprisingly, they have done themselves proud and done their host countries proud too across the world. In fact, the size, spread and influence of the community is remarkable and is estimated at about 25 million in over 110 countries.

The idea of Giving is a ready handbook of reference, both for the Diaspora and for those involved in policymaking involving diasporic issues. It essentially seeks to present a motivational and inspirational model for the diaspora. The stories are at ones amazing and inspiring.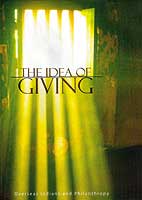 INDIVIDUALS FEATURED IN THE BOOK
Mr. Vikram Bayana Akula (Founder, Swayam Krishi Sangam Microfinance); Dr. Kumar Bahuleyan (Founder, Bahuleyan Charitable Foundation); Mr. Gururaj "Desh" Deshpande (Founder and Chairman, Sycamore Networks, Inc.); Mr. Madhukar and Mrs. Pushpa Deshpande (Founders, Vidnyanvahini); Mr. Vinod Dham (Chairman, President and Chief Executive Officer of Silicon Spice); Mr. Sharad Kumar Dicksheet (Plastic surgeon); Dr. Hari N. Harilela (Chairman, Herilela Group); Mr. Manish Jain (Co-Founder, Shikshantar); Mr. Sam Kannappan (President, GOPIO and Vice-President, Sankara Nethralaya); Mr. Vinod Khosla (Founder Partner, Khosla Ventures); Mr. Raj Loomba (Founder Chairman, Rinku Group, Founder, The Loomba Trust); Mr. Vijay Mahajan (Founder and Chairman, BASIX); Mr. Cheril Krishna Menon (Chairman and MD of Behzad Group of Companies); Puthan Naduvath Chenthamaraksha Menon (Founder Chairman, Sobha Group of Companies); Mr. Lakshmi Niwas Mittal (Chairman and CEO, ArcelorMittal); Lord Swraj Paul (Founder, Caparo Group); Dr. Ravi Pillai (Co-founder and MD, Nasser S. Al Hajri Corporation); Dr. Ron Prabhakar (Founder, Society for Rural Improvement); Dr. Vinod Prakash (Founder, India Development and Relief Fund); Mr. Gullapalli N. Rao (Founder, LV Prasad Eye Institute); Dr. Pailia Malia Reddy (Founder, Sunkishala Sri Venkateswara Temple Trust); Mr. Bibek Ray and Mrs. Purnima Ray (Founder, Sevakendra); Mr. Umesh B. Rohatgi; Dr. B. R. Shetty (Founder Partner, MD & CEO, NMC Group); Dr. Devi Prasad Shetty (Cardiac surgeon & Chairman, Narayana Hrudayalaya); Mr. Suri Sehgal (Founder, S.M. Sehgal Foundation); Mr. Anand Shah (Co-founder, Indicorps); Dr. Jagadish Shukla (Founder, Gandhi Degree College); Yusuffali M.A. (MD, Emke Group).
ORGANIZATIONS FEATURED IN THE BOOK
American Association of the Physicians of Indian Origin; The American India Foundation; ASHA for Education, New York; Association for India's Development; Child Rights and You, America; India Development Service; Pardada Pardadi Educational Society; Pratham (USA); Rejuvenate India Movement.