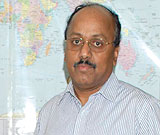 K Mohandas: Going full steam ahead
As secretary in the Ministry of Shipping,
K Mohandas facilitated the installation of the Kolkata memorial plaque in the sensitive port area. In his earlier assignment, as secretary in the Ministry of Overseas Indian Affairs, he had pushed for the project to take off. In an interview with Sayantan Chakravarty he speaks about the long term goals of his ministry, and why overseas Indians should consider investing in this segment
On the Kolkata Memorial…
During my personal interactions with leaders of the PIO community, both abroad and during their visits to India, I found a lot of sensitivity to this issue. There is a great deal of sensitivity attached to the departure of their ancestors from India. I have supported the idea of having a plaque in the Garden Reach area in Kolkata and am very happy that I could be of some use in this exercise. This is the real place, from where the journeys took place.

On accessibility to the Memorial…
Access will be restricted due to security reasons, details are being worked out between the port authorities, the West Bengal Government, West Bengal Tourism, and the MOIA. But there will be a system to ensure that the genuinely interested people get access.

On investment opportunities…
The sectors of shipping and ports are open to FDI, so overseas Indians are welcome to invest through the automatic route. There will be no hassles, several port terminals are being managed by foreign investors, so we will be happy if some are done by overseas Indians too. As an infrastructure sector these have been growing very fast. We have been witnessing a lot of competition for investment in major projects. This will continue for some time for there is still a gap between what is potential, and what is actually there on the ground.

On the long-term plan…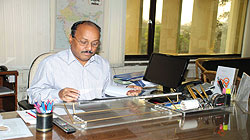 Over the next ten years, that is by 2020, we assess that Indian ports should cater to a traffic of 2,500 million tons of cargo. Last year we handled 845 million tons. We have identified that growth will be higher than in the past because of several reasons including India's economy picking up, growth in the manufacturing sector, greater movement of containerized traffic, expanding refining capacity leading to more import of crude and export of products, expansion of the power sector thereby adding to the requirement of thermal coal, expanding steel sector that would entail more coking coal, growing demand for fertilizers and other commodities. We envisage that overall there will lots more increase in cargo handling.

On what is required to compete globally…
We have to concede that China's cargo handling is much larger, especially since its export sector is much more active than India's. In order to actually handle 2,500 millon tons cargo by 2020, India would need a handling capacity of 3,200 million tons. Currently, the capacity utilization (at 90 per cent) is considered inefficient, causing delays and resultant losses. The plans are to create more port capacity, terminals, deeper drafts, warehousing, and improved connectivity with roads, railways and inland waterways. We are working on this combination, and we have plans in place. The sector will be very active, and NRIs will find it very attractive for investment.

On increasing Indian tonnage…
For the first time we have crossed the 10 million mark, it happened in the last three months. We have also for the very first time crossed 1,000 million ton port capacity. It is a landmark. We now even have a request from Guyana to look into a port project in that country.

On improving coastal shipping…
We would like a substantial modal shift from road / railway to coastal route of movement of cargo from one Indian town to another. It will be less costly, more environment friendly. Even though it entails a shift in the mode of transport, the cost advantage has to be very clearly brought out to consumers. Consequently service has to be efficient. We are working on this, and should be able to announce this in our new coastal policy.

On ship building…
This will be one of our thrust areas. We would like to increase our share from 1.25 per cent of global ship building activity to 5 per cent at the earliest. Now we have heavy cranes and latest world class equipment in most shipyards, and soon will be competing for orders with shipyards in China and other countries. There has been a major shift in leadership roles in ship building, it has moved to eastern Asia and Europe is no longer a force in this area. The major players are Japan, China and Korea, and there is no reason why India should not become a major player.

On some feathers in the cap…
The Indian Register of Shipping has become the 11th member of the International Association of Classification Societies Council. This prestigious body has only 11 members.