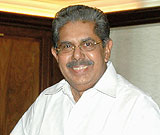 Vayalar Ravi: Focused on youth
Minister for Overseas Indian Affairs, Vayalar Ravi, has been at the helm of affairs at the MOIA for five years. During this period, not only has his young Ministry become known to overseas Indians, several new initiatives have been put in place. It remains a challenge, though, to take things to the next higher level, and engage with a larger number of NRIs and PIOs. Minister Ravi spoke to Editor Sayantan Chakravarty on wide-ranging issues:
On voting rights to NRIs…
This has been a major development for us. The issue of NRI voting rights has now been enacted by Parliament. It is a proud moment, an overseas Indian friend told me that now he feels like a full citizen of India. Indian passport holders can now vote. The modalities of actual voting are being worked out in consultation with the ministries of law and external affairs. Once that is done, we will put across our views for the modus of operation to the Election Commission of India.

On the ICWF…
The Indian Community Welfare Fund was initially installed for the GCC nations. Then the number increased to 17, subsequently to 42. Now the MEA has asked us to put this in place for every country where there is a significant Indian population, so we are looking at nearly 120 countries. These funds are at the disposal of the ambassadors and high commissioners and can be used for various onsite welfare activities for the Indian community. These can be used for boarding and lodging of distressed workers in household / domestic sectors, extending emergency medical care, providing air passage to stranded overseas Indians in need, and providing initial legal assistance to overseas Indians in deserving cases. The charge for the services is only USD 2.

On the proposed Pravasi Kendra building…
We are hoping that all clearances will be in place and a foundation stone can be laid for this building at the Chanakyapuri area in New Delhi.

On interfacing with Indian communities abroad…
I want them to be more active, especially in the Gulf. I keep talking to them, visiting them, and I feel they are concerned about fellow overseas Indians and workers. I've motivated them that way. I also keep talking to the ambassadors and am happy that the majority respond positively.

On overseas Indians' interest in investing in India…
They are like foreign investors looking to invest, except that the OCI cards will help them to get more facilities. They can take advantage of that. I have been trying to encourage them to invest, since they are looking at good opportunities. Importantly, I make them feel proud to be Indians. Our investment arm, the OIFC, has been organizing several investment meetings all over the world and we are happy with the progress that we are making.

On the Prime Minister's Global Advisory Council…
This Council met for the very first time in January 2010. There are 25 important global Indians, and we are looking forward to their suggestions when they meet again in January 2011.

On the Kolkata memorial…
This has been a major demand of GOPIO International, and the overseas Indian community at large. We are committed to it.

On interaction with younger overseas Indians…
My intention is that we build a greater connectivity with the new generation. Unless we do so, I'm afraid they may lose their links with India, and will drift away. So this is one of the major areas of attention.

On giving Bollywood its due…
We are aware of the important role that Bollywood has played in forging bonds with overseas Indians. We will involve more film stars in times to come and encourage them to interact directly and personally with overseas Indians.