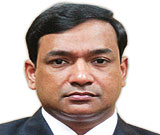 SABYASACHI GHOSH, IAS
Commissioner, Department of Tourism
Government of Andhra Pradesh
Q and A
with
Mr Sabyasachi Ghosh
Commissioner, Department of Tourism
What has been the vision of your department for increasing tourist flow to Andhra Pradesh?
2011 would be observed as "Visit Andhra Pradesh" year to complement the roll out of our new initiatives in the realm of adventure, pilgrimage and beach tourism to attract more international tourists to the State. Andhra Pradesh entertained a record 157 million tourists in 2009-10, registering a 16% year-on-year growth. Given the new initiatives and our focused tourism policy, the State would continue to be a preferred destination for both domestic and international tourists. We will not only maintain our top position, but also venture into new areas to scale greater heights.

Do you see the members of the Indian diaspora, especially the ones settled in North America, Europe and Oceania that are financially strong, spending more on tourism and tourism-related investment in Andhra Pradesh in 2011?
We are aware that the 20-million-strong Indian diaspora has huge purchasing power, which has been estimated at US $ 300 billion. Interestingly, a sizeable proportion of this community is from the southern states, particularly Andhra Pradesh. We are therefore keeping various options open and doing everything within our means to make the best of their tourism spend in India.

What are the main investment opportunities in the tourism sector for NRIs in AP?
We see immense growth possibilities for NRIs as well as the State tourism sector through properly channeled investments, mainly in areas like establishment of motels, budget hotels and wayside amenities. We have developed ample facilities in many areas. Still, there are many areas where there is tremendous scope to establish facilities and earn not just profits, but also the prime mover advantages.

Please tell us about the tourism destinations that you are developing …
Proposals are being processed for developing a total of 43 sites into full-fledged tourism destinations. Initially, we will focus on 13 locations, where we propose to build tourism infrastructure. We are also considering proposals of experts to build a heliport at Nagarjuna Sagar.

How is AP Tourism gearing up to meet the expectations of eco-tourists, health tourists and others?
AP is blessed with numerous destinations that offer unforgettable experiences, mainly in niche areas like Heritage, Nature, Wildlife, Religion, Beaches, Adventure, Wellness, Sports & Leisure and Rural tourism. We are implementing domain-specific policies so that every tourist gets to experience the ultimate in Andhra Pradesh, regardless of what he has heard or seen elsewhere. We already have solid facilities in respect of wellness and eco-tourism segments. A lot more is in the offing, as the budget has been enhanced for 2010-11 and efforts are being made to secure substantial funds from the Union government.

Are you continuing with the Complete Travel Solutions Package concept? If so, what has been the response?
Of course, we are continuing the concept. We are now dovetailing it with our own traditionally nurtured solutions so that no tourist gets out of Andhra Pradesh without getting a gut-level feeling that he has seen the best of India in one go. The conducted and package tours of AP Tourism covering 8 centers will let you explore many of these places. The trips are hassle free, comfortable and give complete value for money. Currently, 63 hi-tech coaches, 29 Volvo coaches, 8 air-conditioned hi-tech coaches, 4 semi-sleepers, 11 mini vehicles, 1 vintage coach & 10 Qualis are being used to give tourists what they need from a dependable operator. Our most popular tours are conducted from Hyderabad, Tirupati, Chennai, Bangalore, Visakhapatnam, apart from eco-tourism and Inter State package tours.

What is your vision for AP Tourism as it moves to the second decade of the 21st century?
We want to make Andhra Pradesh the most tourist-friendly State among all tourist-focused States in India. We have great spots, a long tradition of hospitality and, above all, clear plans to give tourists experience of a lifetime.