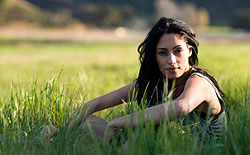 Interview: Tehmina Sunny
"There are always stories to tell"
British Indian actress Tehmina Sunny has been shining both on the big screen, as well as on the small. Of late, Hollywood has kept her busy. She's just been shooting her latest feature, Ben Affleck's Argo in which she plays a Swiss Air stewardess who shares her zest for a variety of accents. Also, she's been shooting as Sonubai, the power hungry but ruthless beauty for Singularity, alongside Neve Campbell and John Hartnett. INDIA EMPIRE's Shayree Chakravarty interviewed Sunny, and here's how it went
Please tell us about your growing up years in England…
Fun, cultural, social, educational. I was born in Surrey in the suburbs of London, where there was a wonderful Asian community, diverse and rich in culture which was very important as part of my earlier years of growing up. We then re-located to Milton Keynes, I was 7 years old at the time and lived there until I finished my education. At the time, there was only a small Asian community living in the area, so as a family we always used to travel to London to see family and friends. Milton Keynes was a new town and implemented an American system of schooling, where I attended a campus. I remember not ever having to wear a uniform, which was rather strange at the time. But I have to say that I loved the schools I attended as there was a strong emphasis in the Arts and because of this, my passion for music and drama was created.

And about your student days…
I always enjoyed learning and spending time in Leeds, which was a great place to be at for 3 years studying for my degree. Leeds, for a student, has so much to offer. I was able to continue with my music and also kept up with my martial arts, plus learning about life and responsibilities as this was the first time I was living away from home and standing on my own two feet and being independent.

You are trained in several musical instruments. If not films, you could well have been making it count in the world of music. Your comments…
I guess everything happens for a reason and the music part of my life helps with my work as an actress. I loved playing the violin in orchestras, but I'm not sure I would have been good enough to continue with it as a career. I did spend many years pursuing a career as a singer, in and out of girl groups and bands, then the acting bug came into my life.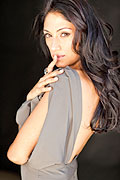 There was a point when you wanted a more 'stable' career, in computer programming. What took you away from that road?
After completing my degree, I became a marketing executive, then worked in the world of PR, but something was missing and I felt that I wanted to flourish in a different arena using my creative skills. I remember being in Turkey with my dad and knew that I had to make some choices with the direction I wanted to take with my career. I remember telling my dad I wanted to concentrate on my musical aspirations and he just looked at me and said ok, good luck.

You combine skills of marketing and computer programming with entertainment. In the longer term, do you foresee yourself directing or producing movies?
I would like to eventually do both, but I am very interested in production. I recently set up a production company called 'And Cut Films' and have a few projects simmering away.

Have you traveled to India? If so, where all and what would you say fascinates you about the country?
I have traveled to India on many occasions. I have spent time in Delhi, Agra, Rajasthan, Sikkim and also enjoyed trekking in the Himalayas. I love spending time in India, soaking in the culture, learning about the history, seeing beautiful locations, architecture and eating delightful culinary dishes.

Are your multilingual skills a result of your ethnicity or because of a desire to learn multiple languages?
From an early age, Hindi and Gujarati were spoken at home and I picked them up easily. At school, we were taught French and German and I wish I continued as I really enjoyed studying them. I have to be honest and say that my language skills are a little rusty now.

Do you have role models?
Peoples journeys, triumphs, views on humanity and approach to helping others always inspires me. My list is huge but I recently read about Narayanan Krishnan and was marveled by his commitment and determination to help feed the homeless in India.

Where do you see yourself 10 years from now?
I see myself still involved in the Entertainment industry, still acting but concentrating on the production side of movie making.

Is there anything like 'stability' in the movies world?
I'm not sure if any industry has stability in this day and age. Things around us are always changing, but one thing is for sure, there are always stories to tell through film.