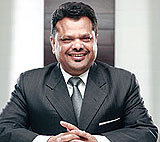 Q & A with Rohtas Goel, CMD, Omaxe Group
Carving a Niche
Omaxe Ltd's Founder and Chairman Mr Rohtas Goel is a visionary. He has been among the first national players in the real estate sector who diversified into Tier II and III cities. While moving his focus away from Tier I cities, he found a great untapped market, and a demand-supply gap for quality housing waiting to be bridged. Becoming a trusted name in the real estate sector has not been easy. It required discipline, dedication and a desire to lead from the front. A civil engineer by profession who cut his teeth in the real estate sector with a private construction firm, Mr Goel turned entrepreneur in 1989. Omaxe, today a one of the real estate giants, and a name to be reckoned with seriously, have delivered a clutch of landmark projects. The firm has not stopped short of innovating and creating value for money for its customers. Excerpt from an interview that was carried out by Yogesh Sood, Consulting Editor, India Empire
Omaxe's USP has been the way it has broken into the Tier II and III Cities in North India. How did it come about?
Our entry into tier II and III city marks an interesting story. After carving a niche in Delhi NCR with projects like NRI City, Greater Noida; The Forest, Noida, and others, the transition and migration to cities such as Vrindavan, Lucknow, Jaipur, Allahabad, New Chandigarh, Indore was natural and obvious. The going wasn't that tough even though smaller players had a stronghold. With the reputation Omaxe had built over the years as a successful, reliable and quality real estate company; our projects with quality and affordability found takers and we emerged stronger in these cities.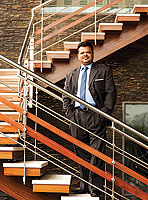 Omaxe is one of the largest real estate companies with dominant position in North India. How has the journey been?
The journey from a construction company to one of India's largest real estate companies has been eventful. With several firsts to our credit, we have marched ahead with the purpose of providing quality homes to the people. Innovation, technological up-gradation and world-class lifestyle are the hallmark of Omaxe's projects. And the continuous faith reposed by our customers has encouraged us to push the envelope further. With a successful IPO in 2007 and our venture into infrastructure business has further strengthened our credentials and financials. Today, we aim to be a part of the lives of every Indians, make a difference in their thought and fulfil their aspiration and dreams. Our well-thought out strategy of entering the small towns not only reaped huge benefits for us, but also helped us contribute our bit into bridging the housing gap.

Do you see tier II and III towns emerging as a potential real estate destination?
Yes. The people in these cities have deep pockets. With lots of development, prosperity, disposable income and desire of a better lifestyle; the urge to possess and replicate metro-like lifestyle is very much visible. Besides, salaried people in these cities look for post-retirement homes in these cities. Property rates in Lucknow are now comparable to Noida. Indore is another city which is fast emerging as the hub of IT industry with TCS and Infosys planning to open offices. This will be a huge boost to the already booming residential space. Besides, emergence of nuclear families is also creating a lot of demand for residential and hence commercial space. Allahabad and Varanasi are catching up with the development level of Lucknow, but aspirations of the people remains high. The next five years will see a huge shift with development and scope for employment generation fast emerging. New Chandigarh is a delight with people coming from far-off cities and dream of a lifestyle similar and comparable to the planned development of Chandigarh. Accessibility is a major factor that has propelled New Chandigarh's demand.

How do you see the real estate scenario in India at this moment?
Real estate scenario is at a very typically strange situation. Events in the past like rising input cost and persistently high interest rate has made it difficult for buyers and developers alike. Liquidity, too, remains tight. With CRR and repo rate cut by RBI and banks reducing home loan rates, some pick up in demand is expected. We hope few more basis points cut in repo rate going forward. This will ease off some pressure and see an upside in demand. The Government needs to proactively address the huge demand-supply gap in housing through policy initiatives.

Do you think there are a lot of policy impediments?
Policy impediments have slowed real estate growth to quite an extent. The industry has been demanding a single window clearance for projects for speedy execution, but it hasn't been acted upon as yet. The Land acquisition and Resettlement and Rehabilitation Bill in its present form make it difficult to acquire land and question the sustainability of real estate companies. Certain clauses of the real estate regulation bill, too, don't sound encouraging for the industry. For approval delays from government agencies, real estate companies shouldn't be deemed liable. The Government should devise ways and means to encourage affordable housing considering the demand-supply gap. An extension of tax holidays for housing projects under Section 80IB (10) of the I-T Act, enhancement of the benefit to individual home buyers and extending I-T benefit to affordable housing projects are some of the key issues that needs Government's attention. However, the recent relaxation in ECB norms in affordable housing is a welcome step.

What do you think of commercial real estate with Government allowing 100% FDI in single brand retail and talks of allowing 51% in multi-brand retail is on?
Commercial real estate is an important part of the development landscape. Since they create jobs, they are seen as an important component of economic development. With Government moves, fresh investment in this area is beginning to flow in and banks and financial institutions are shrugging off any scepticism with returns on the rise. The oversupply created over the years still has a slight hangover. After IT/ITeS and Banking and financial sector, retail could be the next big thing to happen for the commercial space. However, the global uncertainty has a flip side as well, considering that these countries will outsource more and more work to India, thereby giving a flip to the commercial segment. In locations where we are present, our commercial properties have found good response, especially in tier II and III locations like Ludhiana, Amritsar, Lucknow etc.

Omaxe is creating the most-talked about commercial and entertainment zone Omaxe Connaught Place in Greater Noida. What is the idea behind your dream project?
Omaxe Connaught Place (OCP) has been conceived keeping the ethos and sensibility of the iconic and one of Asia's most famous shopping and entertainment hub Connaught Place, Delhi. However, we have a modernised setting with state-of-the-art facilities matched with construction superiority. Located in Greater Noida and designed by Hafeez Contractor, OCP is set to be landmark. With excellent accessibility and emergence of a lot residential properties, OCP will be the most sought-after business, commercial and entertainment centre in North India. It will have one of the largest and world-class shopping-cum-entertainment malls, ultra modern office space, Multiplex, 5-star hotel, food courts, family entertainment zone etc. Many international brands have already signed up for OCP like easyday, KFC etc. Office space is ready for possession. Spread across 15 acres with a total built-up area of approx 1.9 million sq. ft. and parking space for more than 3,000 cars.