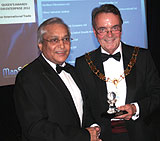 Mr Doug Tweddle presenting Dr Rami Ranger MBE, FRSA with a special award
The Institute of Export Presents a Special Award to Sun Mark Ltd.
The Institute of Export hosted a splendid Gala Dinner to honour those businesses who have been conferred The Queens Awards for Enterprise in International Trade in this Jubilee year 2012. The dinner was attended by over 150 prominent members of society including HRH Prince Edward, Duke of Kent KG GCMG GCVO who is also patron of the Institute. Sun Mark Ltd received special recognition from the Institute for winning the Queens Award for Enterprise in International Trade for four consecutive years, a unique of achievement in the history of the Queen's Awards. The award was presented by Mr Doug Tweddle, National Chairman of the Institute of Export to Dr. Rami Ranger MBE, the founder and Chairman of Sun Mark Ltd. Dr. Rami Ranger MBE, upon receiving the award put his success down to the British sense of tolerance and fair play where an ordinary immigrant like him could realise his ambitions and become an asset for his family and adopted country. He also paid tribute to the staff of Sun Mark for sharing his vision for the company and working hard to provide excellent customer service. He is delighted with the company's standing and the significant increase in its sales and profits, given the economic downturn in global markets. The company exports British supermarket products to over 100 countries and its motto is "we only succeed when our customers succeed".


---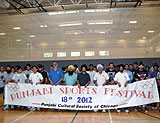 PCS Chicago "Punjabi Sports Festival 2012"
Punjabi Cultural Society of Chicago (P.C.S.) organized its 18th annual Sports Festival recently (Saturday August 4, 2012) at Falcon Park Recreation Center, 2195 N. Hicks Road in Palatine Illinois.
State of Illinois Treasurer Dan Rutherford and past Mayor of Palatine IL Rita Mullins inaugurated this sports festival after a colorful ribbon cutting ceremony in the presence of more than 250 enthusiastic athletes and spectators. The tournament started with a prayer and the US national anthem. The PCS Chicago chairman Dr. Amarjit Singh, president Baljit Sidhu, and sports director Harpreet Grewal welcomed the athletes and the spectator. Falcon Park District, Mayor Rita Mullins and Treasurer Rutherford were honored with plaques by the PCS officials. Rajinder Singh Mago emceed the event.
This was the 18th time in a row for Mayor Rita Mullins who has never missed a PCS Sports Festival ever since its inception. It was the third time in last three years for State Treasurer Dan Rutherford to attend this PCS Sports Festival. Both of them congratulated PCS for organizing such forward looking community events to promote healthier life style amongst our community youth to channel their energies in a positive direction.
Twenty one Basketball and Volleyball qualified teams hailing from Chicago and suburbs, Milwaukee Wisconsin, Saint Louis MO, and Cincinnati Ohio competed in the tournament for the PCS Chicago championship trophies and cash awards. Outside professional referees judged the tournament games.
This all day Basketball and Volleyball tournament was held indoors in the courts of the new state-of-the-art air-conditioned facilities at Falcon Park in Palatine, IL.
"Basketball and Volleyball are very popular games in schools that our children play and enjoy. P.C.S. wants to promote these sports among our youth," said Baljit Singh Sidhu the P.C.S. Chicago president. "We want to encourage our next generation to get good education and also play sports. We need to encourage more females to come forward and participate as well," said Dr. Amarjit Singh the P.C.S. Chicago Chairman, also a past president (2005) of Indian American Medical Association of Illinois.
---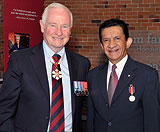 NRI journalist Sultan Jessa – right – with Canada's Governor-General David Johnson who presented Queen's Golden Jubilee Medal to him at a ceremony in Ottawa
NRI Journalist Honoured with Queen's Diamond Jubilee Medal
NRI journalist Sultan Jessa was presented with the diamond jubilee medal by Canada's Governor-General David Johnston at a special ceremony in Ottawa yesterday. The medal, specially created to mark the 60th anniversary of Queen Elizabeth II, was presented to Canadians for their significant achievement and remarkable service.
The retired, Tanzania-born journalist Sultan Jessa has scored a hat trick to mark Queen Elizabeth's accession to the British throne. He was presented with Queen's silver jubilee medal in 1977 and the golden jubilee medal in 2002.
"It is quite an honour to receive all three medals," said Jessa, who received the Order of Canada, the country's most prestigious and highest civilian order for 35 years of community service. "It encourages you to continue to help others. You don't seek recognition, but it's heartwarming when the work you do is appreciated."
In 2010, Jessa was selected as Canada's top 25 immigrants. This award is given to people who have not only succeeded in Canada, but have made a difference in their adopted country. Born in Moshi on the slopes of Mt. Kilimanjaro, Tanzania, the former editor and publisher of Northern News in Arusha, at one time worked for The Nationalist and Standard in Dar es Salaam before moving to Nairobi to work for the Daily and Sunday Nation.
He moved to Canada in 1973 and started working for Standard-Freeholder, a newspaper owned by the Thomson chain. Six years after arriving in Canada, Jessa was made Citizen of the Year of Cornwall, Ontario. Jessa has received numerals honours from municipal, provincial and federal government. The journalist has also been honoured by Rotary, Kinsmen and the Ontario Medical Association. An Ismaili, he has a rare distinction of being honoured by the Catholic, Jewish and Sikh communities.
Jessa has won Ontario's medal for volunteerism, good citizenship has been recognized by the Royal Canadian Mounted Police, the Royal Canadian Legion as well as Red Cross. Jessa, who lives in Quebec, is married to Rosila and the couple has two daughters, Anaar and Yasmin.